This is one of my favorite possessions...a box of buttons my mom gave me several years ago when I embarked on this little adventure that is now known as "gilding the lily." I love these old leatherette boxes, and this one in particular is very dear to me as it belonged to my grandmother. I believe it was under the couch in the living room with some little valuables in it, originally a glove or hankie box. Now it is home to a small but beloved collection of buttons my mother carefully prepared for me.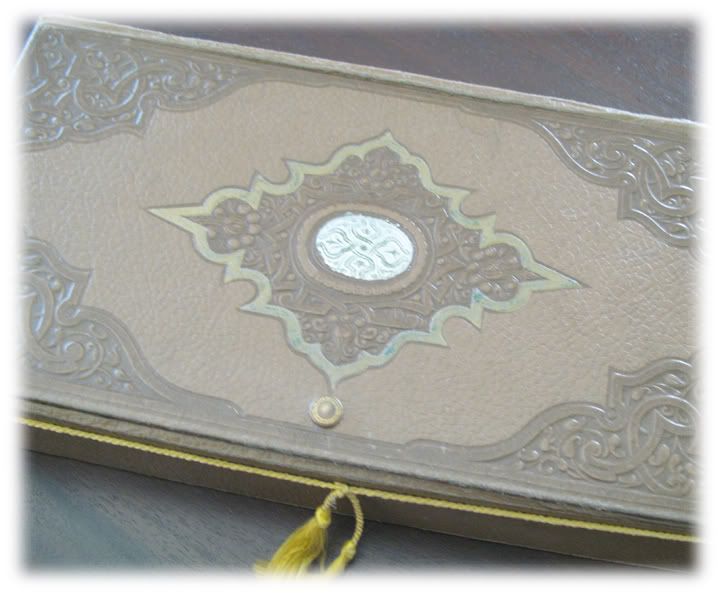 When she was going through cupboards and drawers, starting to pare down some of the things in her house, she asked me if I would like the "button box," at that time an old tin that resided in the linen closet in the hall, and was the repository of all things buttons, and also some wonderful memories of playing with them when we were children. I remember being put to work stringing them with a large needle and thread to keep me occupied when I was sick, and we always had favorites and greeted them with happiness and joy when we found them in amongst the others.
My mom asked me to make up some little cards that she could stitch the buttons on, as she wanted to write down where they came from. I stamped some cards and pinked the edges for the project, and this is what I got back: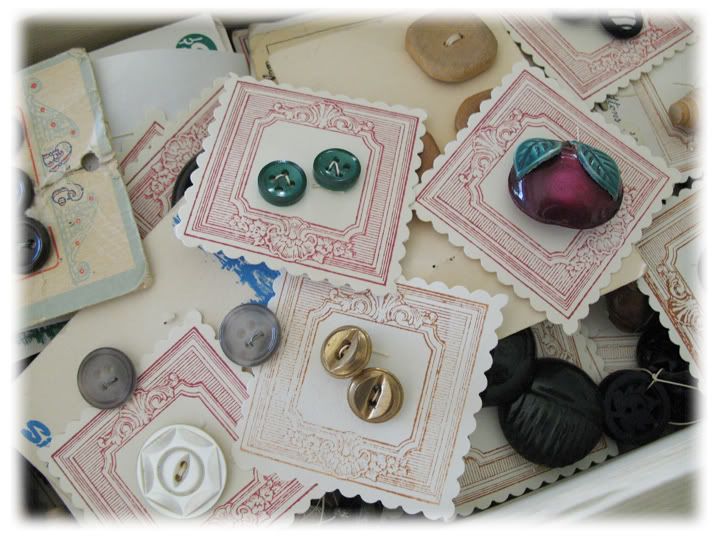 There are a few original cards of buttons in there as well, but many are stitched to these little cards, and each bears my mother's beautiful handwriting on the back. I love the little stories they tell: about who wore the buttons, how they were handed down, and how each was lovingly chosen and included in the garments my mom made for us.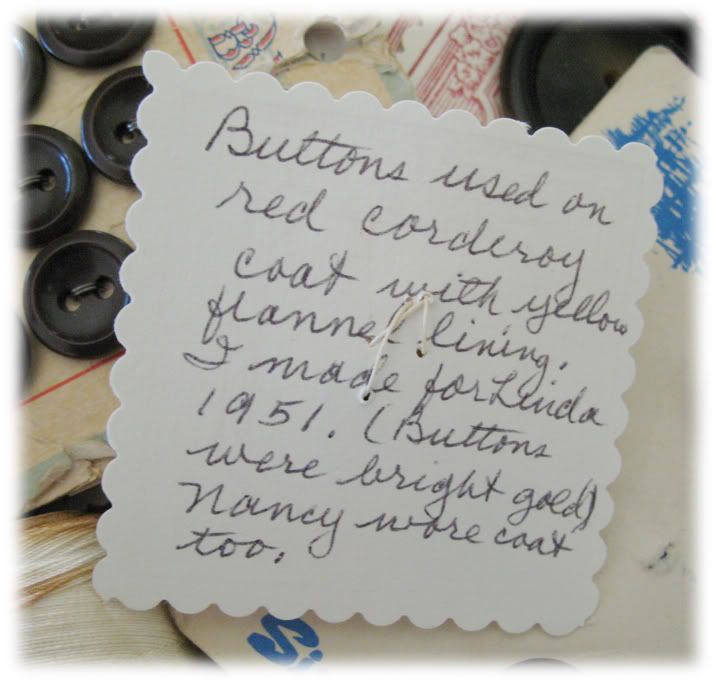 Some of them, of course, predate my sister Linda and I; the old button box contained buttons from dresses my mother wore to school, too, and projects she made in class...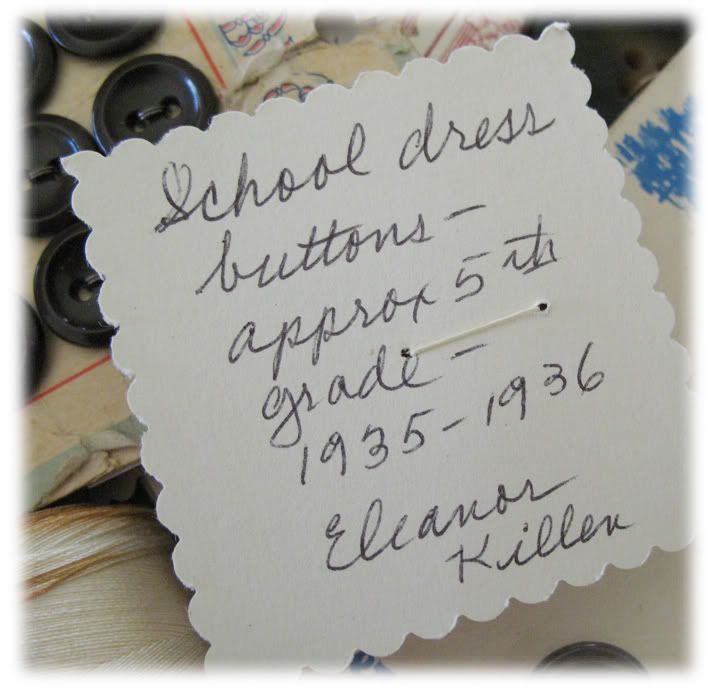 I love this old spool of thread from her sewing class in school, a "required item"!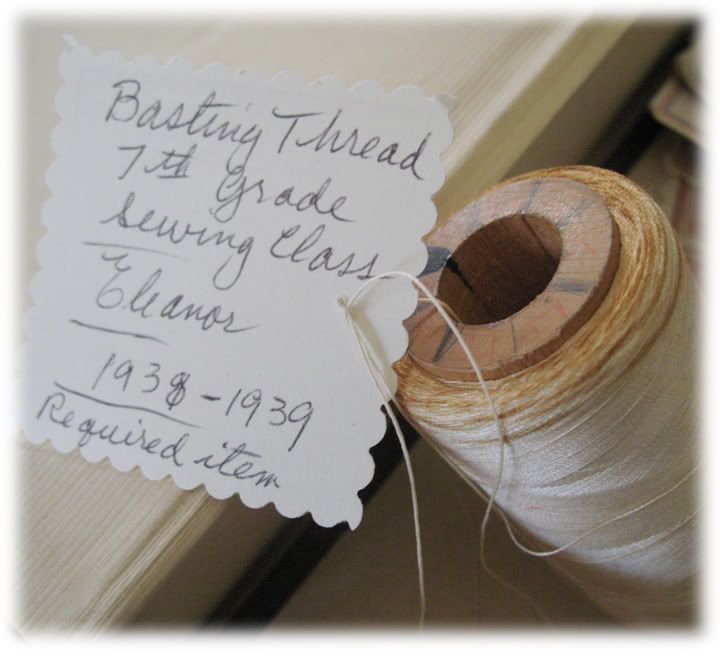 I love this little card that tells the story of the dress with the puffed sleeves that my mother suffered through sewing, and then ironing for both my sister and I, well over a half century ago.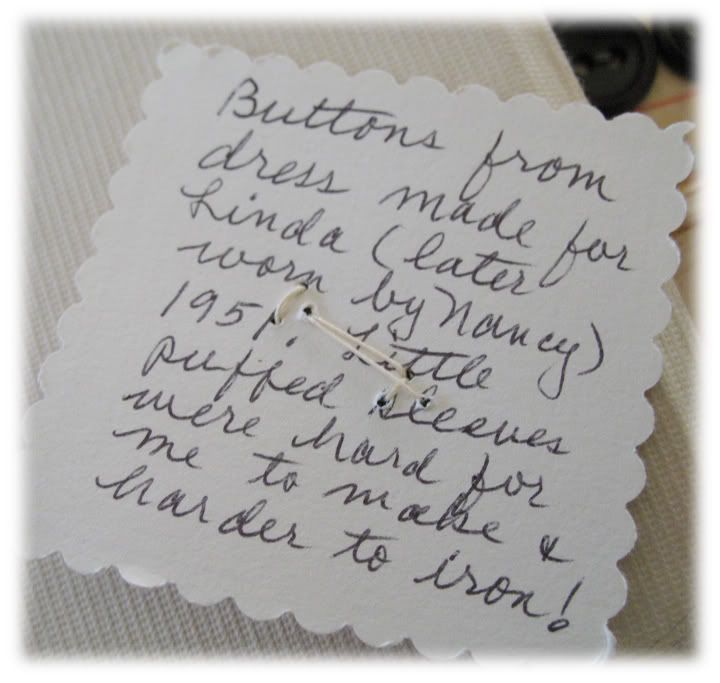 This is one of my favorites. The button is not anything special, but the story is. It's about two people who fell in love during the war; a handsome Italian American navy sailor from back east and the native Californian with beautiful brown wavy locks who captured his heart and made him settle down in southern California. The button came from a suede coat my they purchased for my father in Los Angeles on their honeymoon.
I never get tired of looking at them, and take them out from time to time to revisit the memories they represent. It's something to remember; that not only are we the repositories of our memories, but our things are, too, even those as inconsequential as a button. They are the makers and markers of our memories, little things that help us recall those moments and those who peopled them.