Lines from one of my all time favorite S&G songs, "Bookends," a wistful little bit of prose and notes that can say so much. This year has been so much to look back on. I can hardly believe it is at an end, but it brought with it so many tumultous events and feelings, I am hardly loathe to leave it behind, but have a hard time putting it away from me, too.
We started the year by moving almost everything in our lives: two businesses and everything that entailed, bringing a daughter home and making room again in our lives for her, changed so beautifully into a young woman after living away at college and struggling a little herself. We moved my friend Maya into a storage space and watched her start a new life in London. Our garage hasn't seen a car parked in it since the many moves, which doesn't mean much to my tired old Durango, but has taken a toll on Alain's vintage Porsche. We've whittled the piles down a little, but busy lives leave little time for the sorting and sifting that is needed to empty it all out.
We did double time trying to run both businesses as full time entities, a task that was rewarding but trying for everyone in our family. Without the support (sometimes grudging) of my husband and the help of my dear daughter, who has spent many hours minding the store for me, it all never would have happened. My sister has always been there as my sounding board, for everything from ideas to temporary insanity, and my mother is the best cheerleader I could ever have, checking in on the shop every week to see what has transpired since her last visit.
I learned a lot about being a merchant, mostly what not to do. We learn by our mistakes, and I learned alot this year. I found my inner stylist, inspired by what I had to work with, and felt the little store grow more beautiful over time. With the help of others who were truly professional, I stacked up wisdom, tips, helpful hints, and a pile of IOUs that I will probably never be able to pay up. Thank you, dear friends, for all the help, the hugs, and the believing in me that made all the difference.
In the end, it was worth doing. The store, while I had my head down and was working, turned into something I never thought it might be, and for that I am thankful. I am always amazed that with few exceptions, my "transactions" begin and end with a hug. I have more friends who know what I am really about than I have ever had in my life. I will wake up tomorrow, ready to move forward in this new year, and filled with the hope that I can make a difference for someone else as well. In the parlance of the popular, I will strive to pay it forward as best I can...I have had so many shining examples over the past year.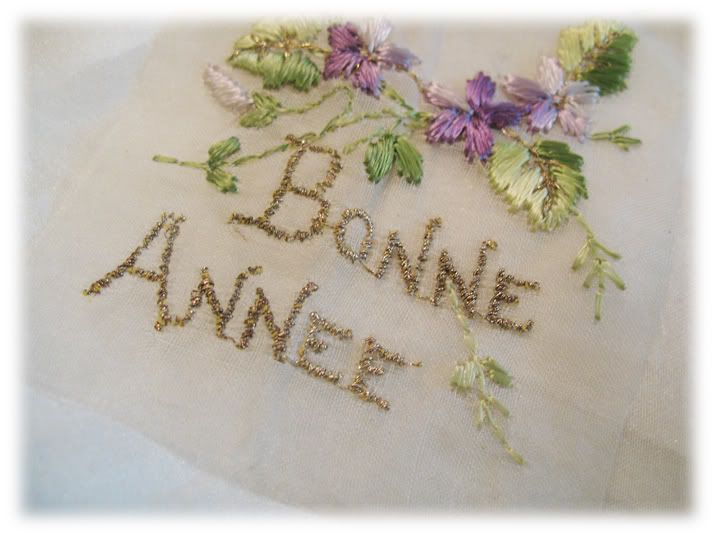 Merci, and Bonne Annee, friends...