Friday night has come and gone, and it was wonderful! Oh, to be surrounded by friends and the loveliest of things for an evening...what could be better? Theresa brought these beautiful roses for the signing table, shown with the star of the evening, Amy's book...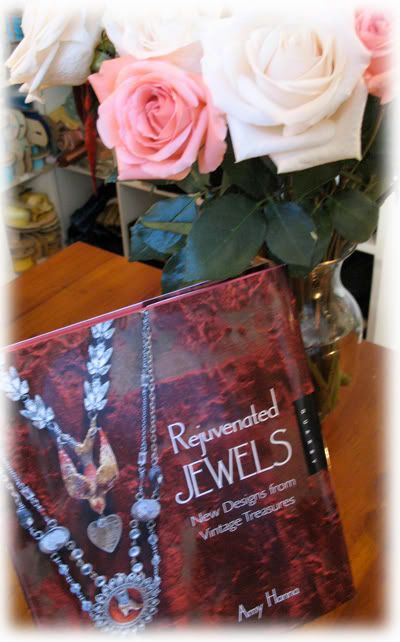 Here is the girl herself, setting up the beautiful trunk show of her jewelry she brought. If you think the photos in the book are stunning, wait til you see her creations in person...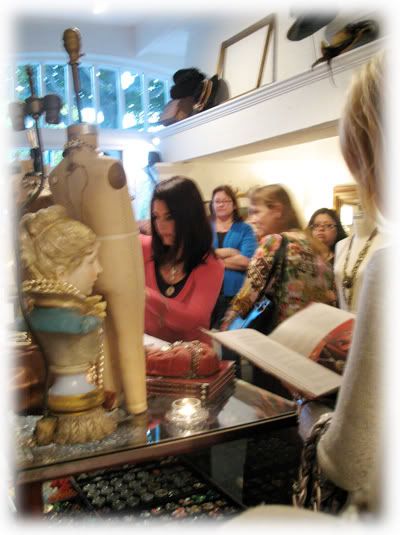 Draped on antique mannequins, jewelry boxes, old velvet displays and more, the pieces showcased Amy's inimitable talent for composition and marrying seemingly disparate objects into one beautiful piece of wearable art...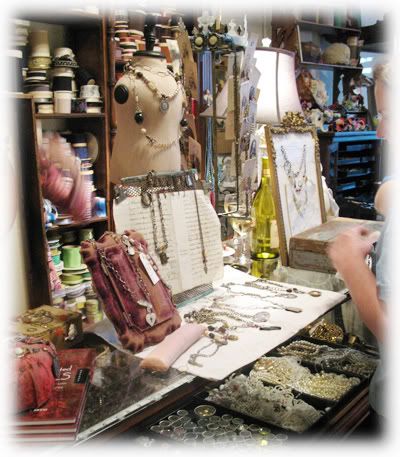 Luscious old ledger pages and rustic props were draped with the beautiful pieces from her collection...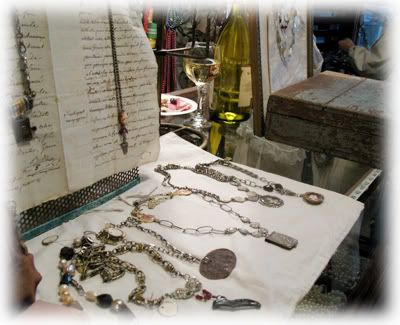 I loved this time worn old velvet piece, tufted and adorned with pieces from her current collection...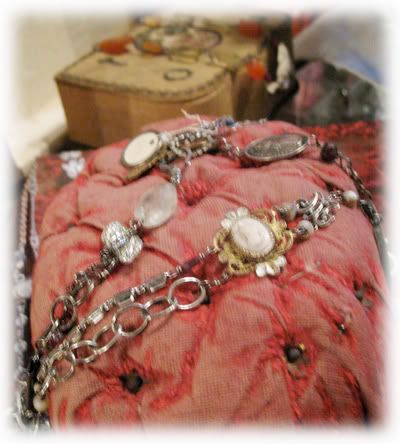 Lily put on the dog a little bit, too, sporting some antique silk and metal thread tassels here, sent over from a contact in Amsterdam...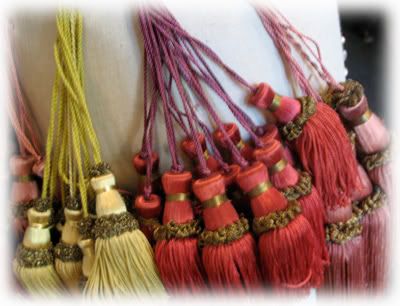 And here is my buddy, helping out with the beverage and food detail, which we set up outside on the courtyard. I love this venue, with all its gracious amenities...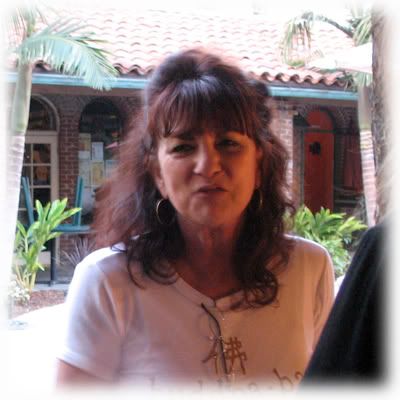 Big hanks of Beijing pearls came out of hiding to hang next to the bolts of vintage ribbon...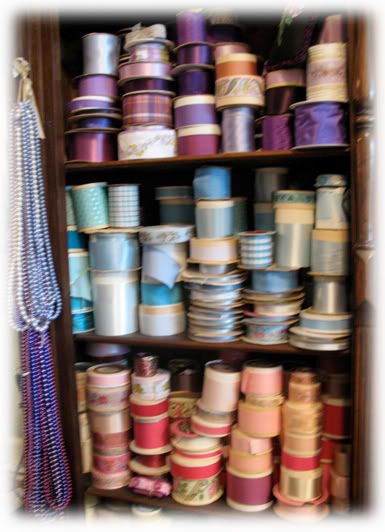 And we had fun with Lily's trunk show of precious little rarities and finds...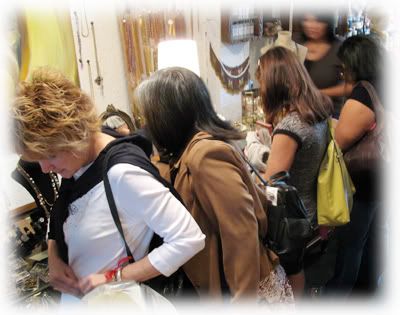 Intent shoppers peruse the clear little cases filled with one of a kind treasures....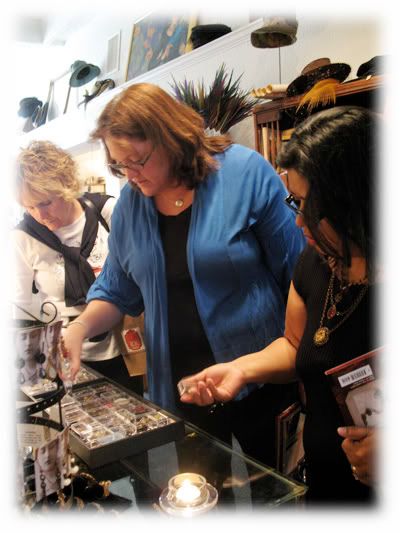 I passed this vintage hatbox of millinery flowers on the way out to the wine bar and couldn't resist snapping a picture of the bachelor buttons...my favorite!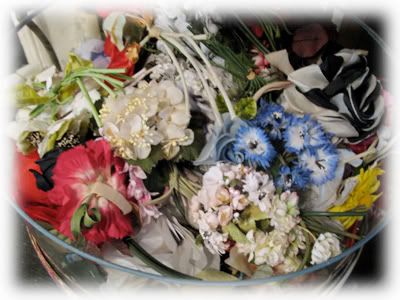 One of our guests sampling the buffet of Italian meats, French cheeses (oh, the
Delice de Bourgogne
!) and more that waited outside for guests. Mr. Gilding arrived on the scene later with pesto shrimp and tandoori chicken he cooked up for us...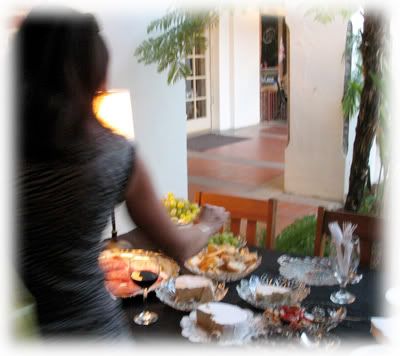 Some of the guests visiting outside. It was a mob scene indoors, so we all took turns rotating through the store and out into the courtyard throughout the evening. So many of our gals know each other, it was wonderful...
One of our Lilys, laden with baroque pearls and candle-lit for the evening, standing over a stack of Amy's books...
And the only ones in the group who stayed quietly in their places! Two mannequins draped in necklaces from the store and other
accoutrements
...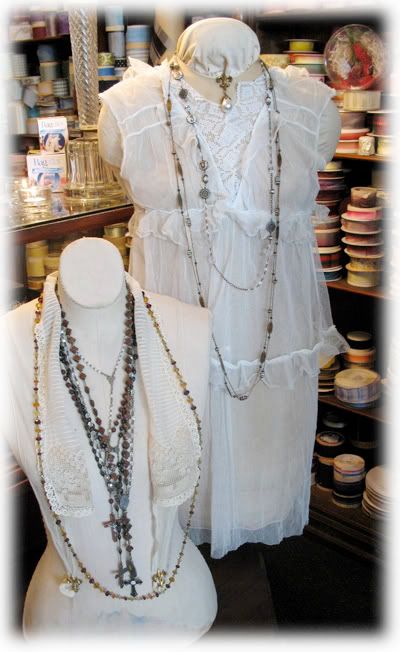 Some of the crowd inside, and Mr. Gilding there at the back chatting and sipping...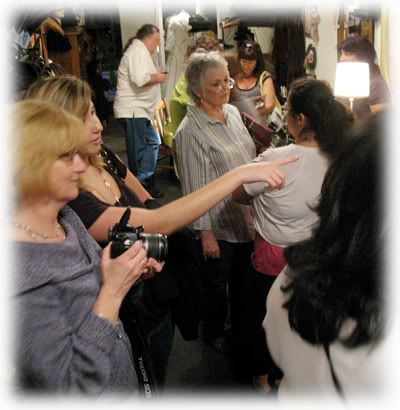 This totally cracks me up...he double parked his Porsche outside to bring in the food, and just started visiting. It was still out there an hour later, hazard lights flashing, door open...
I guess boys just wanna have fun, too!