Sunday was a real treat for me, a chance to work in a class of my own. We had a hectic class schedule last week, with back-to-back-to-back classes...three in a row. Friday evening Christine Rose Elle taught her French Beaded Florettes class. I have never seen such a beautiful array of seed beads and Japanese Delicas...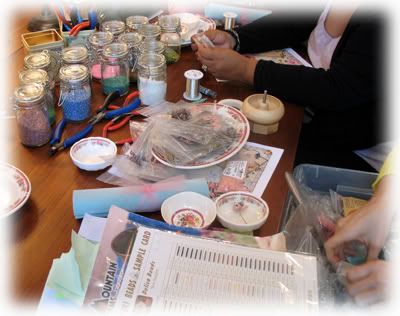 Christine instructing the class on some basic beading techniques before they dive into the threading and wiring of the delicate leaves and blossoms....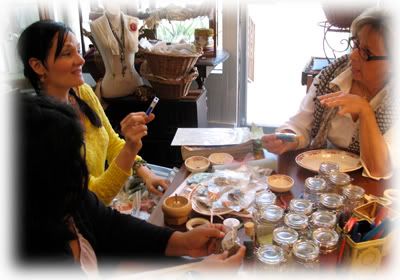 Saturday's class was incredible! Not only did class participants create more beautiful beaded components to create a long spray of petals and leaves, they then combined them into this beautiful "Manon Dore" nest. Here are a few samples of the finished nests....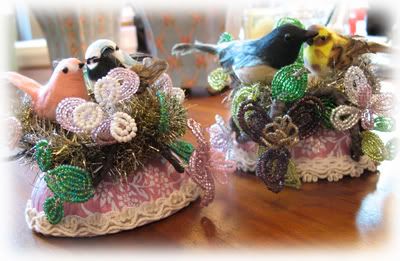 I loved this one because of the colors...two of my favorites are in here: chartreuse and aubergine!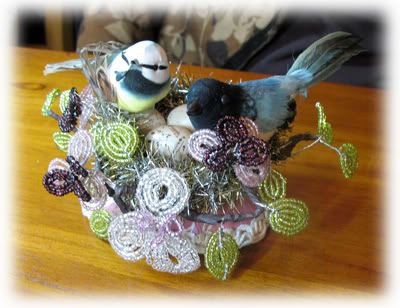 Sunday's class was so much fun, with new friends and old alike attending. Kara Klein joined us, and Michelle from New York (thanks for making us part of your visit!); Connie was there, as well as Joann and our new friend Trudy and Diane. I rounded out the seventh, but I must say, I was put to shame...I did not finish my necklace! Diane is almost done with hers, and I think she and I will be completing ours on Thursday night at Open Studio. Here's our group of gals at the class table getting started...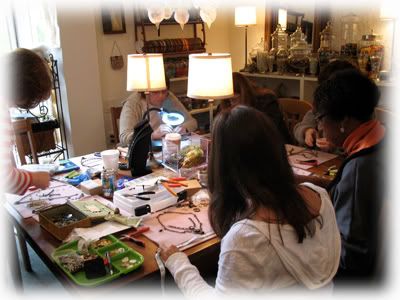 We built our own book chain for this project, and did metal aging and patina finishes. Students chose their own focals, and brought bits and bobs from home to incorporate into their designs. Here's Trudy finishing up her book chain element...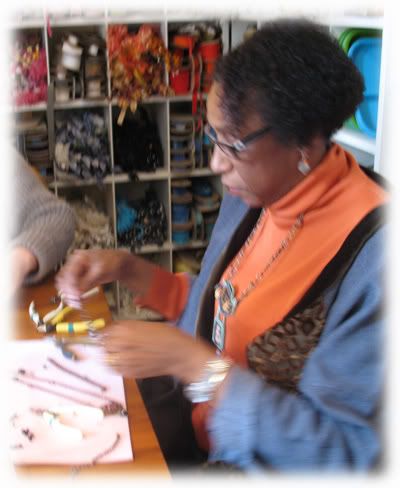 Joann, hard at work on her necklace...she ended up with a beautiful mix of chains and textures in her piece, and was planning a few more additions to it as well!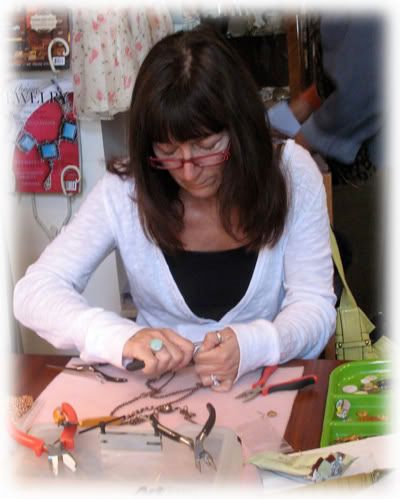 Here is Michelle's necklace, which incorporated a beautiful antique class florette from a chandelier, as well as some subtle blue and amethyst stones and some aged handmade metal drops...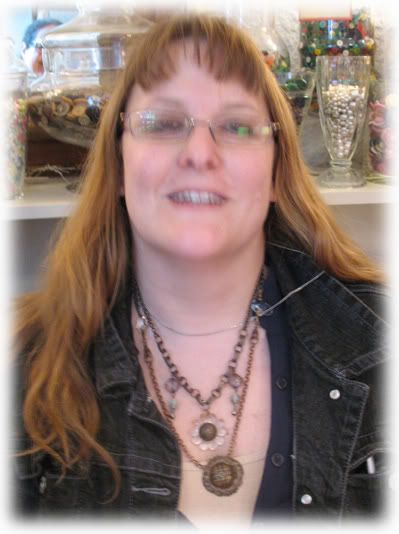 Kara was a rock star, bringing on the bling! She whipped an old Chanel bracelet out of her kit to incorporate into the necklace, aging with our silver darkener and mixin' it up with some antique bone and mother of pearl. She really worked the assymetrical aspect of this necklace, too.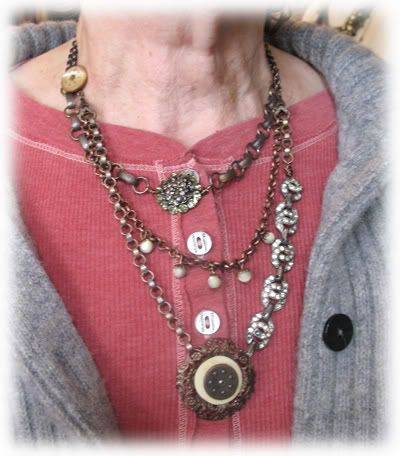 Trudy models her creation, which turned out stunning. She contrasted an old washed pewter button with a secondary focal of a black jet button, and pulled that through her design with faeted Czech drops and a faceted onyx briolette pendant...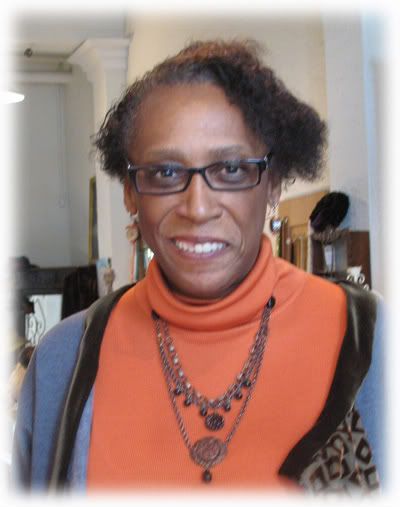 Here's Joanne's necklace, which incorporated frosted channel set glass stones, an old brass locket set with a vintage rhinestone heart, one of those onyx briolettes, and antique brass and enamel buttons. She added some aged copper and filigree bead chain to the mix...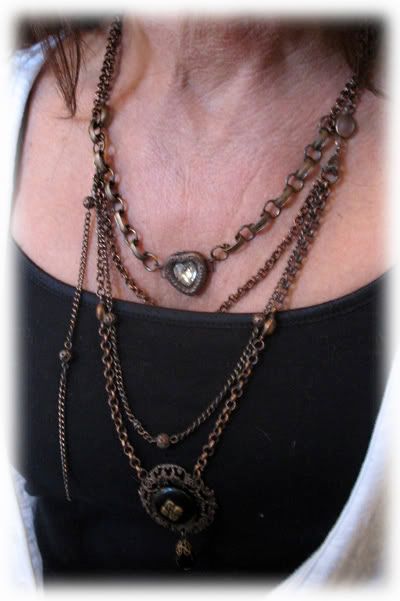 Here's my Connie, who created this extraordinary necklace, combining a superb Victorian black glass buton focal with a bird and branch finding to which she added another Victorian glass drop. Her book chain was embellished with faceted Victorian ball buttons and glass.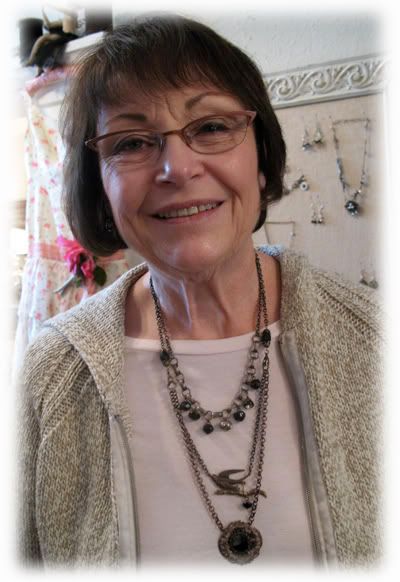 Here's the "money shot" of Connie's creation.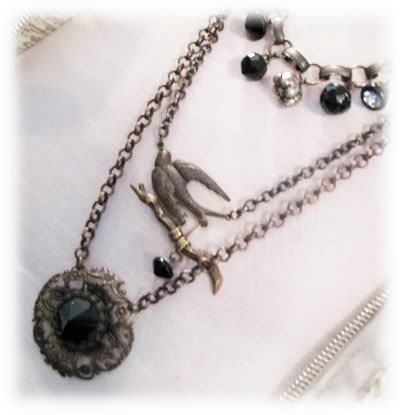 If you haven't joined us for a class, pop in to see what it's all about. You'll meet some lovely and talented women any day you come visit!