Meet Boo, Nathalie's cat. The cat she was going to find a home for. Of course, we knew that wasn't true. After two days, I asked her if she was really trying. Nathalie, being Nathalie, doesn't lie very well, and most times doesn't try, preferring the easier task of telling the truth. So, she said, "Not really..." and we knew that Boo was here to stay.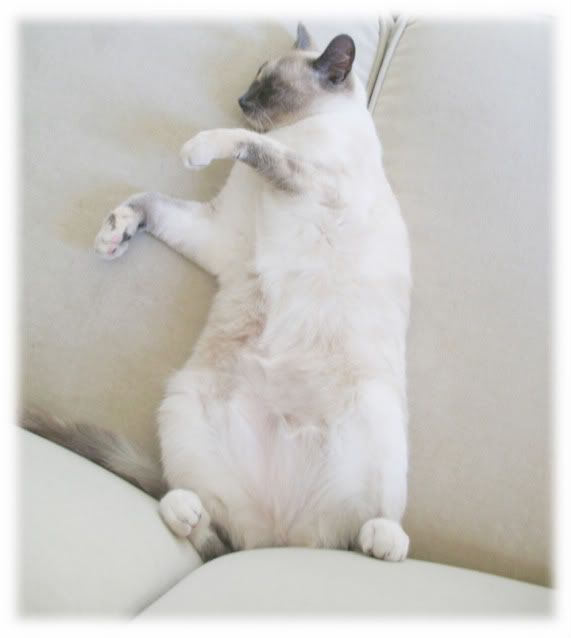 We used to have an upstairs/downstairs sort of household, with the dogs living upstairs and the cats living downstairs. This started when Sadie moved in...
This is Sadie. We first met Sadie while we were walking our two dogs of that time, Mika and Noodge. She was a young cat, sitting on the wall of a house that was partially demolished and most clearly unoccupied. We surmised that she had been left behind, but stopped ourselves just short of taking her in.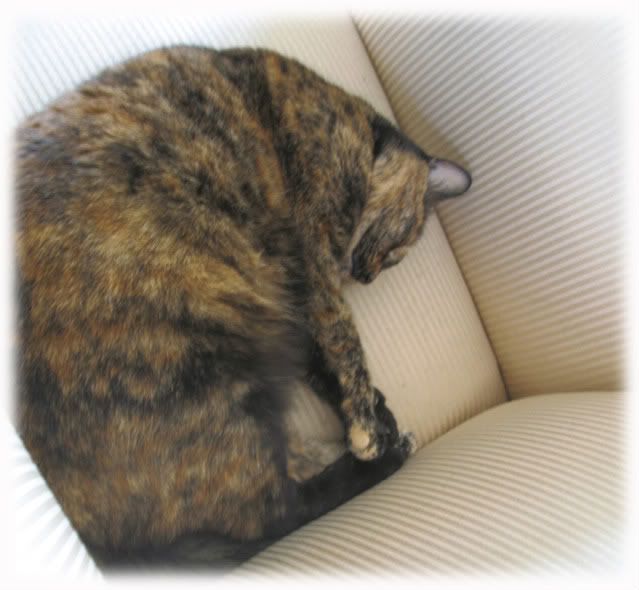 Well, we ended up with her anyway, a few years down the road. Here's what transpired:
She left the old house down the street, and moved in with a couple down the alley. They in turn sold their house and bought the brick Tudor across the street and down a little bit from us. We saw Sadie there and she was friendly and chatty, and I remember remarking that she looked just like that cat we had seen a few years earlier. One and the same as we found out later.
The couple made the mistake of getting a dog and that really didn't sit well with Sadie. She moved out, and moved in with my next door neighbors, Dawn and Suzanne, who had just lost their dog, Murphy. It looked like clear sailing for Sadie...
Stormy seas arose, though, in the shape of Charlie, a dog Suzanne took in from friends who were moving out of the country. Sadie might have put up with it, but Charlie was a really rambunctious guy and she moved on. All of one door down. She figured the chihuahua would be easier to take, and within two days she was sleeping with my husband. Dawn showed up a couple of weeks later with her cat box, litter, food and toys.
She managed to survive the acquisition of two more chihuahuas, but Boo moving in downstairs reallly got her knickers in a twist. She started venturing upstairs and took over the living room. It wasn't long before Boo followed her up. I wouldn't say we're a totally integrated household yet; we still have separate drinking bowls, and a baby gate provides a buffer between the two factions, but it is calm enough here that Boo and Sadie can nap in the living room in peace.
It's always wise, though, to keep an eye on the enemy....