This year has been different in so many ways, so it was with relief that I took up the familiar task of unpacking the ornaments for Christmas. This tree topper was my parents, and now she tops our tree each Christmas. I love the old dresden wings and her spun glass decorations...
I keep collecting mercury glass when I find it, and always treasure looking at my favorites...
The bead garlands are heaped with the ornaments, but the beautiful tinsel garland is on the tree this year. One of my favorite ornaments is shown below...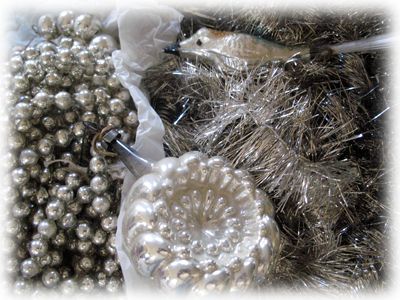 A little bit newer but still fabulous are these colored ornaments from my mother's childhood...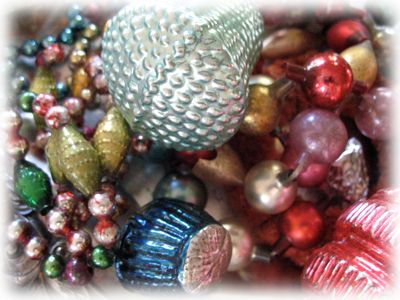 I always put these out with fond memories of the set my parents had. The cat was obsessed with them, and they drove her to distraction. They were knocked from their places no matter where we put them, high or low...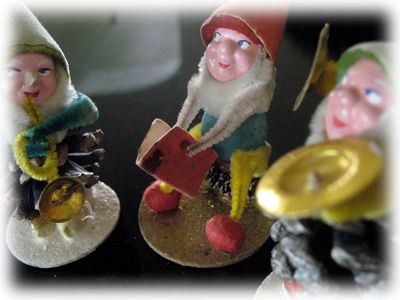 Always the best for last...the "icicles" my father made from coffee can twists that he saved during the year, and then pulled out into silvery spirals lined with color. They reside in an old Salvation Army cigar box...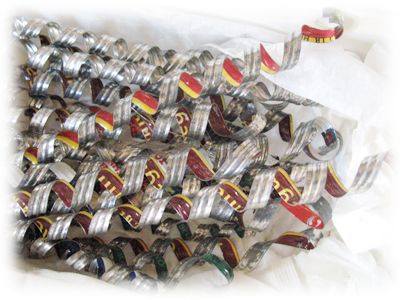 A tiny tree on the piano holds my most precious ornaments, those belonging to my mother's grandmother. I realized this year that Nathalie is the fifth generation of our family to hang these ornaments. I'll get some pictures of those up soon!