Sunday was rainy all day, with the wind lashing the trees outside the windows and buckets of water coming down, but our class was cozy in the dining room, while Alain kept a fire burning all day in the living room. Here's Iva with a full table of students, teaching her "Enchantress of the Sea" project.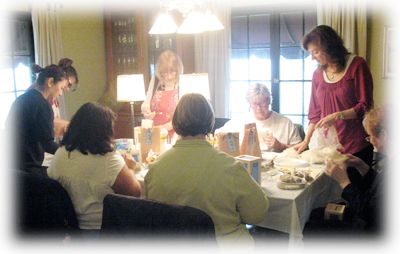 She also brought this beautiful piece in for me to see, which had traveled down here for Glitterfest. It was completely created in

papier-mache

, and had a beautiful hand painted mushroom cap roof on it and a tiny elfin figure peering out of the window. I was enchanted most of all by the two little leaves that formed a little porch over the doorway...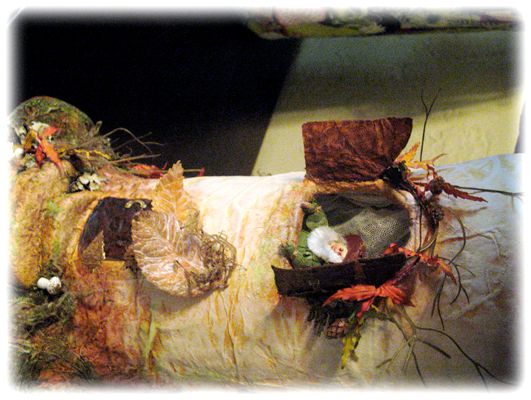 Iva is an extraordinary artist, and we are so fortunate to have her come from northern California to teach from time to time. She and Colleen are planning a trip in the fall as they have done before, where they will both bring a project to Lily and her students.
Below is a project I have been noodling for a while, and finally got it off the ground...a reliquary ring with an antique medal, some ancient silk velvet scrap, just the right bezel and a crystal that fit. Dangling from it are some old French medals and a sterling and crystal heart. I'm contemplating putting something similar together for a kit...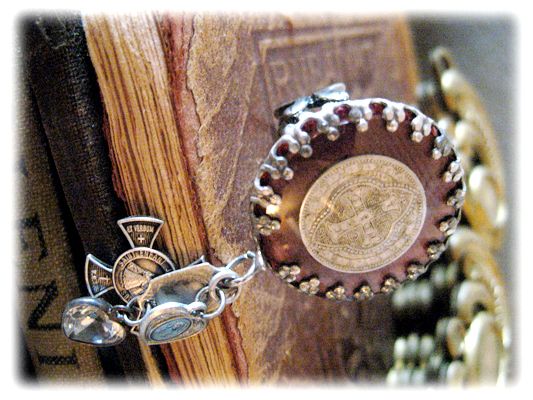 Today is nice and sunny, if a bit cool, and my list is long, with a few projects to dive into while the skies are still clear. Rain coming back tomorrow, from what I hear....