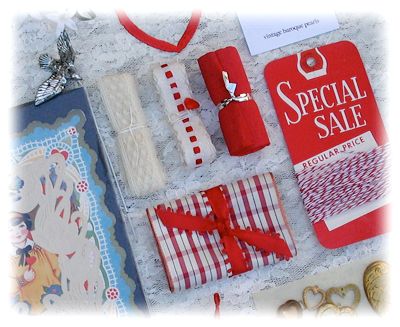 Dede and I had such fun the other day plucking things from the shop for some boxes we wanted to make. These Valentine themed boxes were inspired by the little red silk tassels with the boucle bobble at the time, and the beautiful ivory trim with the red silk check....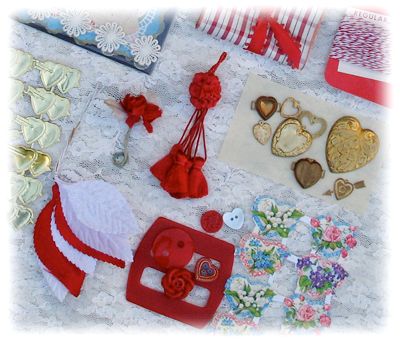 Working in theme and color is such fun, and we decided to name our little boxes of lovelies, "Quelques Belles Choses," which means 'what pretty things.' And indeed, pretty things they are...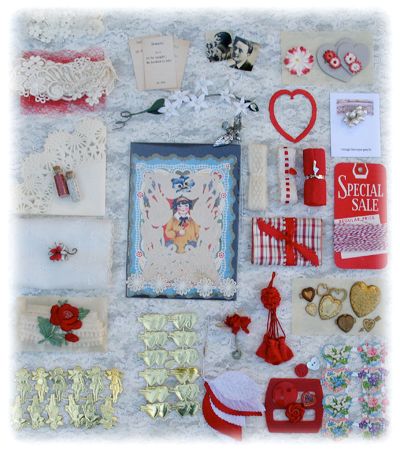 Tucked in each of these limited edition boxes are yards of vintage trims, ribbons, laces and embellishments; old appliques, Miriam Haskell pearls, vintage brass stampings, charms and lockets; an antique valentine, German Dresdens, and vintage Valentine scraps, plus old romantic photos, Japanese flash cards with charming phrases, millinery florals, crepe paper, satin and velvet leaves, and German glass glitter. There's some of my favorite Lacelon gathering trim, an old West German beaded flower, a selection of buttons and a buckle from the 1940s, a little silver bird, and lots and lots of red and white baker's twine wrapped around a vintage store tag. A lovely old paper doily completes the offering.
We have only four of these available in our store, but we will be happy to ship one to you if you are out of the area. Call our store at 714-680-8893 to reserve or arrange payment and shipping, or email us at gildingthelilyvintage@yahoo.com.
$65.00