This is a favorite new recipe that Alain discovered, and fits nicely with our goal to eat more vegetarian dishes and meals.This one satisfies both, as it is a meal in itself. We've found a couple of recipes lately that incorporate green olives, which makes me very happy, and this is one of them.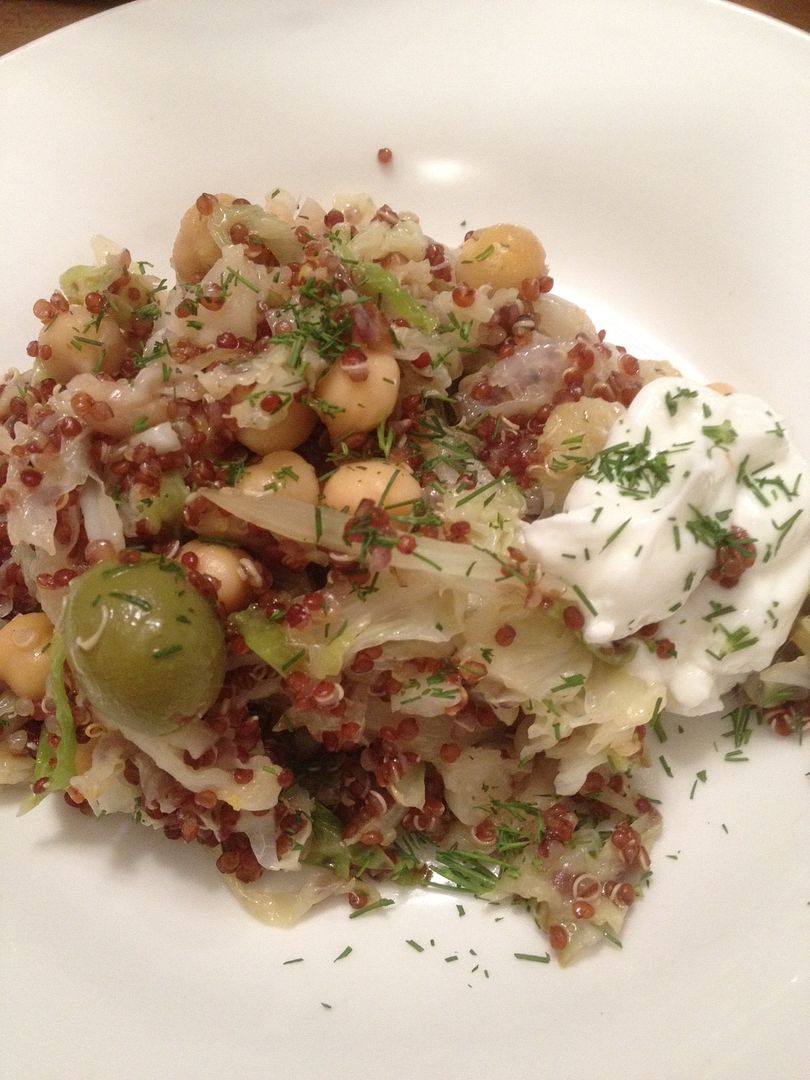 INGREDIENTS
1/2 cup red quinoa, rinsed well
Coarse salt and freshly ground pepper
4 tablespoons extra-virgin olive oil, divided
1/2 head Savoy cabbage (about 1 pound), cored and thinly sliced lengthwise, divided
1 can (15 ounces) chickpeas, drained and rinsed
3 ounces pitted large green olives, such as Castelvetrano or Cerignola, halved (about 3/4 cup)
1 large lemon, zested and juiced
1/2 cup coarsely chopped fresh dill
Low-fat Greek yogurt or sour cream, for serving (optional)
Directions
Bring water to a boil in a medium pot over medium-high heat. Stir in quinoa and 1/2 teaspoon salt, and return to a boil. Reduce heat to low, cover, and simmer 15 minutes. Uncover, raise heat to high, and cook until water evaporates and quinoa is dry and tender, about 5 minutes (stir frequently to prevent scorching).
Heat 1 1/2 tablespoons oil in a large nonstick skillet over medium-high heat. Add half the
cabbage and 1/2 teaspoon salt, and cook, stirring occasionally, until tender and golden brown in places, about 8 minutes. Transfer to a bowl. Repeat with 1 1/2 tablespoons oil,
1/2 teaspoon salt, and remaining cabbage.
Add remaining tablespoon oil to skillet. Return sauteed cabbage to skillet, add quinoa,
and raise heat to high. Cook, stirring occasionally, until quinoa is toasted and crisp, about
8 minutes. Remove from heat. Add chickpeas, olives, and lemon zest and juice, and toss
to combine. Season with salt and pepper. Stir in dill, and serve with yogurt.
Note: If you haven't tried quinoa, do! It is the highest protein grain around, and gluten-

free!