It seems to be a recurring theme with many artists I know...that their stuff can sometimes get in the way of creating. When I reclaimed some space downstairs in our house and made it a dedicated studio, I slowly began accumulating the detritus of creating: things brought out and not put away (the single most irritating thing I do), new things acquired but without a home, and since my back door is our back door to the garage and parking, the daily transit through the studio of things like bags of cat litter, trash, recycling, rags and towels, and a constant parade of patina cups and tweezers. I need an intervention.
I started out this year with a firm conviction. I would put away everything in my studio. And truth be told, I have made amazing progress, even though it doesn't look that way sometimes. I have a very vivid memory of spending hours and hours picking up rings, bead caps, stones and beads, and finding a home for them, however time-consuming and painful that may be. However, to the uninitiated like my husband, it still looks like a big mess, something he brought to my attention yesterday when he went in search of the Maas polish.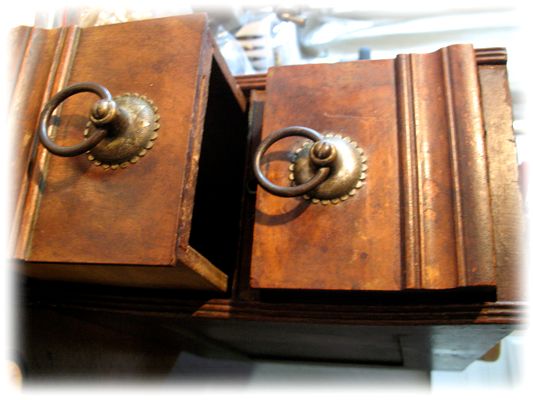 I've had to admit to myself that this process may take longer than I anticipated. In the midst of it, there are still medals to be etched, focals to be riveted, cuffs that need finishing, and yards of chain and tassels that customers are waiting for. But I still think order is attainable, and I am going to have to approach it the same way I created disorder. A little bit at a time.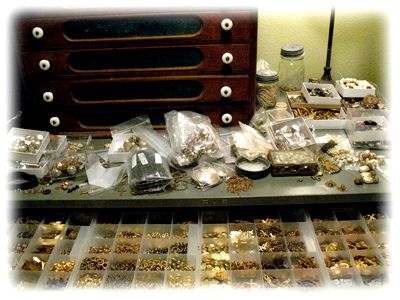 Another realization: I am probably never going to have the kind of studio that ends up in the pages of Where Women Create. I use it too much. And I need it to be more function than frills. I realized that I wasn't utilizing the storage I had as well as I could, and that might mean things not looking quite so pretty. Instead of this or that tucked artfully on a shelf, that might be replaced with a row of very utilitarian canning jars. The baskets with goodies behind glass in the side by side have been replaced with clear plastic sorting trays that are serving a much higher purpose as organizers for kit components.
I'm okay with this. I'd rather know what I have and where the hell it is, than reorder something I've already bought twice, then find it and be pissed off. If that ends up being my higher calling, then so be it. In the meantime, I'll keep working, and keep cleaning. If I've set a goal, it will be to give myself a clean and orderly space by my birthday, which seems reasonable.