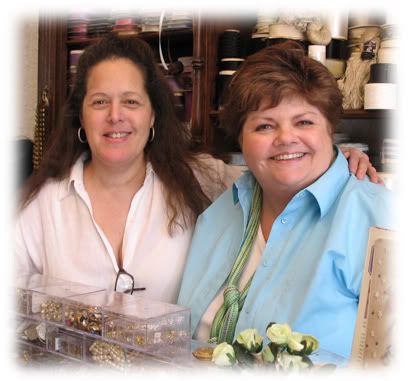 Well, if you all wondered where I've been, it has felt a little like Alice through the Looking Glass. A lot of running very fast and getting no where, spinning about, and falling down holes, and thinking, "I'm late, I'm late..."
Things have just seemed to compress lately, between the two jobs, and the panic I tend to set myself off in, unpacking tubs upon tubs and tweaking the store...thank goodness there are lovely people all about me to set me to rights (brings to mind the Queen having to be set back on her feet after falling down....). One of those lovely people to bring me back to earth was Lidy, of French Gardenhouse, whose web site I visit for inspiration, and whose blog I read obsessively. She came to visit me, and it was the first time we met in person, although she had visited my store before in its previous incarnation. She brought her lovely friend Dianne, and our Dede was there as well. Lidy is one of those people you can't help but hug! She took tons of pictures and blogged the heck out of the store the next day, God bless her. Here is Lidy and me in front the ribbon wall.
So much has happened since I last wrote here. We had a lovely class, a group of eight friends all put together by the wonderful June, which includ
ed her two daughters as well. Janis taught yet another seating of her Czech Button Bracelet, and the girls turned out some stellar examples, with each one exhibiting wonderful creativity. Here are s
ome pictures from that class:
June and her daughters show off
the results of the class, thre
e
beauti
ful bracelets all in a row!
I especially loved Mand
y's "Anthropologie" bracelet in all the different colors. It was a dynamite design that really thought outside the box.
We also had our little Mercantile Flea Market with the very talented and creative Sabrina Contreras whom we are
glad to have back on the retail scene in in our little burg of Fullerton. Sabrina has been a force to be reckoned with and proves it again with her lovely Carpe Diem Experience, a fusion of decor, gifts, and creative space that will continue to grow and change the texture of downtown for some time. We were there early in the morning to set up and got to hang out with the fabulous Monica, who made me laugh as usual. We bought from each other of course, but all ended up having a pretty good day. I released some excess inventory into the void and was freed of it, with Dede doing most of the work as I sped back to the store to open for Saturday's crowd...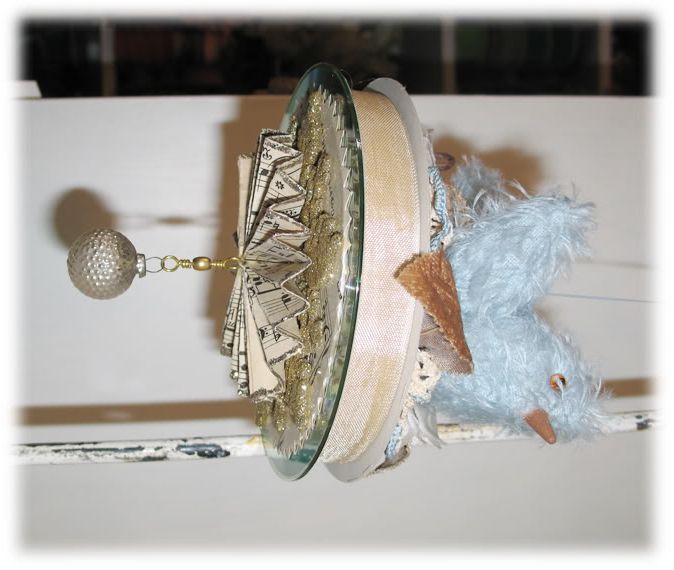 Finally, here are some pictures from this weekend when my dear Jane came to visit and brought her latest creation with her...the dearest little bird perched on a spool of rayon binding, trimmed with fans of sheet music (vintage, of course!) trimmed in German glass glitter, antique mercury glass globes, hand crocheted t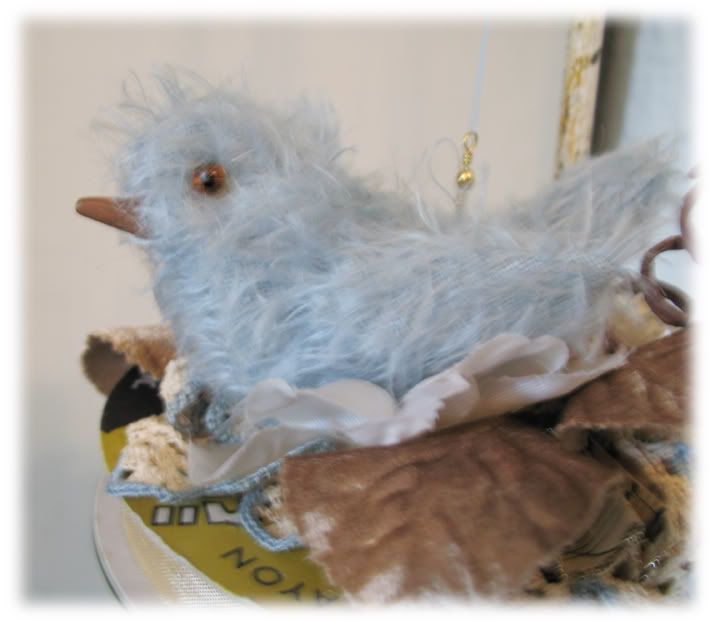 rims, millinery leaves and more...does it get any better?! Here's a close up of this little confection, crafted in pale blue mohair....all right, I'll stop now before you all swoon! :-)
I can't believe I have finally finished this post. It's already after midnight, and time for me to hit the hay. Tomorrow is another day, Scarlett!