Saturday was AWESOME! We managed to cram eleven people into this seating and was it ever fun! Liz Heaton came with her two daughters, who were incredible artists and worked like little beavers at their journals...we were all so impressed by these young women. There were familiar and loved faces at the big table, some new ones, and it was delightful. A crowd of women, all creating, and our Dede at the helm...who could ask for anything more? Well, I could have, and I got my wish! My daughter joined us, newly back from college, and started creating this wonderful book...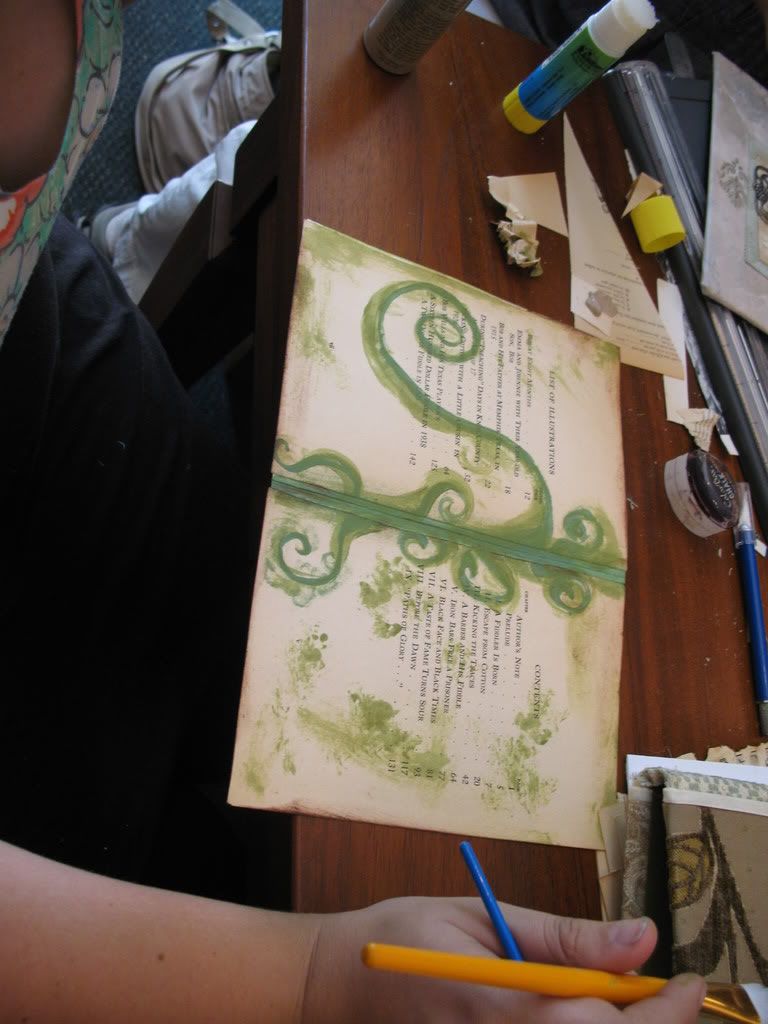 ...and sitting to her left, is my surprise guest, my sister from my first marriage, Joann, who appeared at our door on Memorial Day and after visiting the store, decided to come up for the class. She had recently been in England for her doctorate, and after collecting some incredible stuff there, was wanting to learn how to construct a journal. Et...voila! Sitting next to her is Carole, who was creating a confection out of amazing neutrals with lace and mother of pearl (this girl has an amazing collection of shell and pearl antiques, and she let me snap a few pictures on Saturday, which I will share at a later date...scrumptious stuff!)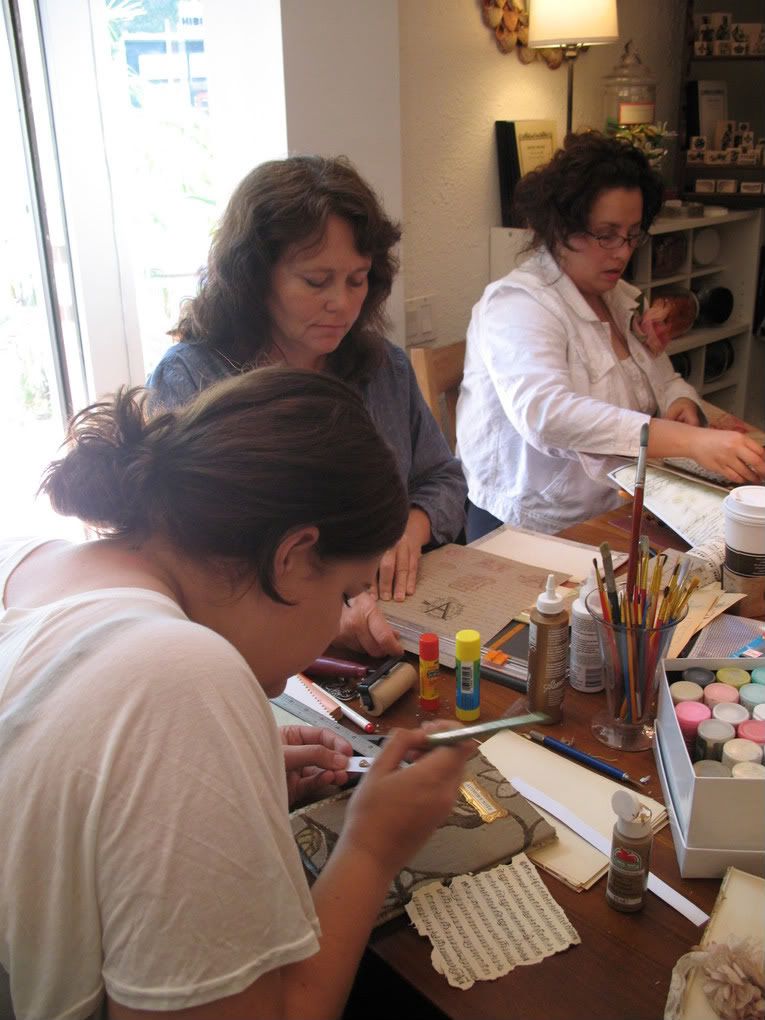 Here's a shot of Dede buzzing around that table...she must have been fairly worn out after that day of teaching, but how rewarding: the results of that day were so amazing, and how fun to see people racing back and forth between Dede's amazing stacks of papers, images, flowers, trims and more. At right is one of Liz's girls, and at her back is Debby Rosen's daughter, with Debby tucked in behind next to Linda. Debby ended up with an incredible journal, complete with niche (not as easy as it looks!), an old brass spiderweb, findings and antique entomological illustrations. She even used some antique seed packets as little pockets in her book....absolutely too fun! At left is Erin, whose journal front you will see shortly... Wendy joined us as well, and did great work creating a lovely journal, too, but must have been flitting around when I snapped this shot...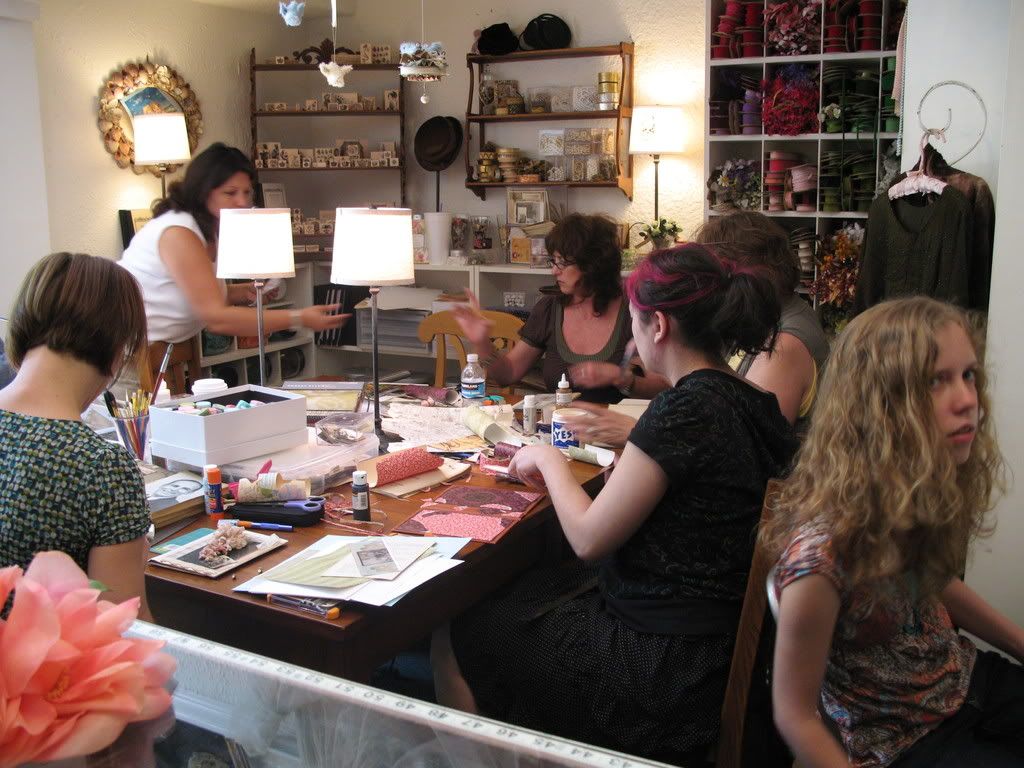 This part was way fun...Dede brought her sewing machine and people were sewing their papers, layering on trims, and fabric and transfers! Here is Liz, who we could barely tear away from that little sewing machine, and has vowed to go unpack hers immediately. She did one page in particular that was a stunning combination of fabric color, texture, and an image...we were all agog at that one!
Here is Erin working on the interior of her book, selecting some papers and creating her "signatures" of pages to be bound into the cover she created.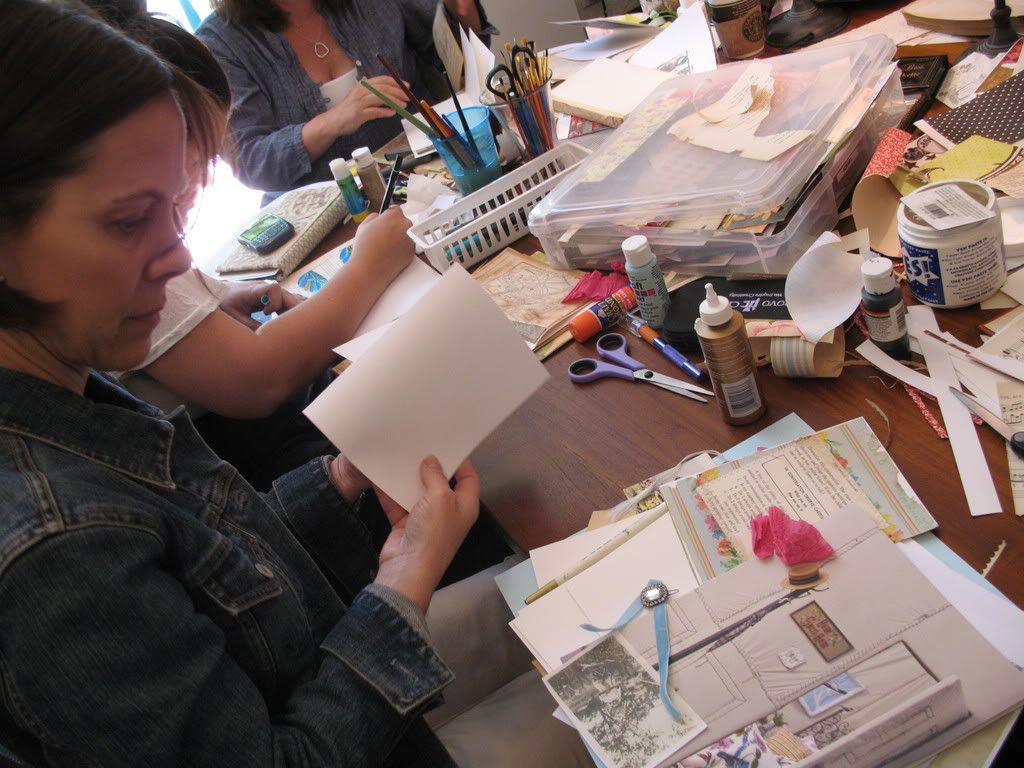 Hey! Here's my best buddy! After laboring all week on real estate transactions, Lindy took an afternoon off just for her and worked on an inspirational journal where she can record some of her thoughts and goals for this year and to come. She recently did a faboo inspiration board for her office at Remax that has heads spinning over there!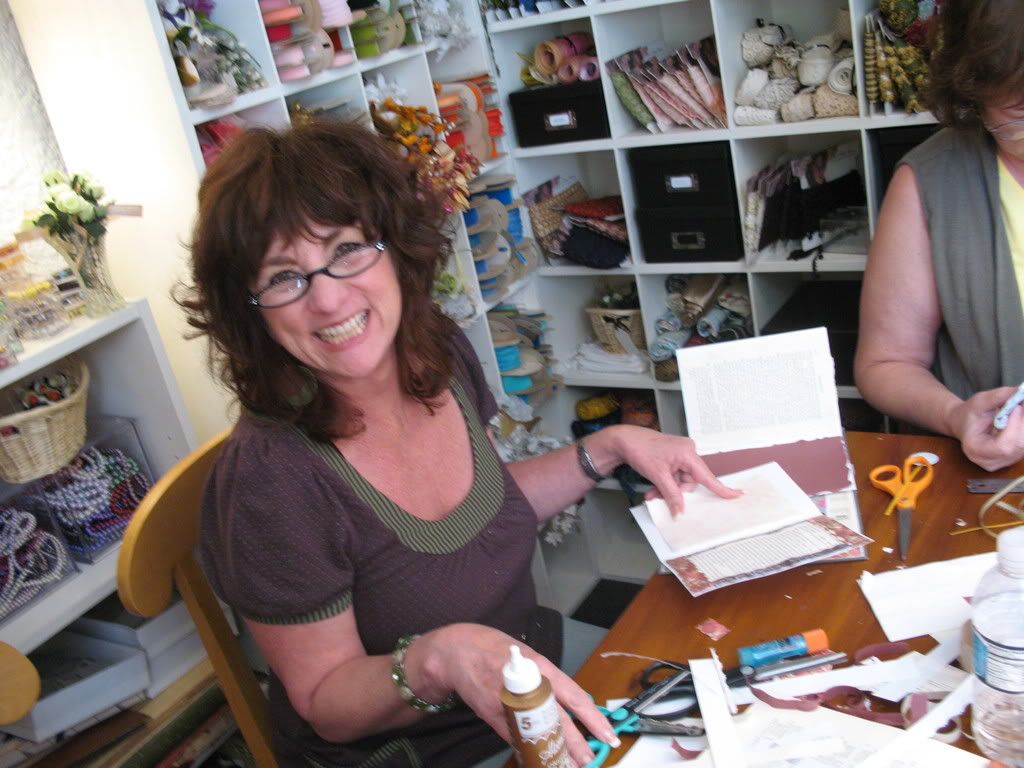 Are you ready? Here is Erin's sweet little journal... what an absolute confection! The slightly tattered little flowers nodded over that beautiful old photo, some of the petals tipped with rhinestones. The little lace valance at the bottom was crowned with a soft old carved mother of pearl button...so dear.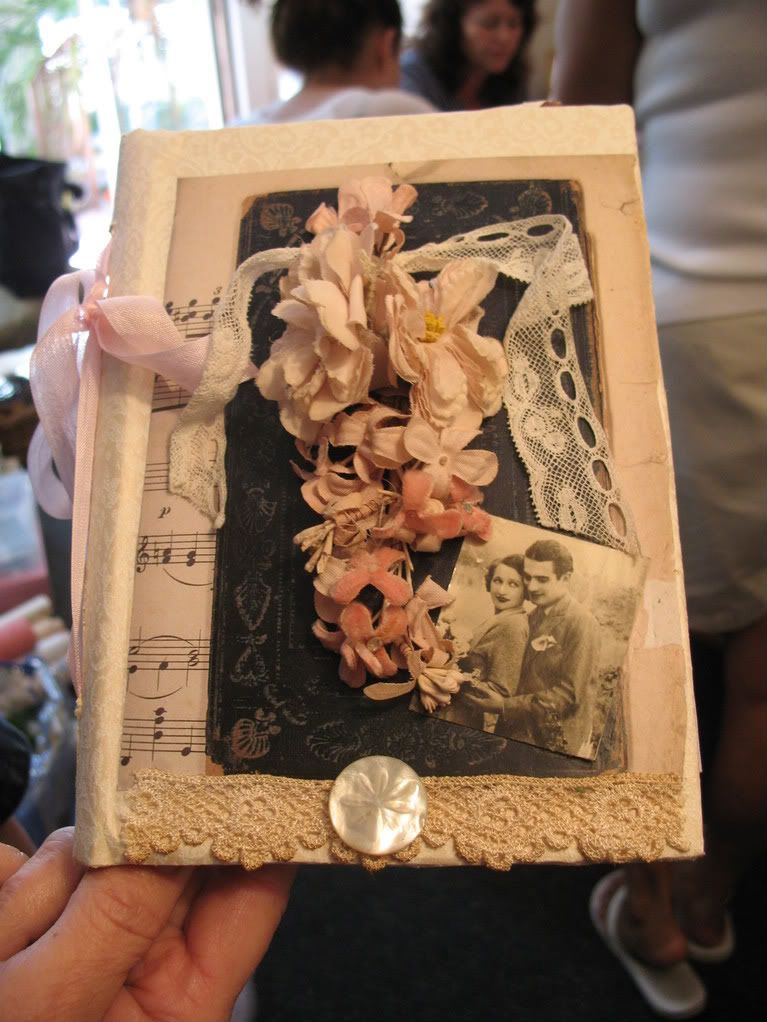 We turned away folks from this seating, but Dede has committed to another one in six weeks, so call me if you are interested and we will put down your name. We already have three or four confirmations, so we will land on a date and put it on the blog right away so you can plan. I am working on a printed and .pdf class schedule, too, which I hope to have on its way this week, complete with pictures and all the information. All I need is a few more hours of daylight (or a few less of sleep!). Hugs to you all, N