When we had our class with Dede, Carole Jurado was kind enough to bring in her little treasure box of mother of pearl and share it with me, and I in turn am going to share her treasures with you! Carole is the one person in the world who is probably as foolish as I am over mother of pearl artifacts, and although this probably represents just a few of her pieces, there were marvelous wonders in the box, which was in itself, a wonderful old celluloid wonder...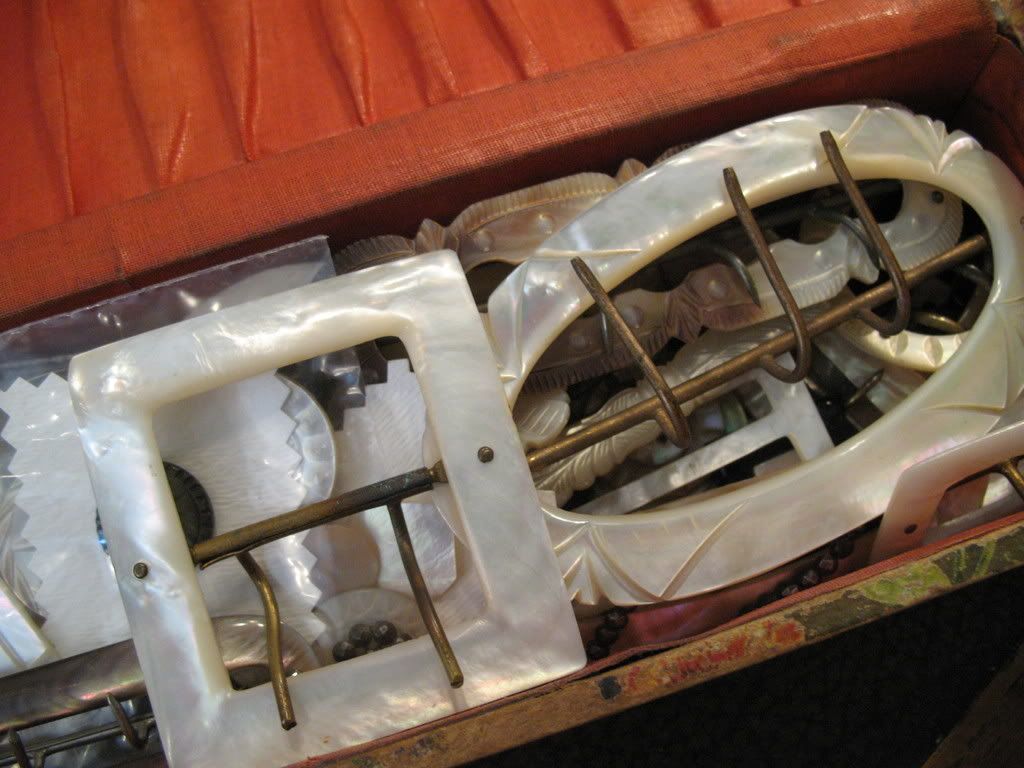 Look at these old Victorian buckles! I'm pleased to say that in the box were a few that Carole has collected from Lily, and I had the pleasure of finding. I am always on the hunt for pearl buckles, buttons and other pieces, and recently purchased two old quill pens, each with carved mother of pearl handles and gold plated nibs (one with a heart-shaped cut-out!). Of course, carved pearl is the most desirable and highly sought after, so don't hesitate when you see it...it won't be there long! I loved the neoclassic styled one at the left below, and look closely at the bottom of this photo, there is a little buckle with a brass "belt" and tongue attached to it, a really unusual find.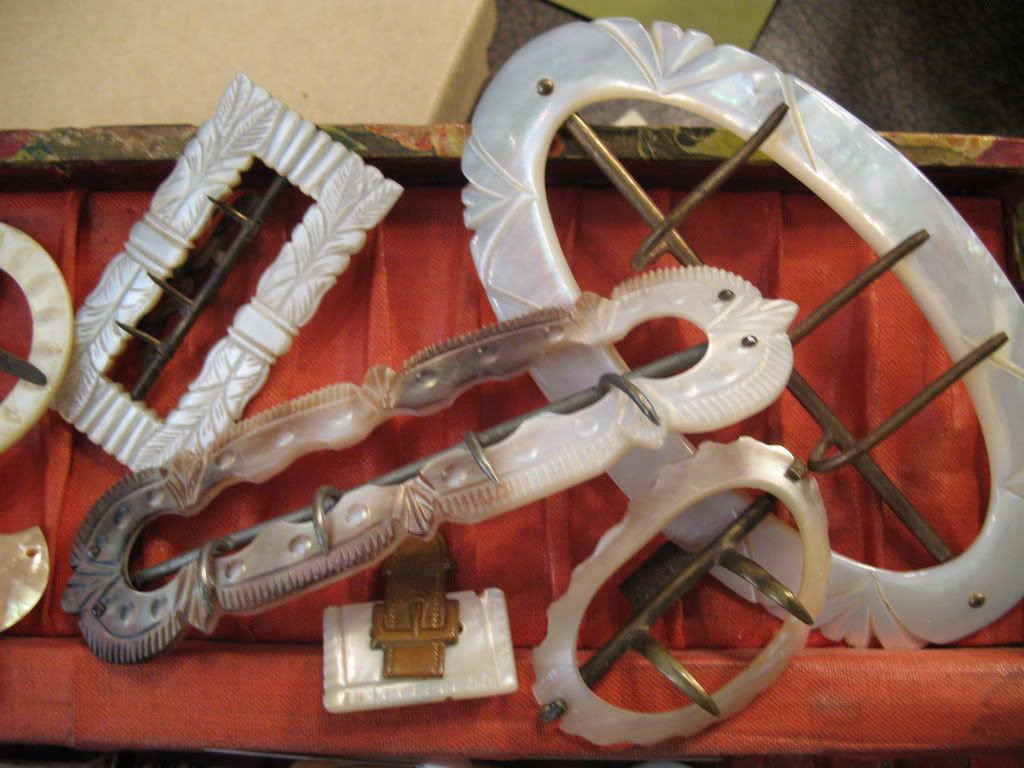 The long buckle spanning this photo was incredible, but the iridescent oval at bottom left was stunning, as was the two piece Victorian buckle at bottom right, lightly scribed with floral patterns and a soft peach in color...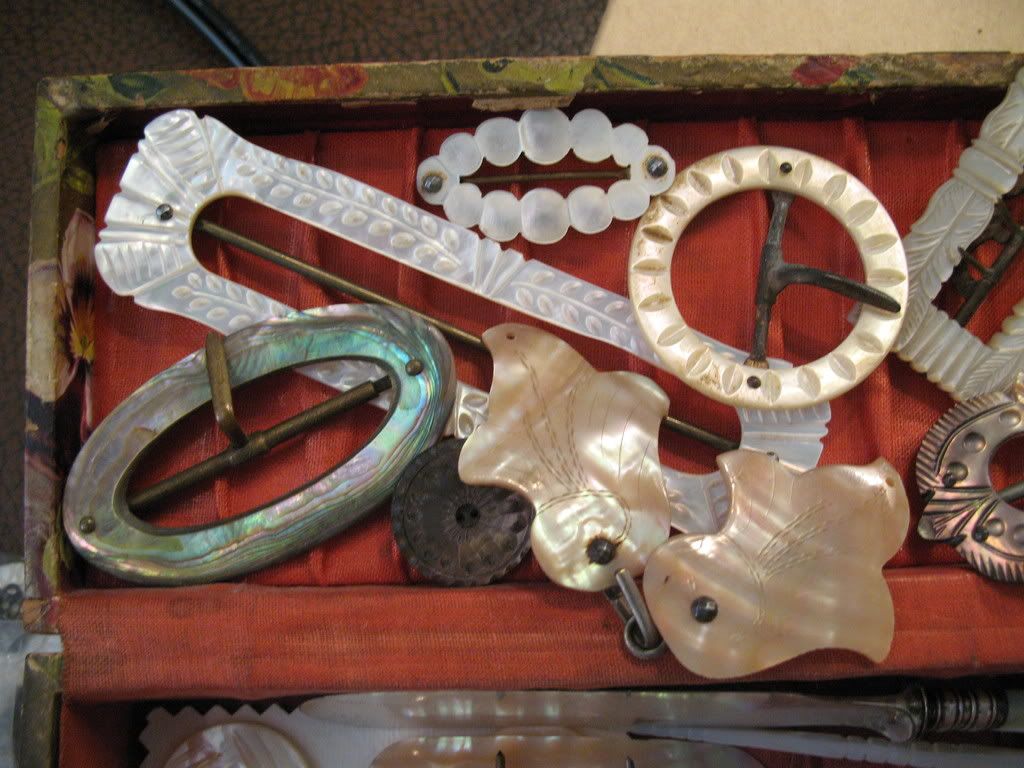 Last photo (sigh...) a pearl handled Victorian spreader, carved pearl buttons, and a wonderful buckle studded with faceted cut steel cabochons, another foolish fancy of mine. Peeking out with its nib resting on a carved pearl button at center is the lovely little quill pen. Thank you, Carole, for sharing your beauties with me, and everyone else.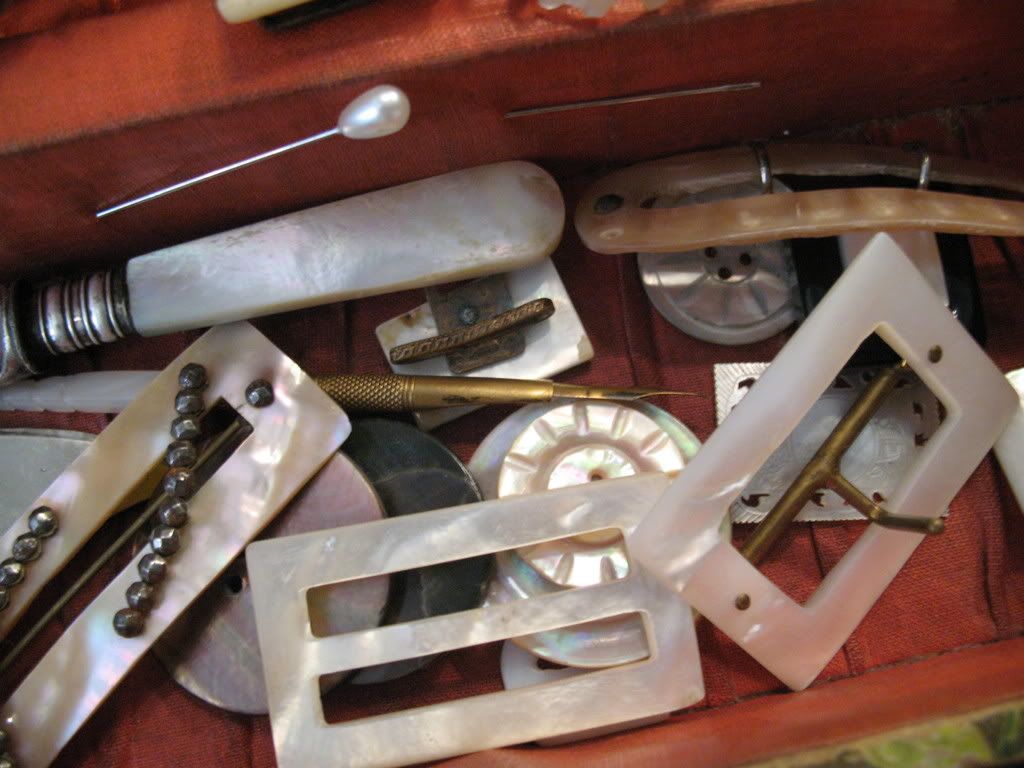 Write me and let me know what your favorite collection is, whether big or small, and send me an absolute confection of a photo to accompany it. I'll choose one for the next post and share it with everyone. I'll confess, my weakness is a collection of flowers that I have been hoarding for a few years, and I have a small collection of French trims in a particular color of green with peach...
what's yours?