Our last Open Studio traveled up the street and around the corner to the little house on Brookdale, where I got to have the best of both worlds...hearth and home, and my friends about me. What a wonderful night it was, full of laughter, chatter, food, creativity shared, and techniques shown.
Dede shared this with us, one of several she created under the tutelage of Nina Bagley, and I wanted to use this one for the post. Each one was more wonderful than the last, each one featuring little captured images and memories in Nina's signature style, a la Ms. Warren. They were all gathered together between two of Dede's beautiful found covers, and tied artfully with raveled ribbons in a muted color...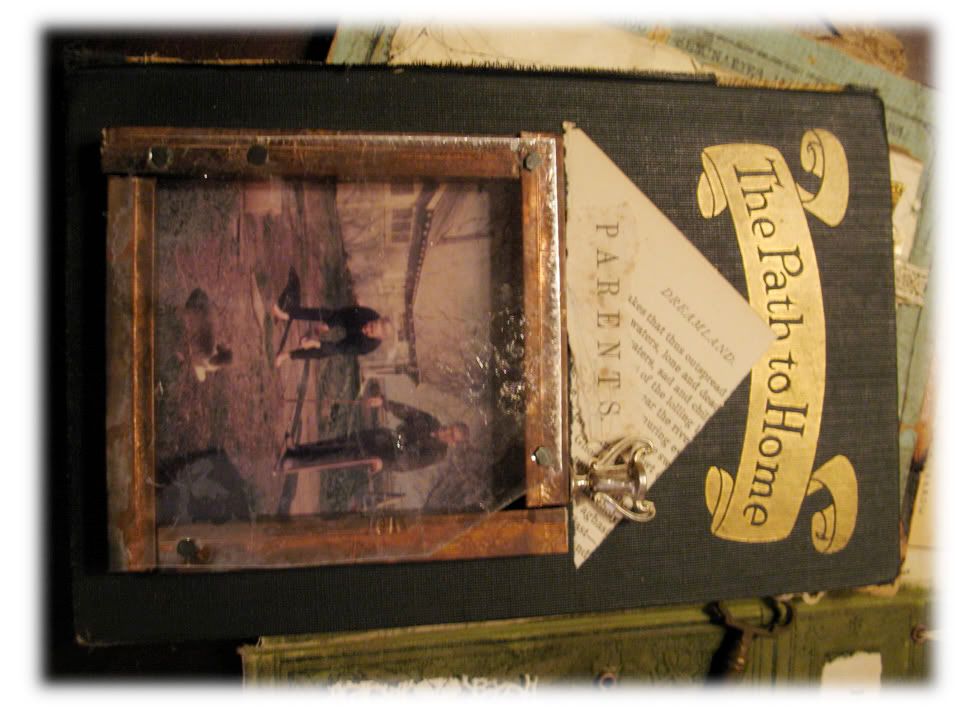 There was soup, as promised, and lovely sweets and savories proliferated on top of the baby grand piano and on the table in front of the fireplace. And yes, we did have a fire, a lovely small one that Mr. Gilding tended for us, and as the evening grew cooler, it was more and more wonderful to sit or stand by it. The dining room was crowded with women, and here you see Donna working with her punch needle, Ada composing two of her rosary inspired necklaces, and Dede showing us how she had just learned to make French beaded leaves. Donna brought the most wonderful salad to accompany the seafood corn chowder, and we all clamored to know the recipe, which I will put at the bottom of this post...she has graciously passed it on to me!
Jeanne and Theresa captured two spots near the fire, and Noodge was ensconced on Donna Mullinax's lap, where she rarely stirred from unless motivated (read: food nearby). As you can see, she was quite happy there!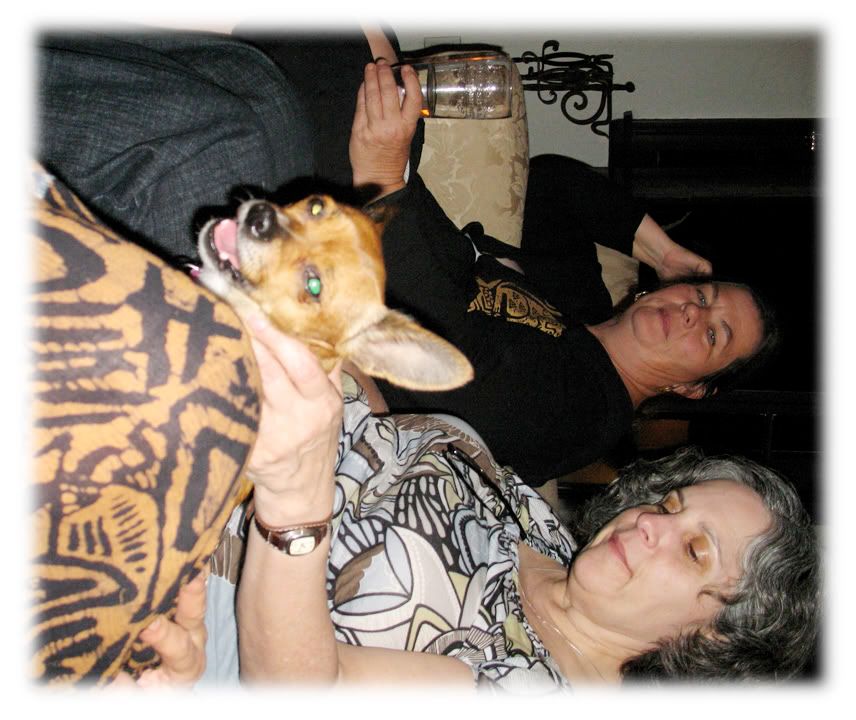 Mr. Gilding surprised us by whipping out two fresh apple strudels with tiny currants and cinnamon and they were gone in no time. And as everyone reminded me, I did promise Freddy, and though Linda had to leave early, we drug out the vinyl and remembered how our mothers had loved this music, and discovered we still do...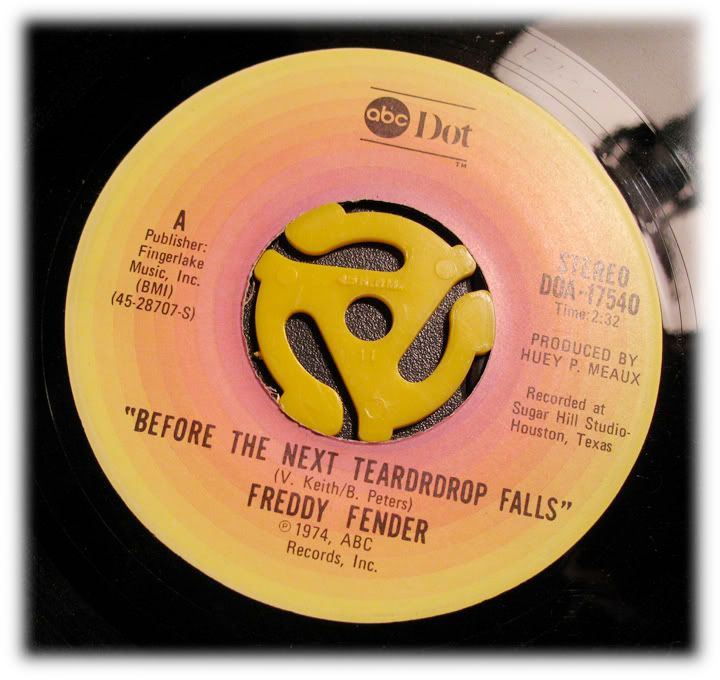 For those who couldn't make it, we
are
going to do this again throughout the fall and winter months so we can enjoy a larger space to spread out, more love and creativity to spread around, and toast our toes near the fire a few more times. Stay tuned!
Here is Donna's recipe for the Cabbage Slaw:
• 1 head of cabbage, chopped
• 3/4 cup
green onions
, chopped (Donna used the whole bunch in hers)
• 1 package slivered almonds (again, use as much as you want)
• La Choy 3oz. can of
chinese noodles
, or any chown mein noodles you can find (the original recipe calls for adding the noodles into the finished salad, but Donna thinks they get mushy, and serves them up as a garnish on the side)
The dressing is next:
• 9 tbsp. sugar (again, Donna says use your own judgement; she sprinkles it on a little at a time)
• 1 tsp. pepper and 2 tsp. salt, or to your taste
• 6 tbsp.
rice vinegar
and one cup of oil
Donna's note: I never put a cup of oil on it and again I just pour both the vinegar and the oil. I don't measure either one. Terrible instructions, but what can I say? I have also added chopped chicken and sometimes shrimp. Last night I used GrapeOla for the oil, and have used olive oil at times, too.
My note: I love asian inspired dishes, and think toasted sesame oil would be a winner, too! This reminds me so much of a little salad I used to get at a Japanese takeout place here in town...yum!