It's Paris in the springtime at Lily! As promised, we are making a "Paris" bracelet available as a class and kit, and will be setting the date for that class this week. "Amour" bracelets are also back in stock, and we are also offering the words "Bisou" (kiss) and "Bijou" (jewel) at this time. The lovely little French scrolled letters we will use to spell "Paris" are exclusive to Gilding the Lily, and we will try to add more options over time. Amour and Bisou bracelets will feature a sweetheart fob, the Bijou bracelet will have a jeweled dangle, and the Paris bracelet has a fleur de lis fob as shown below.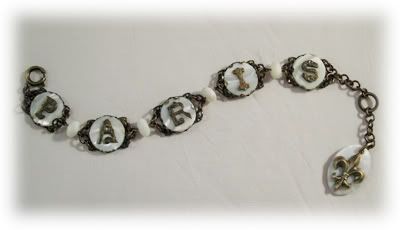 Also coming up, "Heavy Metal Heirloom," a Victorian- styled festoon necklace with mixed chains, a filigree and button focal, and a spot for you to place a treasured object from your own collection....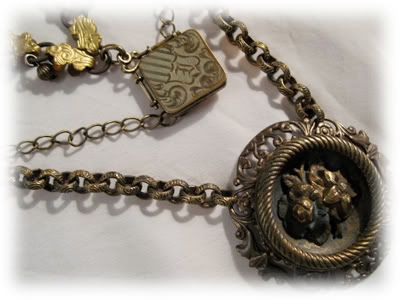 And last but not least, "Marie dans le Jardin," a mixed media necklace with wire wrapped crystals and vintage baroque pearls contrasting vintage chain, and culminating in a fob fashioned from vintage ribbon, old brass findings, a portrait of Marie Antoinette under glaze in a prong-set bezel, and a beautiful free form pearl and fleur de lis drop...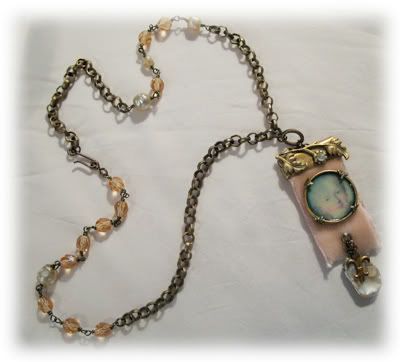 This project will have us wire wrapping, cold connecting, doing a little bit of sewing, metal aging and collage, but most of all, having lots of fun creating!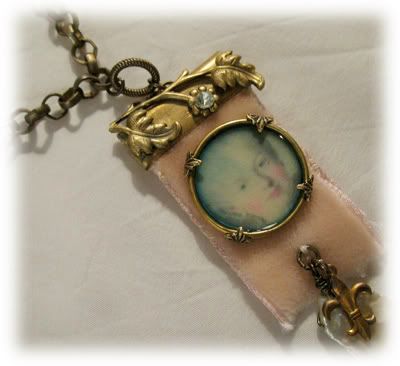 Look for scheduling on these classes in the coming weeks. (For those of you out of the area, limited kits will be available based on availability of components.)