Dede Warren
was kind enough to bestow this award on my blog, the Friendship Award. I am honored and pleased to have earned it. Here's what it's all about: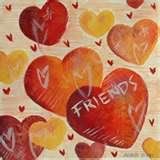 "These blogs are exceedingly charming. These kind bloggers aim to find and be friends. They are not interested in self-aggrandizement. Our hope is that when the ribbons of these prizes are cut, even more friendships are propagated. Please give more attention to these writers. Deliver this award to eight bloggers who must choose eight more and include this cleverly-written text into the body of their award."
In turn, I am bestowing this award on the following eight bloggers:
Lidy Baars
~ who told me I could do it, something only a friend knows and says
Debby Blut
~ someone who hasn't let thousands of miles keep us from knowing each other
Kelly Snelling
~ a girl who puts her heart out there for all to see and speaks the truth
Pilar Pollack
~ expect the unexpected, and receive more than you know
Bridgette Antonelli
~ a friend of years, a blogger of days, but she gets it
Tami Hichman
~ a friend I am blessed to have, who continues to bless me
Maija Lepore
~ a maker and sharer of art, and tireless promoter of others
Ruth Rae
~ one smile from her says it all: gentle spirit, artistic vision...
Kristin Robinson
~ gentle, sweet, caring - all in good quantities!
There you have it...my eight picks. There's only one thing wrong with this award. Eight is not enough. This just scratches the surface of what is out there, and who is in my life. The biggest gift bestowed on me in the past year is the friendship of dozens and dozens of women. I could never have imagined how Lily would transform herself and who would come through her doors. I am blessed to have friends as customers and customers as friends, who share my vision of truth and beauty, and who rarely let a visit start or end without a hug.
So you see, I really didn't need this award. Dede probably knows that best of all. She is one of the best friends I have, and loves Lily almost as much as I do. On that note, I charge each of the above to choose thoughtfully their own eight friends....