My computer's acting up and doesn't want to add the last few photos I have, so I'm starting here...
Friday night found me setting up my things at the sale down the street and furiously writing tags in the twilight. I went by in the morning to make sure I hadn't missed anything and saw Jami Santos there with her friend Laurie, doing a little shopping. I promised I would open the store early so they could pop in before heading down to the Tour de Art to see their friends. Laurie brought along with her these charming little beings...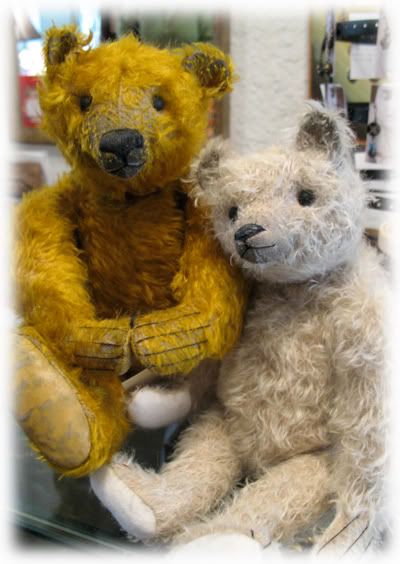 These little art bears are so cunningly made to look antique it is quite remarkable. The pair above took turns holding flowers for us and posing at one end of the antique jewelry case while Laurie tried on millinery flowers with her denim jacket and lashed on old lace jabots.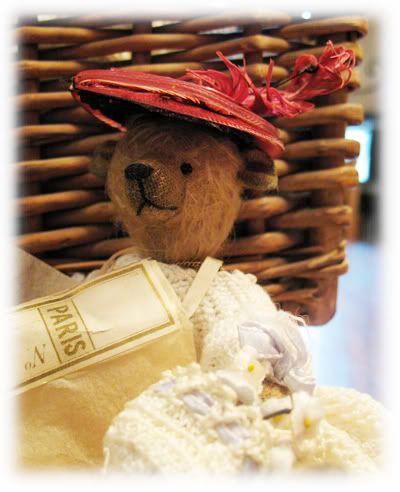 This little lady left wearing a gorgeous vintage crocheted dress and bag, topped off by a dainty little antique millinery feather from Paris, which suited her wonderfully as a little chapeau...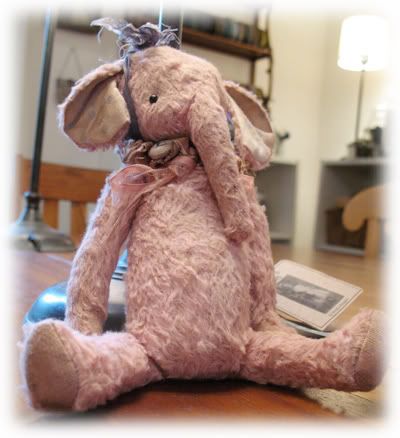 This fabulous creation I would have sworn was antique. The silky fur worn down just so, and the little ribbon fetchingly tattered. It was fantastic! There were even faded little polka-dots in her ears that were so sweet.
Laurie left laden with gorgeous millinery flowers from my personal stash and a beautiful pastel Czech brooch pinned to her denim jacket. The menagerie went back into her bag, but we are thinking of having a special gathering to welcome others to the shop for an outing. Stay tuned!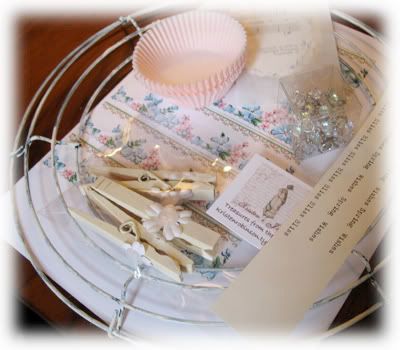 As the shop resumed its normal hours on Saturday, Kristen and her mom showed up and set the table for the Easter Chandelier class with these fetching kits laden with goodies.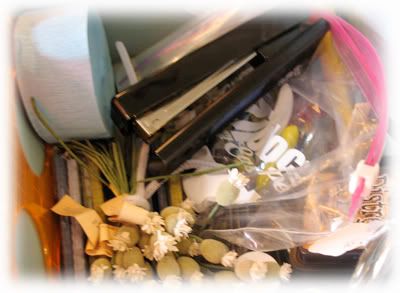 I couldn't resist snapping a picture of Jane Perry's work box stuffed with all manner of things.
Here's the girls starting to work on their chandeliers...
Under Kristen's tutelage and the hands of our students, the beautiful little chandeliers began to take shape...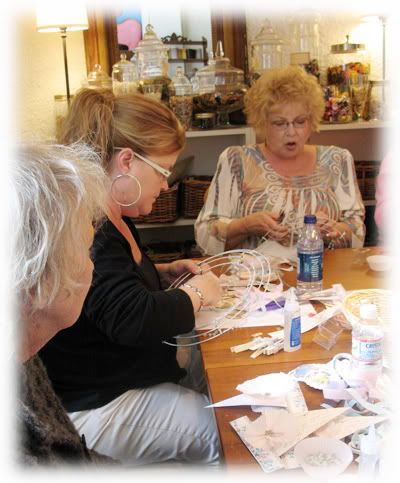 I was so happy to have Karen join us and bring her friend along, too! We don't see this smiling face often enough! Patti Olsen from OurShabbyAttic joined us, too, for this fun Spring project!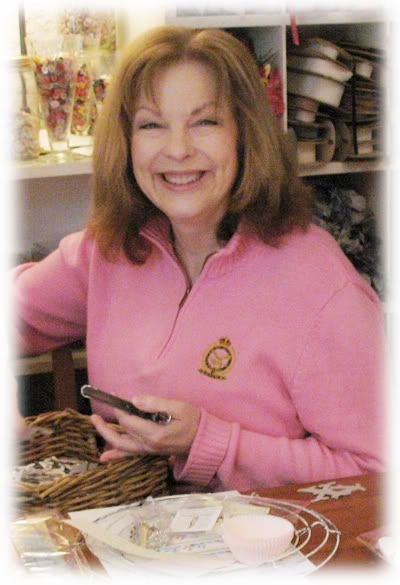 Nancy Deline and her mom Maggie joined us, too. Nancy was wearing another one of her fab necklaces she has been creating.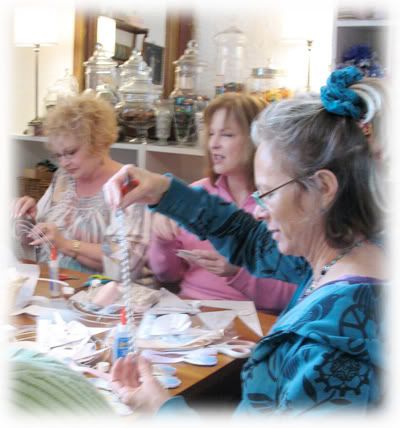 One of the finished chandelier cones, ready for hanging... this one sported a froth of antique silk chenille from Belgium, circa 1920, and some tiny hand crocheted trim in pink and white...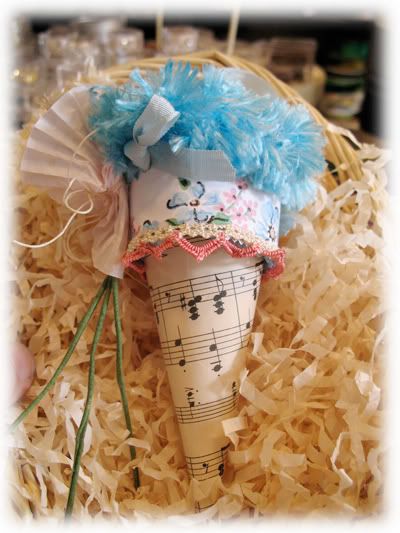 As class was drawing to a close, Jami and Laurie called back to say they were coming in again and bringing along a crowd of gals from the art show. Kristen and her mom helped me pull the place together, and Dede dashed over to help, too. It was soon spic and span and set to rights. We set out some food and wine, and welcomed our guests, who were delightful. All talented artists, it was such a treat to meet them in person, reconnect with people like Nicol, and meet Jo Packham, author of one of my favorite books. Below is Dede with Dara, two peas in a pod...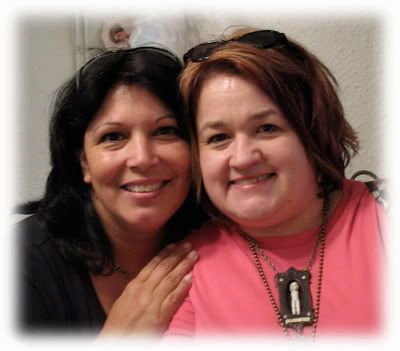 Sunday morning came too soon, and Robin and I were setting up tables for another soldering techniques class, the "Treasure Necklace." I love this shot of Robin working with student Bonnie Sheldon at the beginning of class...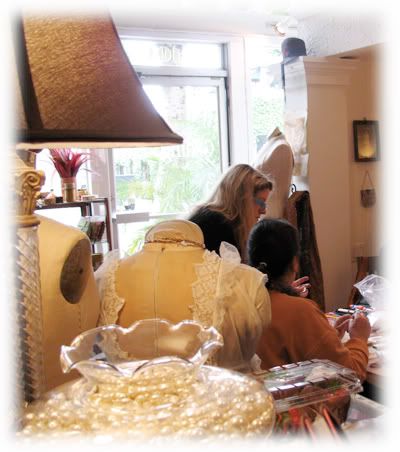 The delightful and talented Diana Salvucci joined us to hone up on some soldering techniques, and brought us...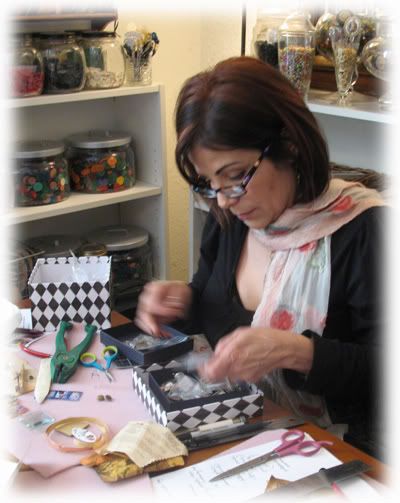 ...beautiful, big, hand-dipped strawberries! She went to the field store that morning to buy them and then fixed them before driving in for class. Scrumptious!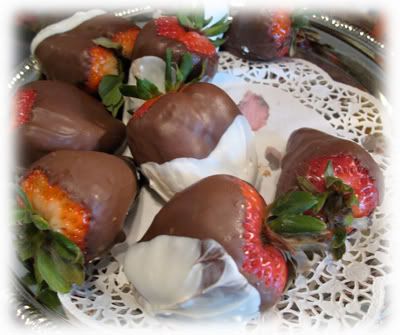 Some of the pieces being prepared for soldering...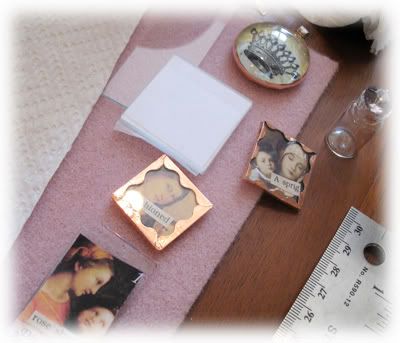 Just prior to soldering 101: You can tell by the serious faces that Robin is covering the territory about soldering safety and telling the story about how she "burned the crap" out of her finger. Listening intently are Trudy Carter, Bonnie Sheldon, Jaime Tagaki (who, coincidentally was the photographer who shot the store for Romantic Homes...what a treat to see her again!), Nila Webber, and Sheila Lind...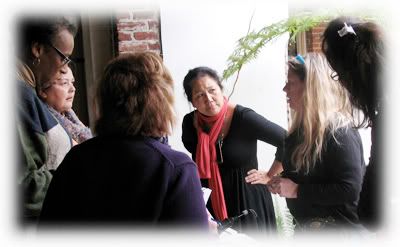 Bonnie soldering her first piece....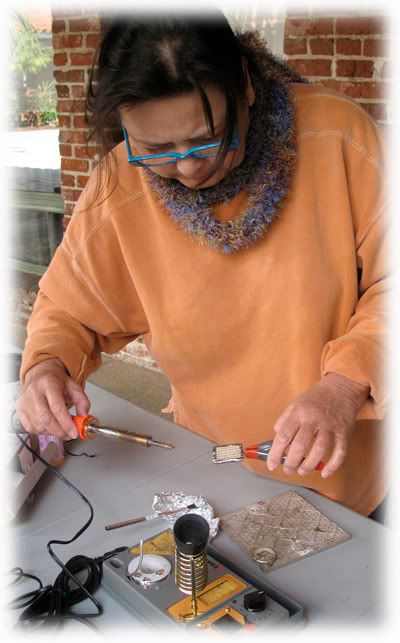 ...and Trudy and Diana working at the second table. We set up all the soldering stations outside in the breezeway on the courtyard, along with a third table with Robin's glass grinder.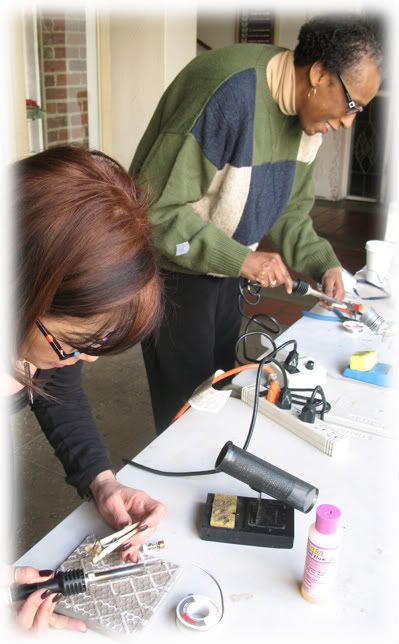 I had to include this picture of the class table! When everyone trooped out to solder, I came back to snap this. This, my friends, is the face of creativity...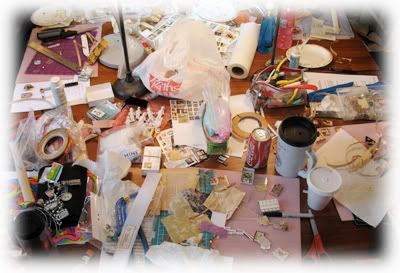 We will be welcoming Robin back to teach her beautiful "Charlotte Necklace" and will be scheduling another soldering basics class as well. Check the blog and class blog for dates!