We're up to something new here at GTL, something we have been tossing around for a while, and now it's time to take it out for a spin...
We will be launching
Make and Take Mondays
at the store, to be held each first and third Monday of the month. We'll send out an email with the project a few days beforehand, and if it catches your eye, come in and take one home to work on, or stay and work on it at the store.
We've been having our Open Studio nights on the courtyard, and it is delightful! We'll set up tables outside for
M&TM
s, have extra tools on hand for those of you who do not have your own, and Nathalie and I will be here to help out if you need it. We'll start at six and end by eight p.m. Here's what we've got coming up this Monday night: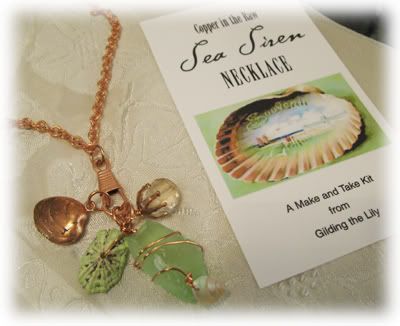 I loved all these raw copper components paired with the green of the sea glass and limpet shells. The kit includes chain, clasp, wire, rings, pins, copper fob holder, as well as sea glass, tiny vintage shells, a faceted crystal bead, copper bead cap, and a beautiful vintage three dimensional copper shell charm as shown below.
Cost: $15.00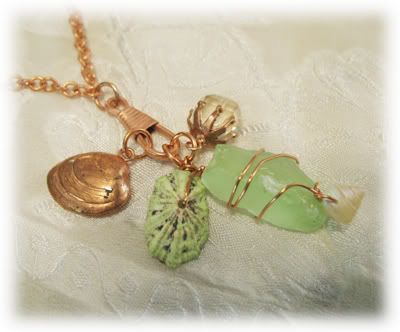 We're also offering this sweet little necklace kit, with tiny bird charms and more...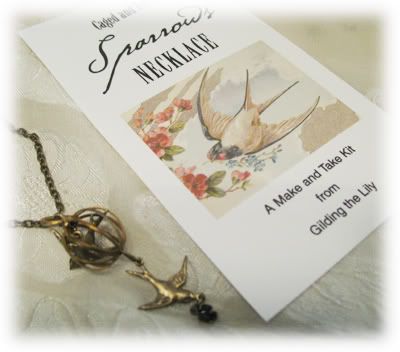 The kit includes chain and clasp, pins and hardware such as rings and connectors, a vintage cage bead, two solid brass swallow charms, and a vintage rhinestone drop.
Cost: $15.00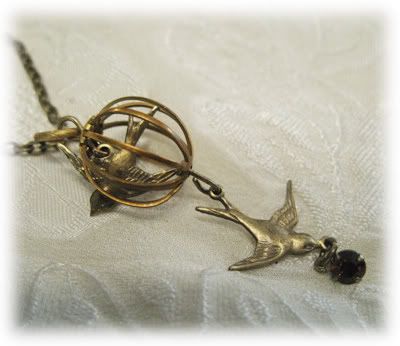 We hope you will be able to join us this coming Monday... we'll be doing more and different kits this summer for those of you that are time-crunched, budget-pinched and just ready to have some fun!