Last weekend we welcomed Somerset Artist Lisa Guerin to the studio for the first time, to teach her wonderful
Gyspy Junk Jewelry
, a charming pastiche of stamped images and cold connected funk that is really incredible...
If you have not had the opportunity to meet this talented artist, try and make her next class, featuring her articulated paper dolls that incorporate stamping, mixed media and more...all in a Halloween theme...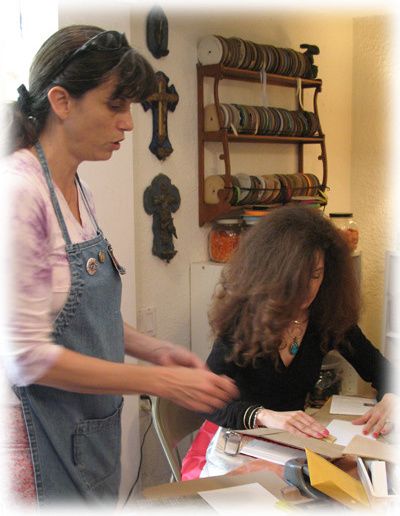 There was heat gun action outside Lily, where Lisa instructed the students on working with art plastic...
Students listen avidly to Lisa's instruction, which was informative and playful at the same time....all the things that art should be!
What could be better...my new friend Lisa and my BFF Dede, all rolled up into one smiling package! I love to have my friends come packaged in a hug...