This is one of my favorite views in the morning. If I turn around from my computer, I can look out the little sash French windows onto the deck. The window frames the little grape vine we are nurturing and hope will cover the arbor, which sways gently in the breeze, and looks beautiful against the fuschia of the bouganvilleas that drape over the railing on the deck...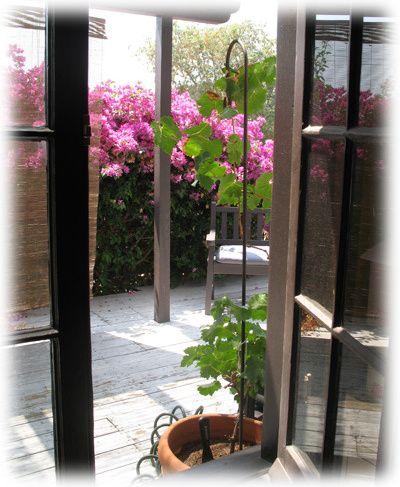 I didn't have too much time to dawdle over this, however, as I had to get Priscilla to the train station. She came down from San Fernando Tuesday to help me whip the store into shape, and then we went home to a wonderful dinner prepared by Chef Jamar...
Tandoori chicken, rice pilaf with scallions, a grilled tomato jam that was to die for, and loads of the highly addictive cucumber raita that was the counterpoint to the Indian spices providing the heat. Here's the ridiculously easy raita:
2 cups non fat Greek yogurt
2 cups chopped cucumber (de-seeded)
1/4 cup chopped mint leaves
1/4 cup chopped cilantro
salt
fresh ground pepper
Before the train station, Priscilla and I hit our favorite stop (and now a tradition for us), Judy Lynn Bakery, just a half block away from the station. My grandmother shopped there, my mother, and I have been going there for over forty years now.
The bakery is a tiny place, hardly big enough to hold a half dozen people at a time, and there are two little window bays with little tables that seat two people. Outside, there are two more little tables, where you can sit and watch the morning traffic coast by in our sleepy little burg. Here's Priscilla sitting with me while we down our coffee (the best in town) and our baked goods. We love this time and try to spend the better part of an hour here sitting and talking before we head over to the 1920s rail station...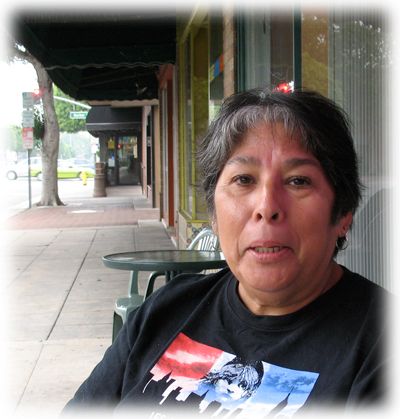 I made my selection from this basket of scones, which are delectable. That being said, I only opted for the scone because my absolute fave, the raisin bagel, was already gone. Someone beat me to it...darn it! Their bagels are phenomenal, the best I have ever had. They're smaller, crisp on the outside, and soft and fragrant on the inside. The raisin bagel is loaded with fruit, and I am absolutely addicted to them... Arrive early if you want to try the bagels, they go fast.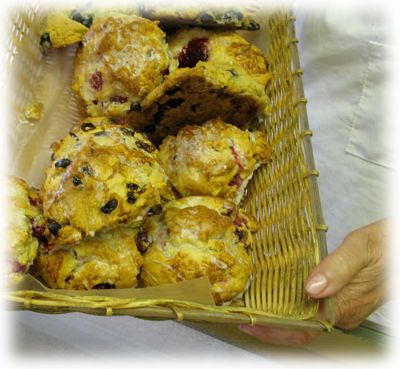 I always buy my baked goods for classes and events here, and there's a dynamite coffee cake with custard and almond paste that will knock your socks off. And the service is always delivered with a smile!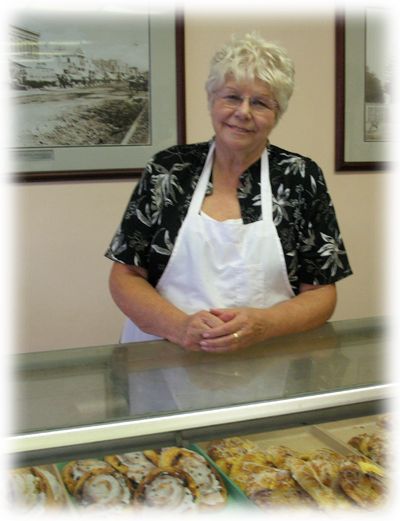 You can find this little gem of a place at:
Judy Lynn Bakery
113 E. Commonwealth Ave,
Fullerton, CA 92832