I did not start blogging to get up on my soapbox, but there are times when you need to speak, and times when you need to ask for others to raise their voices as well. Some of you may live in Fullerton, many of you have visited us there. Part of what I love about my store is where it is, and the fact that our little downtown has survived when many have not. I say without exaggeration, that we are in grave danger of losing the charm of our downtown. Look below: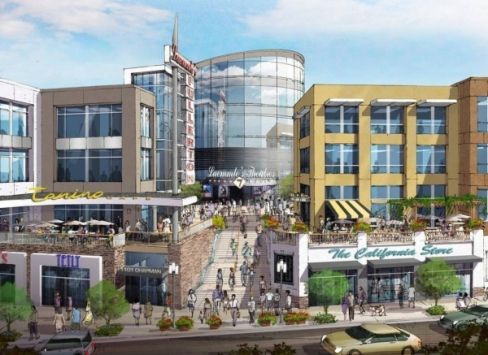 This is the proposed development for the "Fox Village," which would stretch from behind the old Fox Theatre to the next block, at Pomona Street. It would also encompass the area north to Ellis Street, where my friends Jeanne and Dorothy Gail live. Jeanne's little cottage (where many of you have attended their wonderful antique sales) will be cheek and jowel with a parking structure. This monstrosity will be one block away from our location in The Villa del Sol...
I, as well as many others, are horrified at the prospect of this project. It in no way relates to the history or architecture of the old downtown, and would tower two stories above the Fox Theatre. Our dream of seeing the original Fox sign on the top of the theatre lit and silhouetted against the sky when it reopens, will never materialize if this project comes to fruition.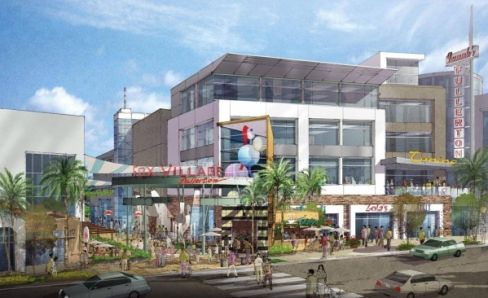 The project also includes a seven screen theatre. Why, I can't imagine. Isn't the whole point for the Fox to be the crown jewel downtown? Is this making sense to anyone out there in bloglandia? If you really want this type of experience, you have only to drive 10 minutes north to Brea's promenade. There, you can see and experience essentially the same thing: formulaic threatre signage, meandering "paseo" walkways, and lots of retail.
I'll be the first person to say we need to achieve more balance between what has become a bloated restaurant and bar scene in this town, and the retail business that we so badly need. Am I willing to have it served up on this plate? Hardly.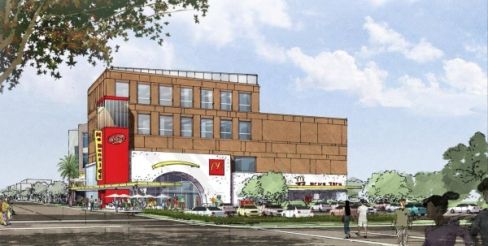 This is the view from Pomona and Chapman, directly across from our beautiful old high school, also a mere two stories tall, which will also be dwarfed by this project. However, they will have that nifty looking new McDonalds just a few steps away, separated by only a lovely retail parking lot. That makes it
so
worth it, right?
Sadly, these drawings were presented at last week's meeting by Rob Zur Schmiede, Fullerton's own director of Redevelopment and Economic Development. He feels this is a viable step for us to take. I understand that he is looking at the economic development side of this equation, but I truly feel he's missing out on the heart of what we are about.
If you love Fullerton, and want the character of our little downtown to be preserved, this is an opportunity to speak out loud and clear. I am including Rob Zur Schmiede's email address at the bottom of this post for those who would like to voice their opinion and be heard. Thanks for listening...
Rob Zur Schmiede
Director, Redevelopment
RobertZ@ci.fullerton.ca.us