Saturday we hosted Cindy Gonzales for her second crown class at Gilding. This amazingly talented and humble artist is such a wonderful person, and every student leaves her class with a beautiful crown, and feeling they have made a new and lasting art friendship.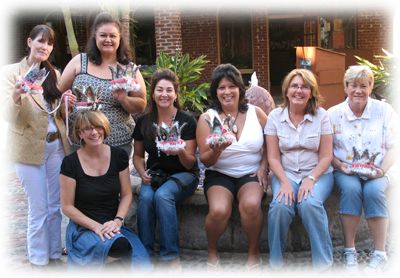 Pictured above from left: Mary, Pearl, Karen (at bottom), Andrea, Dede, Cindy, and Margie, all perched on the old fountain in the courtyard. The weather was fabulous, so we held class outdoors on the courtyard, and much fun was had by all.
Cindy will join us for two more classes before the year is out...one more crown for Christmas (and it's phenomenal...look for it on the blog soon), and some darling Victorian candle clip ornaments. Can't wait!