I had the marvelous good fortune to acquire some extraordinary ribbons for the store this weekend, picking and choosing from bolts and bolts of luscious jacquards and ruched and ruffled beauties...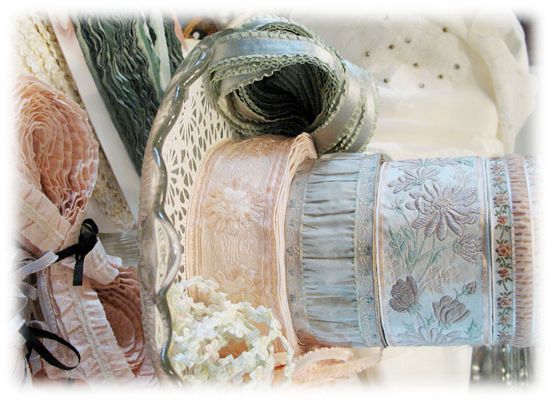 I purchased ribbons that I remember selling years ago, and had not seen the like since. My dear friend Mary brought delightful things and we spent two happy afternoons marveling at the work in them. I can never resist making a "ribbon cake" whenever I have the right ingredients, and the one above has a bottom layer of an extraordinary pale peach jacquard, silky and lithe, with
trapunto
motifs along its length...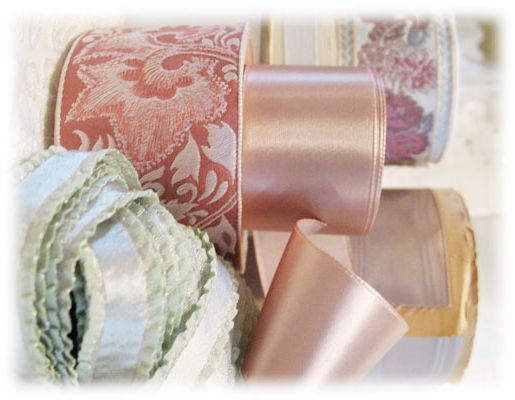 The colors seemed to find each other, and pairing up the impossibly beautiful combinations of pattern, hue and finish was such fun...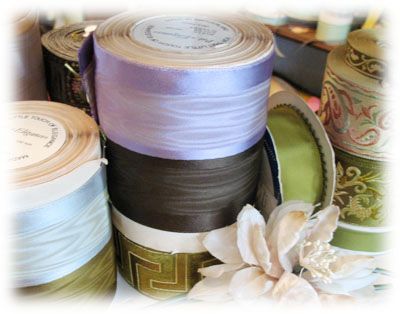 Above are shown two incredible bolts of ribbon with two different colors of moire in each! Two beautiful jacquards are at right, silky and soft, with a bolt of mossy taffeta with a picot edge from the Laraways tucked in between...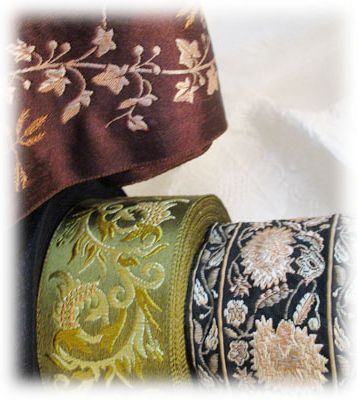 And because it is fall, there were darker colors that came to me. The wide chocolate ribbon at left is woven in jacquard with a meandering floral motif that is so lovely. Atop the mossy silk jacquard sits another trapunto ribbon, with a striking pattern of pale, creamy chrysanthemums on jet black...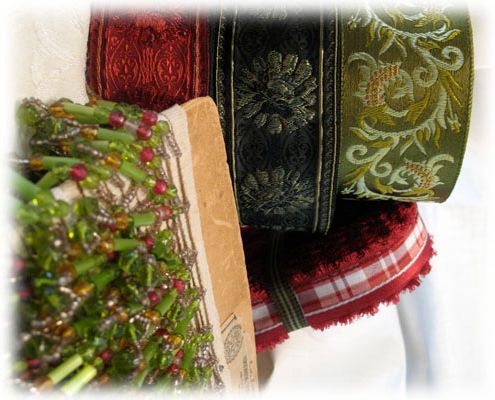 I could not resist these two bolts of trapunto jacquard in a garnet red and deep green, perfect for the holidays. The red plaid taffeta with a double eyelash fringe leaned into this shot, and some beautiful antique beaded fringe seemed just the thing...
There are more to be included on the shelves at Lily; two beautiful taffeta ribbons with ruffled edges, one in a beautiful green, the other with a band of scarlet and the ruffles in a lavender ombre. A beautiful bolt of white and cream rococo came along, too, and three more of the trapunto jacquards in narrower widths. All welcome additions...