More Make&Takes for Mondays...
As our classes scale back for the holiday season, we are putting in place more Make&Takes specifically designed for gift giving and making. We are adding four more designs and will continue adding more as we move through November and into early December. Another change...Make&Take Mondays will take place every Monday, in hopes that we can accommodate our busy schedules at this time of year, and all kits and designs will be available every session as supplies last...
Pictured above is our "Snow Globe Necklace." It incorporates tiny glass vials, silver plated ball chain, twisted silver ring, vintage rhinestone drop, plus mica and holiday thoughts to include. This is a great kits for young ones to make under supervision for teachers, friends, and relatives. This kit will be available as long as supplies last at $6.50.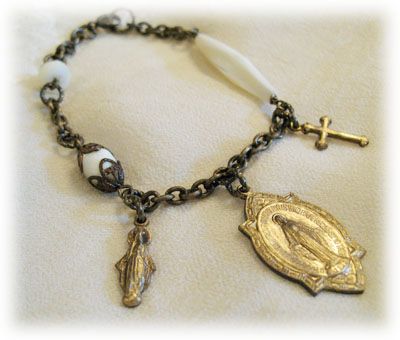 Pictured above is the "Immaculate Bracelet," a companion to our Immaculate Earrings. This piece includes limited stock items from my own kit including faceted mother of pearl beads and bead caps, paired with vintage religious medals, chain and clasp. Kit price $16.00.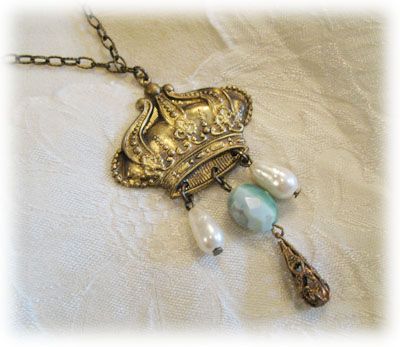 Shown above is the lovely "Petit Trianon Necklace." This piece is compose of engraved chain and clasp, a beautiful crown stamping and brass filigree teardrop, paired with two beautiful and limited Miriam Haksell baroque pearls and a hand faceted semi precious stone. Kit price, $18.00.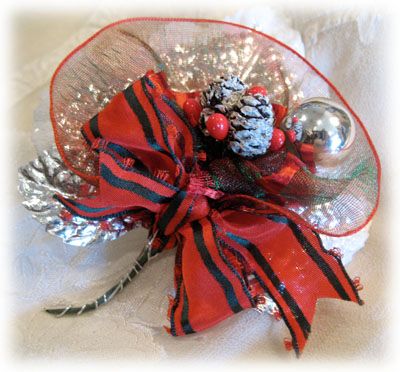 I couldn't resist! After bringing out these vintage Japanese foil leaves with the frosted snow edges, they were begging to become a "Vintage Christmas Corsage." This kit includes vintage foil leaf, tiny pine cones and berries, a silver glass ball on stem, pinback, and two lengths of vintage French wired ribbon from our stock. Kit price, $10.00
Hope your Thanksgiving week is lovely!