More Make&Takes for Mondays...
We've added four more designs to our make and take offering. Make&Take Mondays take place every Monday this month, and all kits and designs will be available every session as supplies last...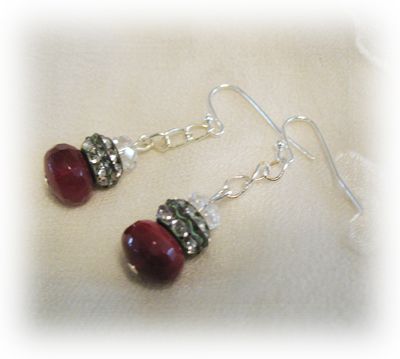 Pictured above are our "Ruby Quartz Holiday Earrings." These feature hand faceted ruby quartz rondelles paired with double stacked rhinestone rondelles topped with brilliant cut crystal. Bridal white pins, chaining and earwires are standard, but of course can be aged with our patina solution. Limited amount of these available. Kit Price: $8.00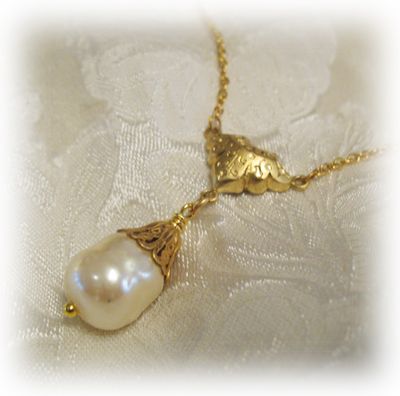 Pictured above is our "Victorian Pearl Necklace," which pairs a beautiful Miriam Haskell baroque pearl with rich gold chaining, an engraved connector, and filigree bead cap. This is a simple necklace, but extremely elegant. Kit Price: $14.00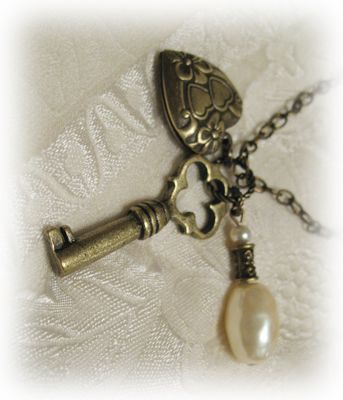 Shown above is the fun little "Key to My Heart" necklace, composed of a cast dimensional antique key, vintage aged heart shaped locket and huge Miriam Haskell barrel baroque pearl topped with and antique brass finding and smaller pearl. All these elements are gathered onto our favorite engraved chain with a large figured jump ring. Kit Price: $12.00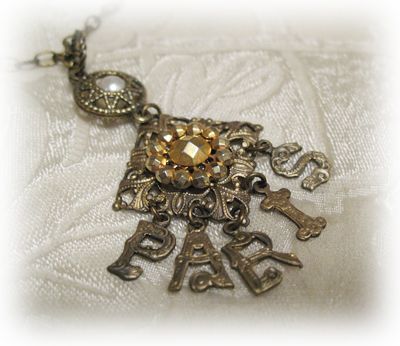 My favorite of this week's offering! The "Paris Souvenir Necklace" combines a vintage dapped filigree with aged baroque French letters spelling out "Paris," a wonderful vintage filigree connector with an encased pearl, a figured jump ring and engraved brass chain. The filigree focal features an antique cut steel button. Kit Price: $18.50

We will have all our previous Make&Take kits available as well, and I will do my best to offer one more set of projects for next Monday, and then we will break for the Christmas holidays. Any remaining kits will be available in the store for purchase...they make great gifts for the creatively minded!
Looking forward to seeing you tomorrow night!
Nancy and Nathalie