Each season we hear a familiar sound...a rushing of wings, ungodly screams and a thunderous flapping as our flock of Amazon parrots comes home to roost in the big trees in our neighborhood. The flock has grown each year, and there appears to be around a hundred parrots in it this year.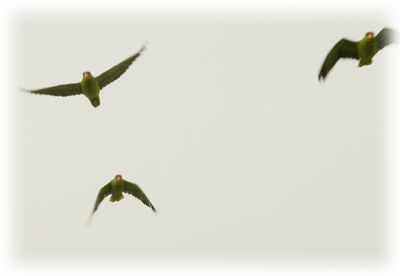 They like the big specimen pine in Tim and Ernie's yard next door, as well as the big Dutch elm. They came circling in from the north of us, flying over the house and swooping in amongst the jacarandas, screaming all the while. The noise is sometimes deafening, and I always have to laugh at how hard they work at flying. Their wings flap madly, set dead center on their stout green bodies, and the screeching goes on the entire time, as if to say, "I know if I stop flapping like this, I'll fall right out of the sky..."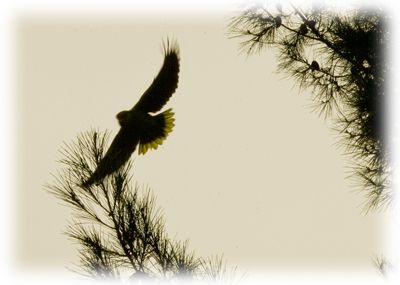 Alain managed to snap a few pictures with his big Canon, capturing this one coming in a few feet off our deck...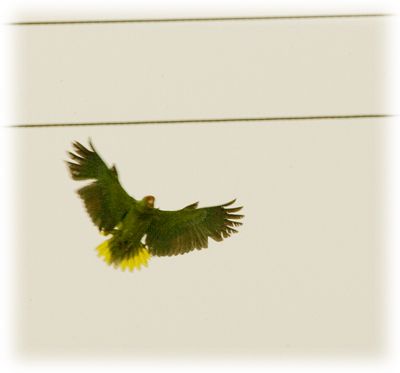 Getting ready to land in the big elm next door. He and another parrot lingered there for a few minutes, resting and preening until time for their next mad flight...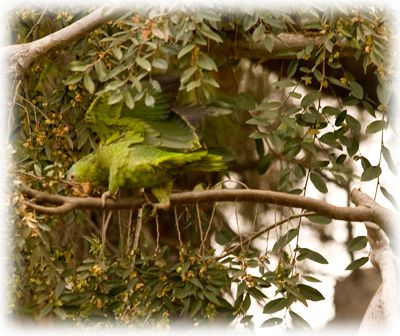 Time to go! He's off for another flight around the neighborhood, roosting in some large fruit trees at the top of the hill, I think...