I had fun the other day putting together some "color cards" that reminded me so much of the sewing cards that my grandma used to keep in the hall cupboard for us. They would have a picture or central theme, and then there would be little holes punched all around the design. Yarn threaded on big plastic needles or finished at the end like a shoelace could be "sewn" through the holes all around the picture.
Although simpler, mine have yards or half yards of ribbons and seam binding laced through the holes, chosen for their coordinating colors that pair them with the vintage appliques I pulled from the big wicker basket in the store...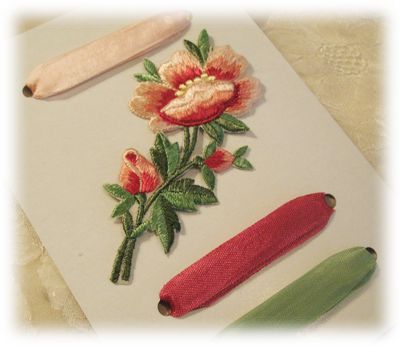 This was one of my favorites, an old silk thread applique on silk organza paired with pink and green, my favorite color combination. I think I will make this an ongoing project...it was fun and rather relaxing to tackle something as easy as all these lovely colors...