Our last Make&Take for 2009...
Our last Make&Take Monda
y
features four earring designs and a bracelet, and all kits and designs will be available as long as supplies last. Some kits, such as the Victoria earrings that feature antique buttons in pairs, are more limited.
Pictured below are our Bohemian Filigree Earrings, which include beautifully detailed pierced filigree hearts, paired with filigree bead caps and Miriam Haskell baroque pearls. Simple, elegant and easy. Limited to stock on hand.
Kit price: $7.50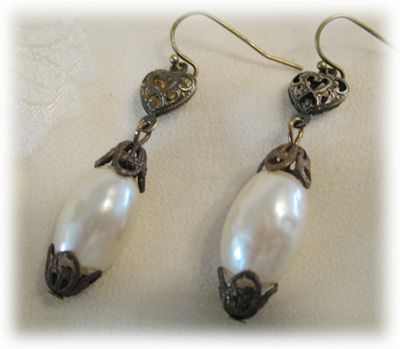 Shown below are the Victoria Earrings, composed of antique Victorian buttons clasped in delicate filigrees and paired with beautiful semi-matte Czech black fire polished beads.
Limited to stock on hand.
Kit Price: $9.75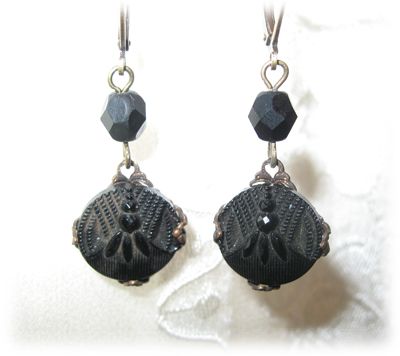 Show below are the fun and more contemporary Samba Earrings, which pair beautiful hand-faceted carnelian beads and bone beads set with ochre and olive dots, with vintage copper chain and leverbacks.
Ball tipped copper pins complete the look.
Kit Price: $5.00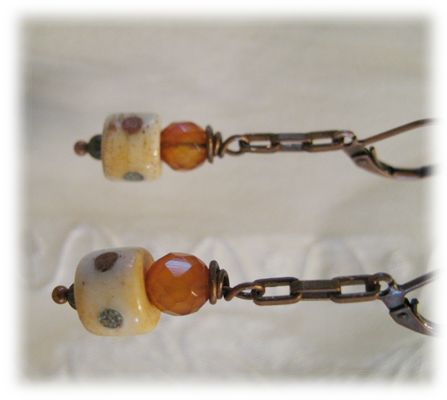 Shown below are the Chandelier Dreams earrings, pairing elegant filigree drops with tiny baroque pearl drops from our old stock Miriam Haskell pearls. We have a few kits in the antique silver shown, and the remainder are antique brass.
Kit Price: $8.50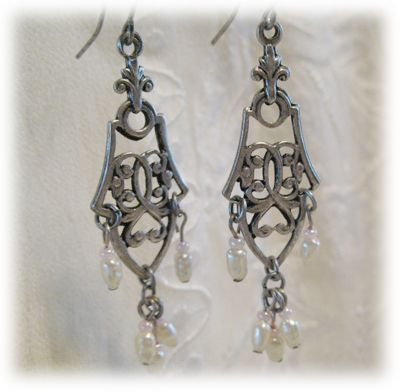 You've been asking for a bracelet, and here it is. This charm style bracelet is built on 7mm double-linked chain, finished with vintage ring and clasp, and is loaded with vintage findings and beads, including two heart lockets, filigree bead, fleur de lis, pearls and beautiful faceted glass beads.
We're giving this one away...
Kit Price: $18.00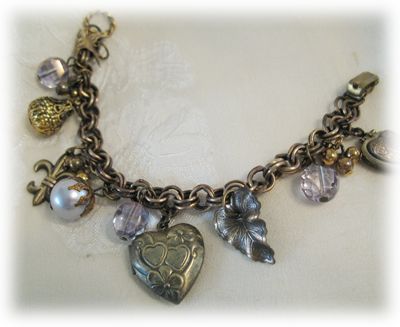 This will be our last Make&Take of the year. Kits will be available in store before they go online.
We look forward to seeing you tomorrow night!
Nancy and Nathalie