I've been relishing getting back into the normal groove after the holidays, and tomorrow night will be our second make and take of the year. I barely got the email out on this, as I was trolling the aisles at CHA all day, and it dawned on me that I had better pull it together...like pronto! So, I'm putting it out on the blog, too, to counteract my procrastination...

Tomorrow night's Make&Take project will be this rosary styled necklace, shown below. We'll be using our new antique silver hardware in pins and rings, pairing it with semi-matte crystal Czech glass beads, our own Antiquities line of castings, and aged rhinestone beads and baubles.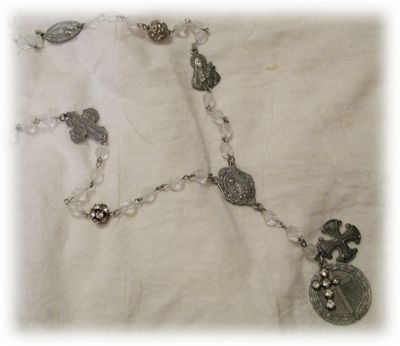 This is a great project for those who really want to nail down their pinning skills and get them more consistent. We'll be doing a total of two strands (50 beads) for this necklace, and yes, practice does make perfect! We'll also use the new Dremel Ion to customize some of the medals with additional holes for linking. You'll want to go out and get your own after you use it...it drills through metal like it's
buttah
! Robin sold me on this little update to the Dremel line and it's a dream....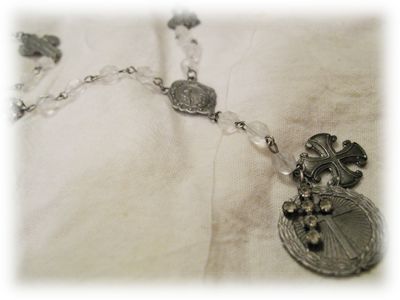 As always, kits will be available for those who cannot make it in on Monday evening. Call ahead and let us know if we can expect you, or if you would like a kit set aside for you. The components for this project price out at retail in the store for over $30, but we will be offering this kit for $24 for a limited time.
G I L D I N G

the

L I L Y
Make & Take Mondays!
305 N. Harbor Blvd. Suite 101
Fullerton, CA 92832
(714) 349-2069
for reservations or more information