I resolved late last year to recapture our url for the store, and move the web site to a new location, which has finally been accomplished! There seemed to be too much confusion about the online presence and if we really had a brick and mortar store, that it seemed the right thing to do. This year we will move forward using www.gildingthelilyvintage.com as a vehicle for introducing people to our store, the classes and events, and post photos there and information about how to find us and our hours.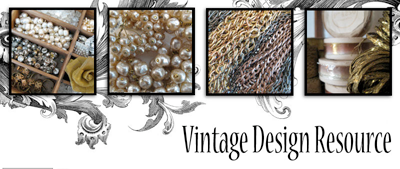 The website has a new name and a new url, www.vintagedesignresource.com. After a nervous weekend of not being anywhere in particular, and then showing up without template or graphics, it has finally been sorted out, thanks to the helpful people at Pappashop, and Catherine at Avalon Rose Design. Thanks guys!

We've been adding new items, restocking the chains and rosary chain, and putting in our specialty chains that are proving so popular, including this interval chain composed of old Haskell pearls, rhinestone rondelles, and our pretty stacked rondelle beads...


We'll also be repackaging our make and take kits with new clear boxes and graphics, and making them available online to our customers. We're pretty excited about this project and anxious to get it going. The only part we weren't excited about was drafting all the instructions! Instead, any kits that require instructions will come accompanied by a link to a YouTube video. Nathalie will be helping her not-so-tech-savvy mom with that little job...

For those of you who haven't been in to the store lately, we are putting out our Valentines and starting on Easter. The new Dresden trims are in for Valentines day, and includes hearts, arrows, wings, cherubs and more. Our Easter boxes are underway, and will be an evolution of last year's little 'Peat Pot Pretties,' this time jam packed with fun stuff to work with, including ribbons, Dresden, glitter, flowers, crepe and scrap, all tucked into a clear corsage box.

Well, I had better get back to work. As always, one step not taken forward seems to equal three taken back. Sometimes I feel like a shark...I had better keep moving or sink to the bottom! Ciao for now!