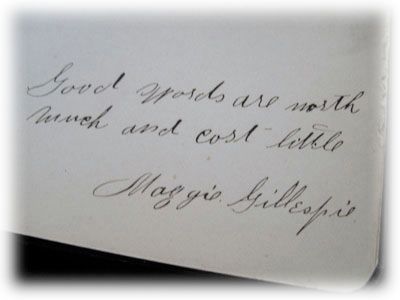 I had a little t
ime today to scoot around the web and visit some blogs, and there is so much to see and hear out there, much of it good. I find myself standing in wonder at the creativity, the intellect, the values and goodness that inhabit this world of blogging...so much caring, concern, and a sense of community that stretches from end to end of this planet of ours.
Our ways of communicating are ever-changing. I don't expect that I will ever cease to be amazed at how creative people will get in speaking their minds, promoting their businesses, and gathering together to make a difference. I can look back and assign decades to technologies, then years, but we are now at a point where human communication, no matter to what purpose, will continue to evolve at an exponential rate. There's no stopping us now.
The message written above dates from 1879, and is truer now than ever. Our words cost us little, but mean much. The digital revolution and the evolution of blogging and social networking have once again elevated the word, the phrase, and the value of thoughtfulness. For that I am thankful. The keyboard may have replaced the pen, but we are thinking again. We are talking again. We are.