Monday we will undertake this project, the
broche-souvenir
, Maid of Heaven.
I designed this piece in the context of an antique French souvenir pin, putting my own spin on it by adding some chain maille and other components.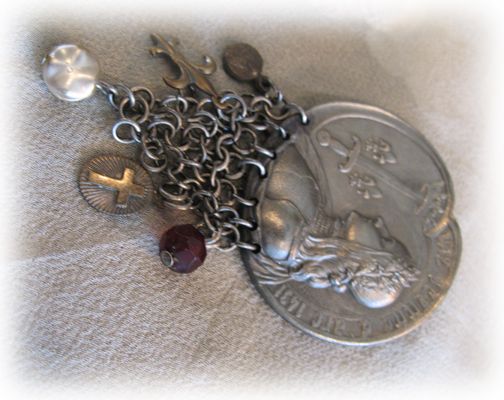 This project incorporates one of our new castings, a beautiful big antique Joan of Arc commemorative finding, along with several other medals, including a fleur de lis and radiant cross. The beads shown were selected for their meaning in Christian lore; the pearl symbolizing God's truth formed through suffering and sacrifice, and the amber (I chose some Victorian cherry amber from my own stash for this piece to symbolize her martyrdom) for purification and sanctification.
We will be doing some metal aging, drilling and connecting, and collage a pin back on the reverse, but the most challenging part of this piece will be the chain maille, which I wanted to use to symbolize Joan's armor. We will be using the most simple and elemental pattern in European maille, and I think you will be surprised at how easy the steps are for this pattern.
We hope you'll join us to create this piece. We have a limited amount of kits at this time, but will do our best to accommodate those who wish to come Monday night. Kits are $24.00 for this project, and instruction is free. RSVP to (714) 349-2069 or gildingthelilyvintage@yahoo.com to reserve yours!