I should have been working in the back room, and to my credit, I
did
eventually get back there and move things around a bit, but the new bits I have been accumulating and some other things that came in from back east captivated me too much, and I digressed...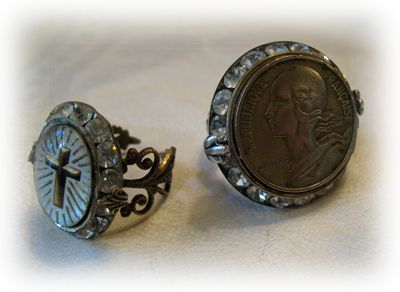 These old rhinestone bezels have been accumulating in a bowl on my work table, and the larger one called out to this old French coin, while the small oval immediately bonded with the old mercury glass cabochon that arrived wrapped in tissue paper from back east. The franc was paired with a silver ring shank, and the mercury glass went with an antique brass filigree shank from my stash.
I keep acquiring these coins, as I love their art deco look, and quite frankly, they'll be gone soon enough, replaced with the ubiquitous euro...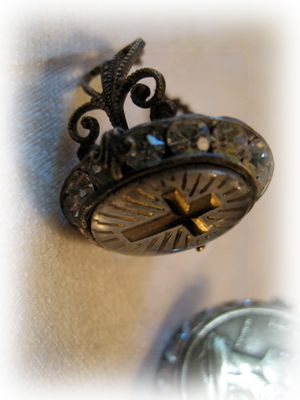 I managed to convince Joyce to send me more of these old mercury glass cross cabachons, so we'll have a small supply of them starting next week. Get 'em while you can (and before I decide I need to hoard them all...did I really admit that? Yikes! I'm such a findings ho', but that's not news to any of you).
We also got some beautiful chain in from back east...old Japan stock, half inch faceted bugle beads in jet, and some solid brass curb. In the meantime, I'll get back to work and try to stay on task. Let's consider the above a minor aberration from the scheduled programming....