Life seems to offer little time for reflection these days, and unbelievably, we are one quarter of the way through this year already. I often feel like the White Rabbit, always late, always rushing, always falling short of my own goals and feeling frustrated by my inability to do it all... I'm sure I'm not alone, and that, indeed, is some consolation.
Because I've fallen so short of my blogging goals, I've been trying to get back on track, and have been snapping photos here and there, hoping at least to find time to post a little truth and beauty. Alain reclaimed the "tub" for the living room, and this spot where the huge canvas hung seemed so bare. So I enlisted the art thief himself to help me hoist this old mirror from France up from behind the case and onto the big drawers that hold the findings. I rather like it there. What do you think?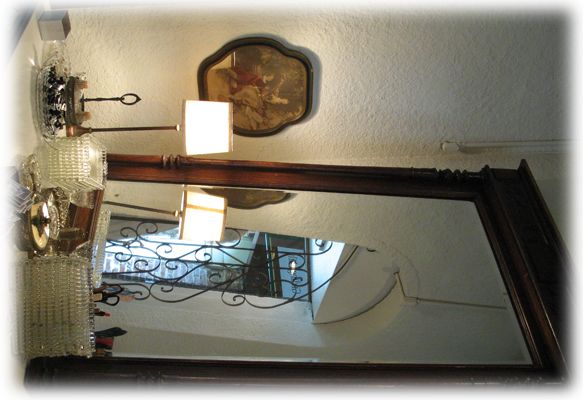 It gives me a whole new perspective on the store, opening a window in the wall that provides views of the cloches in their case across the room, a backwards view of whatever is in the show window, and a lovely multiplicity of the pressed glass dishes and etched goblets that hold whatever someone gathers up. It is so interesting to me what defines beauty for each of us....
This lovely creature was with me too short a time, captured forever by our Dede, who fell swoon to her captivating charms. But, in spite of losing her, I know that she is being treasured by someone I know, and that makes the parting sweeter.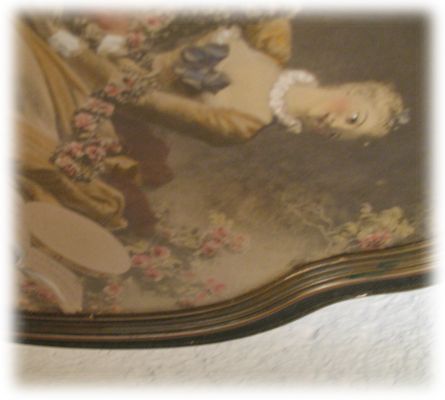 This is something I find so simple, and so beautiful...these lengthy strands of old mother of pearl, shaped by hand and all nuggety the way I like them. The subtle variations in color and size make them all the more desirable to me, accentuating their uniqueness and the qualities that don't stray too far from nature...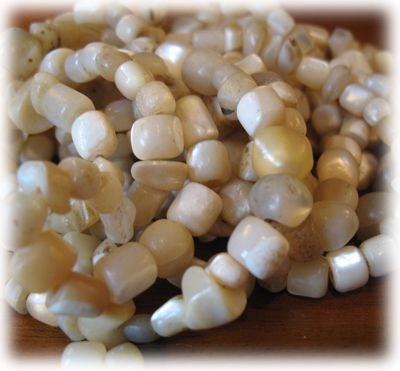 And this lovely, plucked from the fertile earth of my friend
Pilar's
mind, who made me one of these adorable brooches for my birthday. They are all the rage, and
Maija
presented me with one made from her heart as well. Each one is so individual, a gathering of colors, pattern and textures that is unique to each artist. How can one not want to gather armloads of them up from this garden of creativity?
There! I think I got my groove back, even if for just a short while. It felt good, and I needed a little truth and beauty right about now. It's off to work I go...