I haven't had too much time lately to
fuss with the shop, but did have fun adding some new things to the mix. I've had these gorgeous silk leaves before, but never in this color combinations, a bronzey gold with hand painted accents of turquoise. They had to hang out with these ribbons, some pearls, and a vase of vintage hand-parried feathers in the same color....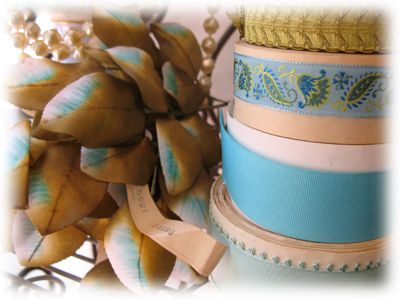 Chief amoung the recent acquisitions was a trunk full of vintage flowers, which I had fun steaming and see them transform from squashed little bits of silk to gorgeous, flamboyant roses and posies....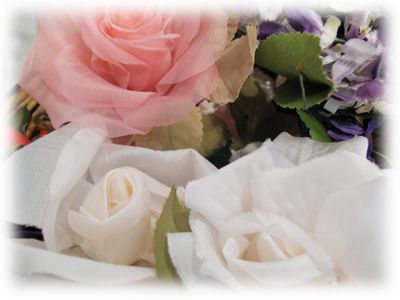 Nathalie and her friend Lexie used to love to steam the flowers for me, standing in front of the huge copper kettle in the kitchen, brandishing tongs with flowers in them so their little fingers wouldn't get burned by the steam. The dining room table would be covered with their efforts...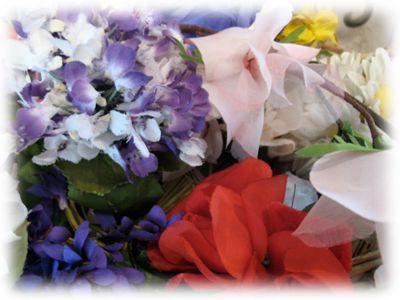 Every color of the rainbow here, tucked in baskets at the back of the store....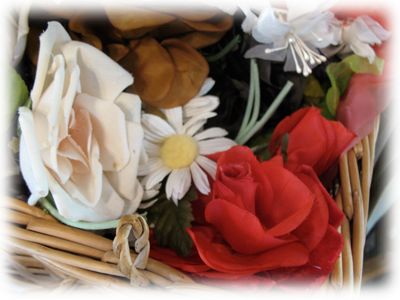 A little bit of whimsy here, these adorable little chenille bees from Japan, in several colors, including white, pink, aqua, yellow and more....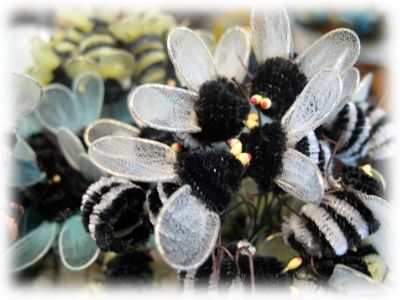 I remember these old cotton batting birds from my childhood. We had a little wicker birdcage hanging in the corner of our kitchen nook with flowers and some little birds perched in there, and my grandmother had a faux bamboo in her foyer, where an assortment of birds perched and preened....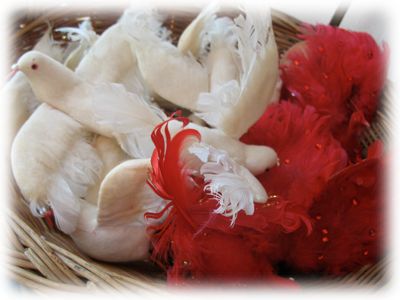 You can never have enough of these little darlings, especially the really old ones like these. The color range was just exquisite, and their soft, downy little petals so dear...