With all the hubbub going on around here, I haven't had too much time to devote to actually moving back into my studio space. Nathalie's move with Erik left the space empty, but not quite, with stacks of books, canvases, small furnishings and her bed still hanging out in there. Well, the bed has finally made its exit, and we started redistributing things from around the house that were moved out to turn the space into Nathalie's bedroom during her final year of school...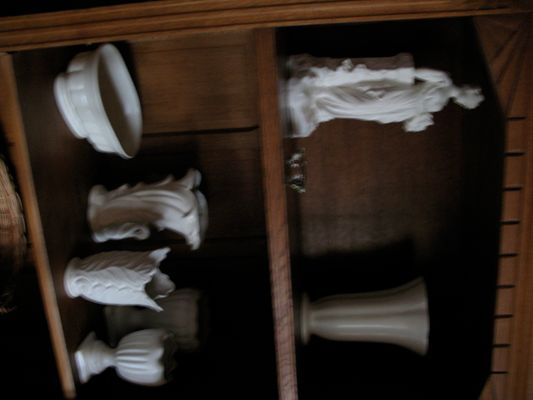 My collection of matte white pottery is coming downstairs, piece by piece, and some of my little baskets and such are creeping back in, living for right now in the side by side, the major piece of free standing storage in the room. Baskets of magazines, supplies and so on are starting to crowd back in, and I am bringing a few things back from the store...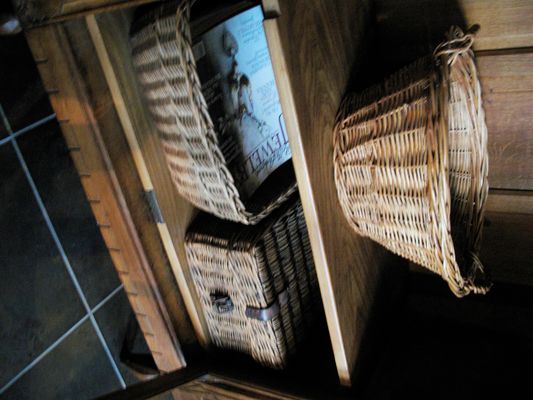 In the midst of what might be called madness anyway, I have been completing the development and design of a line of jewelry for a client, and producing the samples for the photo shoot, which is taking place upstairs in our newly renovated living room. We have the drapes closed and the lighting boom up, tripods and backdrops, so it's really looking nutty up there. Hoping to finish up by the end of this week, and get back to some sort of normal.
Here's the side by side, which dear husband and I carried up from the garage. Thankfully, this old French art deco piece comes apart and made it possible to carry it up the stairs and into the studio space. I actually have the matching desk stashed in the back room at the store, but for now, the prospect of what it would take to make that exchange has proved a little too daunting for me. I have a flat surface to work on, and I'm happy for that...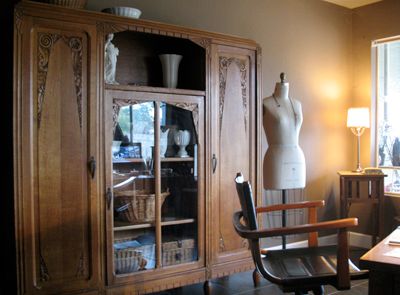 Lots of natural light in this room, but I will need much more to be able to see what I am doing! For right now, there's one work surface, although my other desk will be joining us down there shortly, as will my computer. Still much to be done, including cushions for the window seat, window coverings, and floor covering, but I am loving the bouganvillea outside the window and the lovely breeze that comes up the hill...