Well, the time off was wonderful, as well as the time spent ripping into the shop and putting it back together again. Nathalie's ideas for revamping different areas and making small tweaks resulted in eeking a little bit more space, and we had fun moving things around, including the big ribbon wall...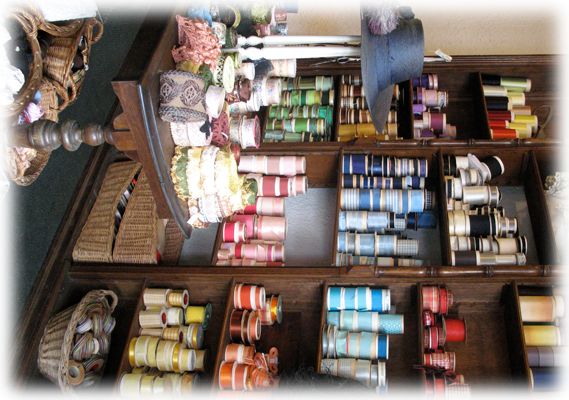 ...what an undertaking that turned out to be! Hundreds and hundreds of bolts of ribbon taken down, re-wound and pinned and put back up again, and space all around it now with a lovely antique table in front for stacks of jacquards and special ribbons, with baskets tucked underneath for lace and such.
I also had fun unwrapping some wonderful finds for creating, including a shipment that included these vintage heart-shaped filigree drops, which will be making their debut as part of our of our first Make&Take of 2011...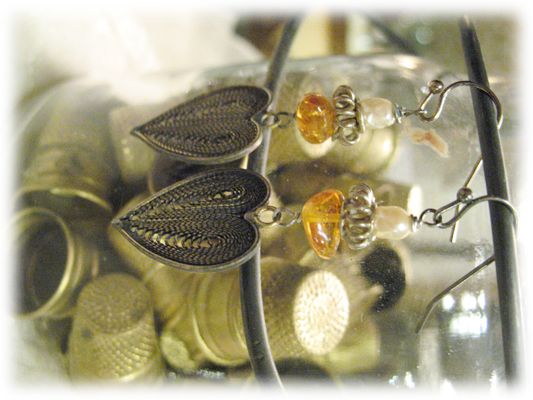 These
coeur couronnes
, or "crowned hearts," are combined in this design with vintage Miriam Haskell baroque pearls, Ethiopian silver filigree beads, and tumbled amber nuggets. We'll be doing a little metal aging, wire wrapping and cold connecting for this project. I love the references of purity and innocence for pearls, and sanctification for amber in this design. Stay tuned for an email about this next week, and if you're not on our list, email us at
gildingthelilyvintage@yahoo.com
to join!
And while I'm at it, I guess the big news for this year is the transition of classes to our location on Brookdale Place in old Fullerton. We'll be holding classes there so we are not quite so limited on size, and also decided to combine our Make&Take evenings with Open Studio and hold them at the house as well. We're looking forward to it, and Dede will open our season of classes there this weekend with a soldered bezel workshop.
We're off and running! Happy New Year!