Today is a day off for me....from the store, but not from other pursuits, like paperwork, errands, and more, but I did manage to sneak downstairs and fool around a little with some things I left on my table yesterday. Something started to gel right before a phone call, and then it was time to head for work. But today, I managed to carve out a little time to see what would happen...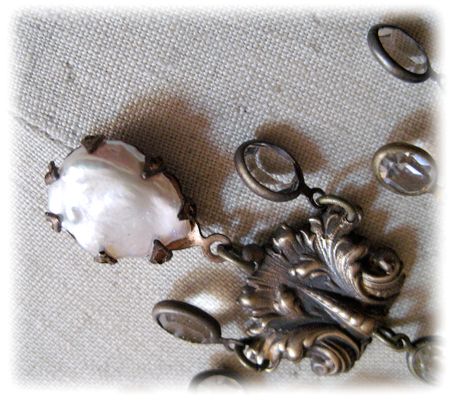 An old setting, a baroque freshwater pearl, and some art nouveau stampings started the ball rolling. I paired down the chain, which I had built previously, and then started gooping it up from there. As it progressed, it seemed that the more bezel drops I added, the better it looked. The vintage Haskell pearl drops moved from their original position, taking a back seat to those bezel drops, which is unusual for me. This is where we ended up...
I moved on to a ring next. I had found this large bezel in a tray at the store last week, and fished it out of a pocket of a shirt as I was frisking it before it went into the washing machine. I bought several of these buttons (one was a focal in a necklace with ball chain), and decided it was a pretty good fit for this project. I used my new handy-dandy piercing and rivet setting tool to join the ring shank and the bezel, then set the bezel with a dab of cement and crimped it down.
Et, voila
, as they say on the continent!
I love fooling around with our Antiquities Metalworks castings, and this medal is a favorite. Nathalie has already claimed this ring (both of them in fact, so I will have to make some more!), but it was also riveted onto the shank, and then paired with a vintage French enamel medal. I think it's kind of fun!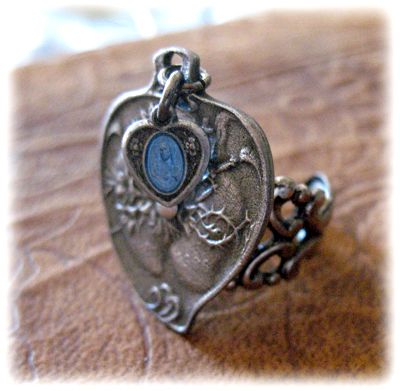 This is really fooling around. We got the Twilight back in stock in 8mm, as well as another new bead, a large nugget shape in pale Colorado topaz, which I love. I paired them with some vintage bronze Haskell baroque pearls, and it is (sigh) magic. The Twilight is a crystal Czech bead with hints of smoky topaz and a half luster that really makes it special. I am noodling some companion strands, of course, but this may become one of our specialty chains, it's that good...