It's way overdue, and there's no getting out of it.
Here's my dirty little secret. In the back room, in the very bottom drawer of the flat files there, live box lids full of stuff I didn't want to put away. Or didn't know where to put it. And gradually ~ even though I had the best intentions of getting around to it ~ I kind of forgot about them, a very convenient lapse of memory. Now it's all up for grabs...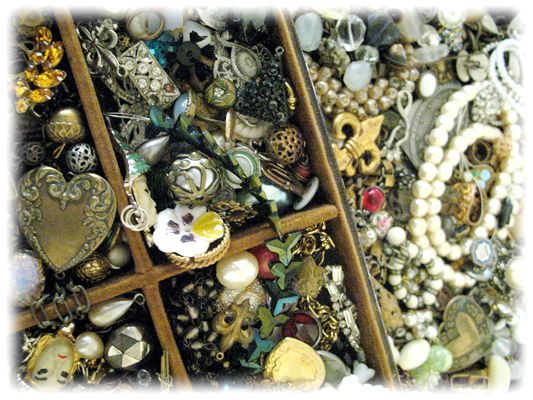 And yes, I am adding things from the store and home. That is a strand of Miriam Haskell pearls you see there, as well as a hank of old ones in the corner. There are brass beads and findings, bead caps, rings, Victorian nailheads, old Japan glass, filigrees, buttons, clasps, glass flowers, chain and more...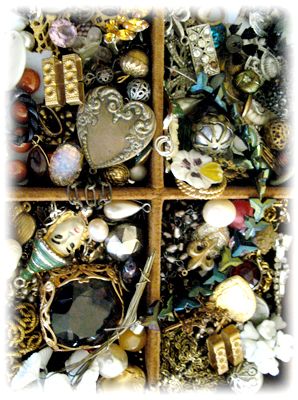 There are rhinestone bits and bobs, old medals, religious stuff, a handful of old mother of pearl, and there are gemstone beads in there, too. Once you start letting go, it's hard to stop. Gets kinda fun...especially when I realized I wouldn't have to sort the boxes!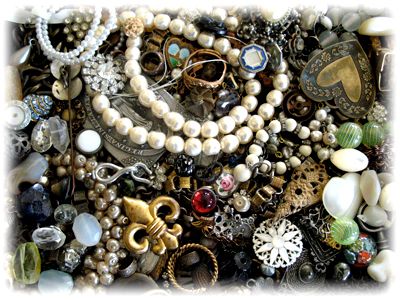 I'll leave this post up through the week, and will choose a winner using the random number generator method. Just leave a comment telling me why you should win all this stuff and what you will do with it. I'll take it from there, and I will keep adding items throughout the week as well. Okay, ladies, start your comments!