We just got a huge load of stampings in, stuff I had been waiting for and anticipating. Lots of restocks were needed, and I spent hours with the huge catalogs with awful pictures, trying to figure out what to add to the selection in the drawers. I always feel like its a bit of a crap shoot, since some of the images are so bad it's hard to tell what some of the details are. I got lucky! Below are some of the fab new pieces we got, including the beautiful fleur de lis at center, and scads of new connectors and filigrees.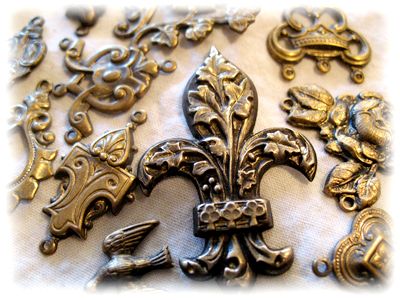 There's even a sweet little bird that is new to the store, and another Damascene styled connector shown at bottom right. The huge fleur de lis that everyone loves is back in stock, and lots of the crosses we've been out of for some time. We even found some new religious medals that we love...a heart shaped medal depicting an ex voto heart with flames, and a sweet little round medal with the dove of the holy spirit. I haven't had time to create with them yet, but know they will be wonderful. But my favorite of all is the piece shown below...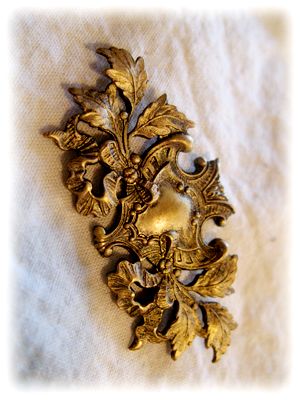 Isn't it awesome? I love the detail in the crest, the flora, and most of all, the Neoclassic ribbonry at the bottom. Swoon!
I am still infatuated with my riveting tool and had to turn this fab button into a ring this morning. Finding the right bezel was the hardest part, and I love how it turned ou

t...

the button is really dimensional, and as far as I am concerned, anything that has cut steel on it passes the test!
What's on your work table this week?