This weekend proved to be a long one, as I had a deadline to meet with the jewelry line I sold last year. So it found me working on Saturday while in the store, fitting clasp and connector assemblies to 48 necklaces, and then spending Sunday completing and packaging another 24 necklaces in two designs, as well as 48 pairs of earrings in two different designs. I was pooped by the time night rolled around, but it's good to know I can step up to the plate when needed...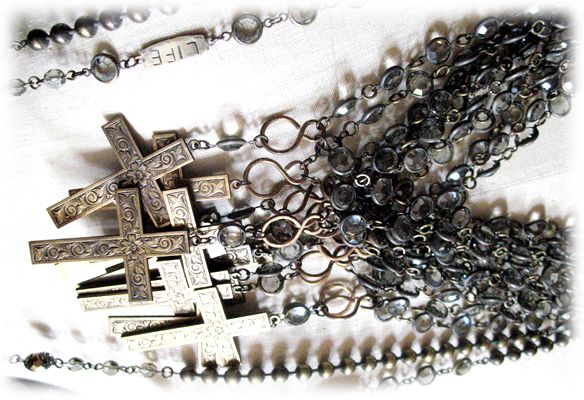 I did sneak out to the flea market quickly on Sunday morning and connected with another little batch of goodies for the upcoming trunk show later this month. I was happy to pick up some amazing bone and ivory pieces, more cut steel, some cannetile silver filigree and good buttons....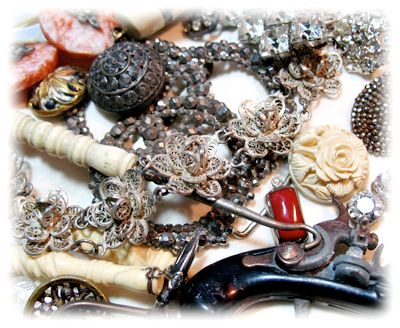 I also landed on this scrumptious load of antique lace, which always makes me happy. Yards and yards of it, in beautiful aged tones, and quality and workmanship that put a smile on my face when I unrolled it all and looked at it. Simply heavenly! In the back, are rolls of openwork and pulled thread trims and there is lots of lovely old cotton insertion lace, plus a beautiful antique ruched ribbon trim edged in bronzed metal thread.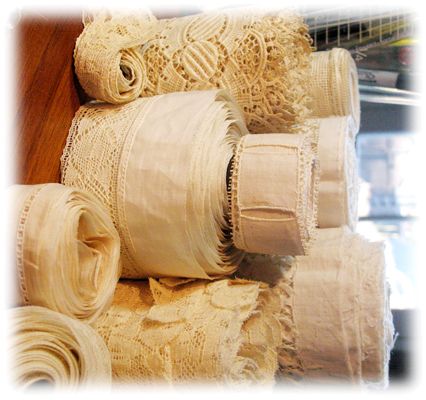 Regrettably, my trip to the
flea market was really short, and I spent the rest of the day and evening in my studio, but at least there was a

little

truth and beauty tucked in there!