This is what I smelled when I came upstairs yesterday. The kitchen was warm and yeasty, and redolent with the aromas of this fresh, crusty

boule

and the lemon zest and fresh rosemary that scented it. This is a 'no-knead' bread that Alain is fond of making, and it is baked in a covered cast iron pot in the big oven...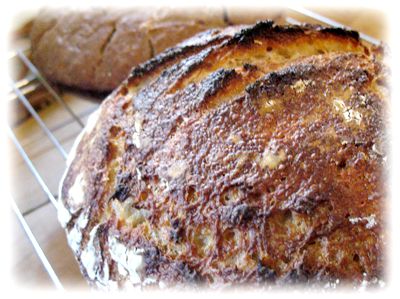 Downstairs, work awaited me, and I got busy finishing up a dozen of these necklaces for a client. They need only for the crosses to be hung on them this morning, and they will be ready for delivery...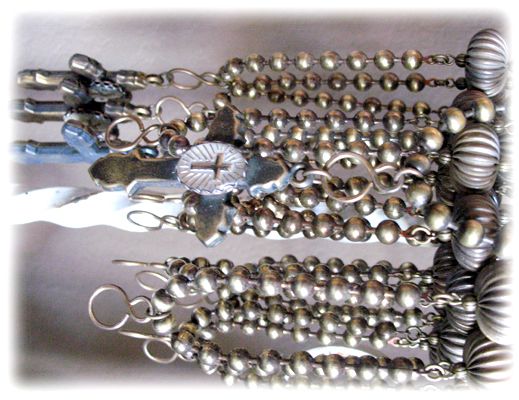 This is also work, but a little bit more fun, as these are new designs. These are being readied for a show, and a trunk show for buyers. I am having such fun working on these, and they are full of vintage chain, as well as this custom glass chain with the handmade looking glass nuggets. I love their irregular and organic look...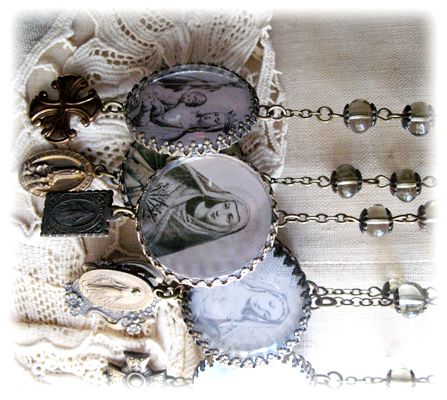 These purchases from the last gem show were calling out to me, and I let myself play around with them a bit. Since finding some irregular Czech glass beads that were so evocative of the ocean, I have been attracted to that palette, and these were so perfect. They look like they were pried from a reef somewhere and tumbled in the surf...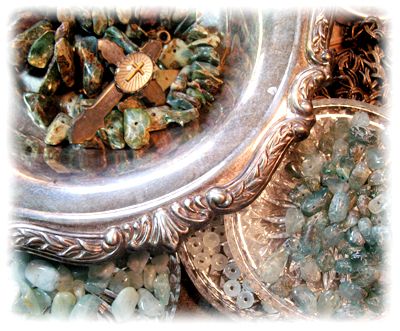 Here's a closer look...paired with that rope textured chain, it looks for all the world like pirate's treasure to me!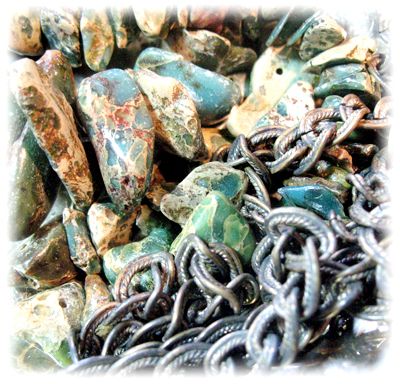 I love these little beads. They're going into necklaces combining vintage glass bead chain, and a variety of vintage brass beads and filigree elements. A little time intensive, but I love how they're coming out...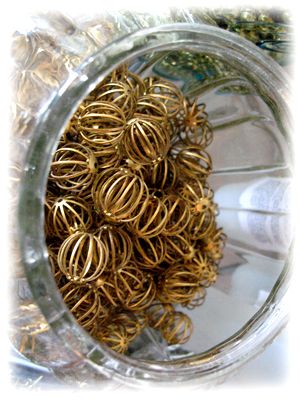 I pecked away at the trunk show, culling some of the larger pieces for the trays, and tucking smaller items and collections of blink by color or type into the little acrylic boxes. Still so much to do!
I spent part of the early afternoon looking over these love letters, still tied up with cotton string from 1930. So sweet, and look at these
pince nez
eyeglasses! They would have hung around the wearer's neck on a lovely length of ribbon, and been perched on the bridge of the nose when needed. It translates from the French literally to "grip the nose," which they did quite admirably...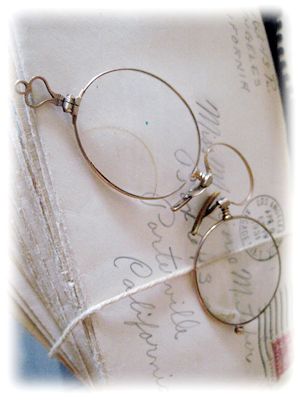 We also got the merlot vine moved from its spot by the window to just across the deck. What an undertaking! For one thing, we had forgotten just how heavy the wrought iron hinged panels were, and getting them into place at one corner of the arbor style cover was a feat in itself. Then the vine had to be coxed, tendril by tendril, off the small frame on carefully settled on its new home. We are hoping it will be happy there, and by next season will have covered more territory on the patio cover. I am envisioning grapes hanging down just within reach...