Had some time last week to fool around with some old things and new things. Some old settings recovered quite by accident from one of the big drawers in back at the store proved a perfect fit for some vintage shell cabochons, and were then paired with some tiny medals, crosses, and a diminutive holy spirit medallion for our new In Spiritu earrings...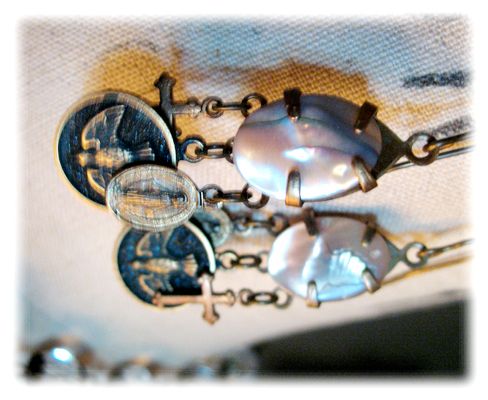 A brand new and beautiful cross will be featured exclusively in our Renaissance earrings, and we've paired them with little immaculate medals and even tinier haloed virgins. They're topped with gemstone rondelles that will vary by selection. We hope to have these kits in store by this weekend...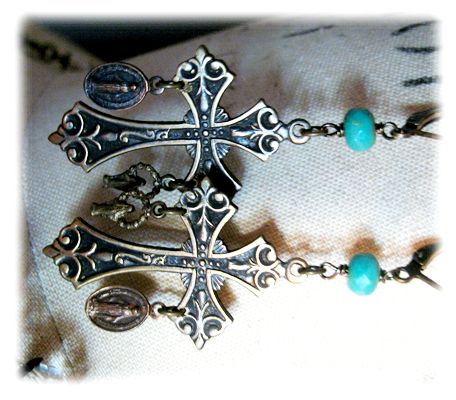 Another design in process is the Clarity necklace, which will feature vintage chandelier pendants paired with vintage Swarovski channel set drops, and chaining composed of vintage rolo chain, fab new brass connectors and Czech glass beads...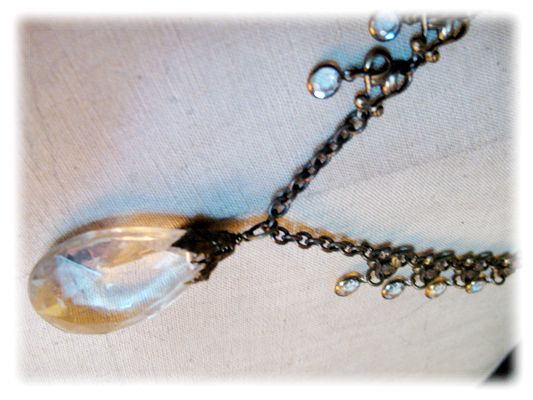 It's a start, and it almost feels a little like I'm finally catching up. These designs will go to Tinsel and Treasures with Dede and I in the fall as well, along with other I hope to add to our line. We'll also be restocking some of our most popular designs, starting with the Immaculate series. Stay tuned!