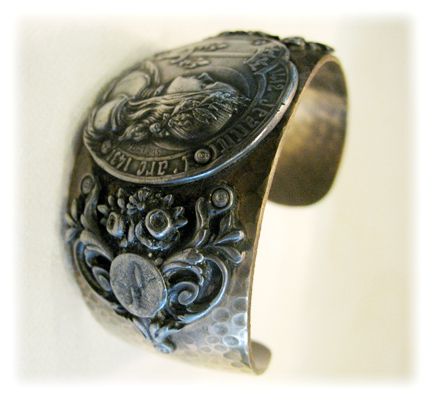 Since acquiring my tool from Crafted Findings, I hadn't had much time to fool around with it, but Sunday surprised me with a few hours I could dedicate to fooling around with it, and I managed to finish (and start) some projects. I'd made one of the Joan of Arc cuffs before, but it sold immediately, and I wanted to make another. The huge filigree below was stashed before they all sold out and it cooperated (with a little persuasion from my pliers and bale pliers) and here is the result...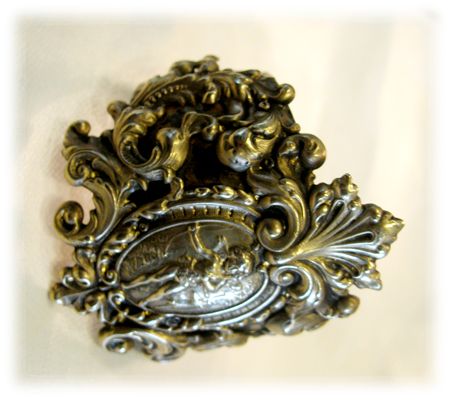 I've always been fond of the old repousse cuffs, and by the time this was formed, pierced, riveted, dipped, buffed, polished and waxed, it satisfied the ideal I had in mind. Was it a process? You bet...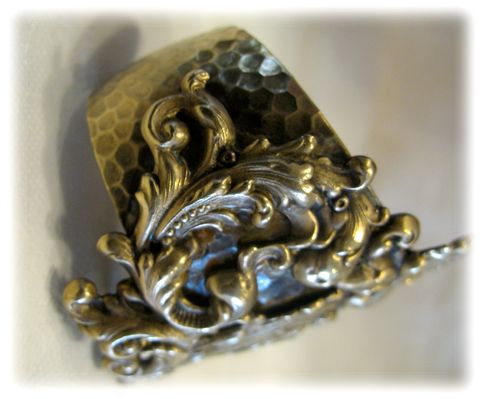 A view from the side, mounted on one of our hammered cuff blanks...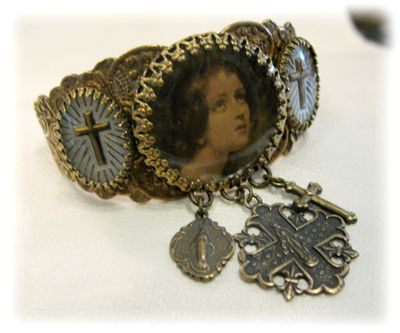 This was new project, built on an old stamping I found. I haven't tracked down the tooling for it yet, but have another that might suit as well. Vintage cabochons, some art from my collection, vintage and cast bronze medals, and a watch crystal paired with an ornate bezel finished the front, and old mother of pearl beads complete the bracelet. We're now a distributor for this fun little tool, so call or
email
if you want to know more about it....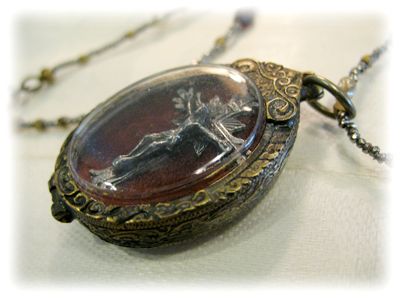 I'm not much of a stringer, and I very nearly had a knot in my stomach by the time I finished this necklace, but I had fun experimenting with a variety of materials and stuff I had tucked in my drawers. This two sided brass locket served as the inspiration for this piece, and a vintage pewter cross rests on antique red silk velvet on one side...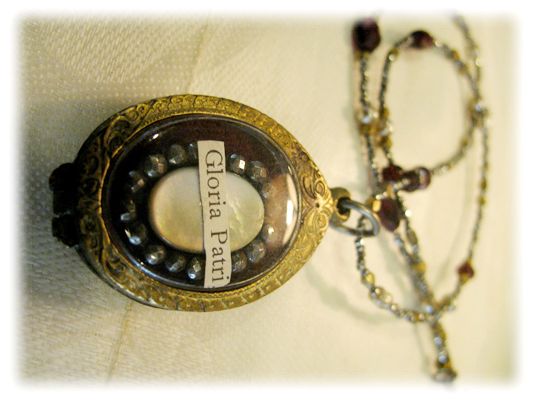 And a combination of a mother of pearl cabochon, an old cut steel buckle are tucked into the other side, with part of a phrase from an old bible. Loving garnet as I do, I string the necklace from garnets, diminutive Haskell baroques, old French steel beads, and faceted brass from Nigeria...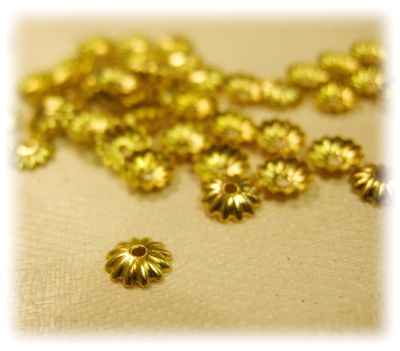 The little caps pictured above are the very same we use in our signature bead chains, and we will be offering them to our wholesale customers in bulk. You can email or call the store for more details, and we will be adding more items like this for our designers over the next month or so, including pins, rings, and more!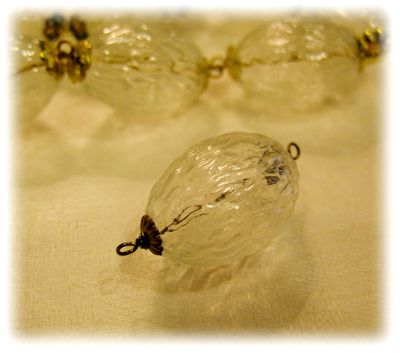 We have a limited supply of these beautiful blown glass beads from Japan, and I am tucking a few to work with over the holidays. They still have their original caps and pins, but the metal is showing its age, so I am replacing the caps on mine and wire wrapping them...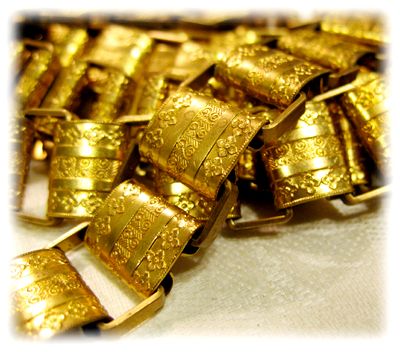 This is something I am really excited about! I love book chain, and rarely find it, especially something as exceptional as this. These big links measure 11x13mm in size, and are a wonderful golden color. Of course, some of them will take a little dip to see what they look like aged, but the contrast between the ornately patterned links and the square wire links is amazing. And...we have clasps in the store for this! I'm in heaven, and can't wait to work with this chain....