Got to go out and do a little junking on Sunday, and for once be quite leisurely about it, which was delightful. The weather, all though it started out pretty cold and breezy (and I was under dressed) warmed up as the sun started peeking out, and it was a pleasant day to be out there. I came around the corner and was face to face with yet another episode being filmed of "Market Wars," a reality TV show (and I am using the term 'reality' in the loosest way possible) that airs on the same channel as Antiques Roadshow, that venerable dispenser of stories and completely accurate information about the old stuff we love.
Market Wars, in contrast, is completely ludicrous.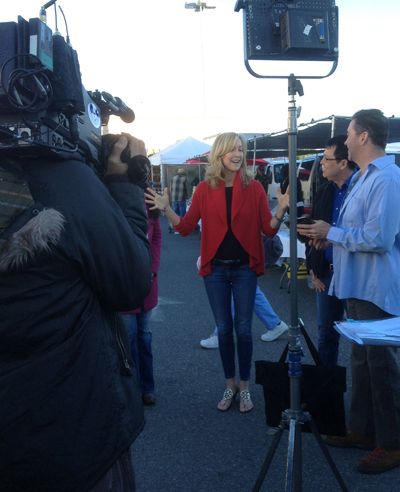 Here, one of their experts, clad in high heeled lucite and metallic sandals, is telling her three proteges that they are about to embark on a grand adventure at the "absolute mecca of antiqueing." In truth, each one of the contestants will proceed to a pre-selected booth there they will choose an item that has been planted there for them, will engage in some pre-written dialogue and bartering, and then bring their find back to be evaluated. The normal hubbub of setup and business that is the hum of the market was drowned out by the laughter and absolute derision of the dealers and sellers. Oy.
In spite of that, I had fun poking around and came home with a nice little pile of things...some that I had been looking for, and some that were welcome little surprises: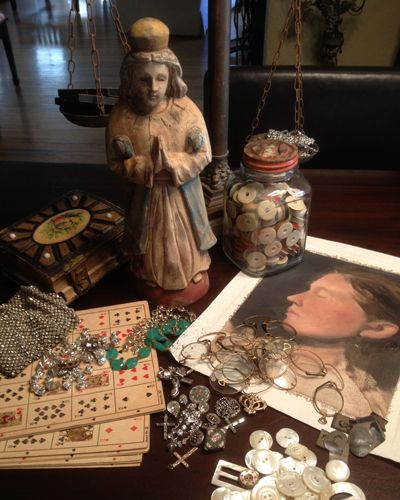 I went looking for rhinestone bling and came back with that, but also found a beautiful tin type albums, as well as some "gem" tin types, the little ones that are so dear. Hoards of mother of pearl, making even me happy, a great old jar filled with vintage paper bobbins, a collection of antique pince-nez, some micro mosaic pins, a strand of hand cut chrysoprase, and some vintage card games.
The big surprise was the beautiful santos, very old, hand carved from wood, and accompanied by a beautiful oil paintings. I couldn't resist either of them, so into the cart they went. I looked in vain for another cast iron pan for the mister, as he would like to have one each for fish, meat, and desserts, but we will land on one sooner or later, maybe the next outing...