O
ne of my biggest challenges in my studio is lighting. Our old house has no built-in fixtures, and that is actually a moot point, as the studio is downstairs in the addition. And it seems that no amount of lamps, candles and ambient light will make a difference to my aging eyes. We're going to try and address that this year, and call in the contractor that put in the bulls eye spots upstairs and see if there is room for additional can lighting between the original floor and downstairs second floor of the house. Anything will help... just take a look at this dark corner as you enter the studio...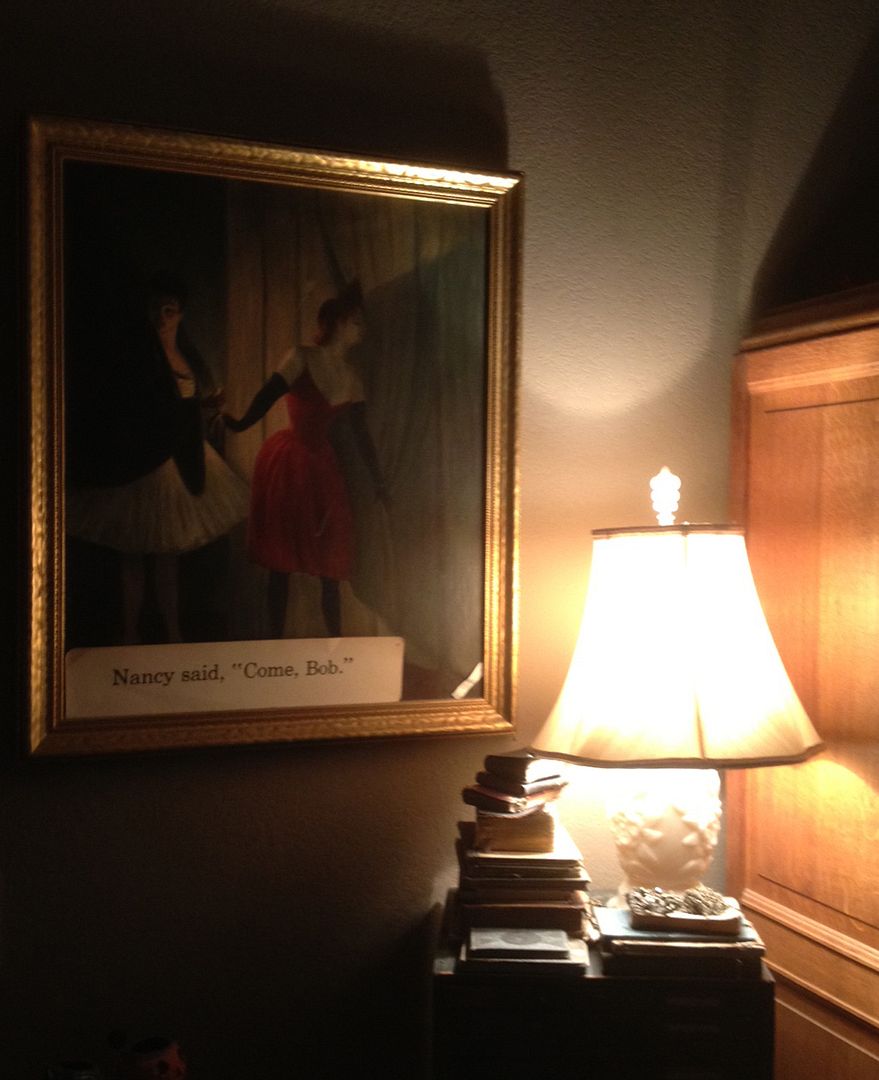 Sadly, this is at 7:30 in the morning, with the drapes open. You'd think it was 9:00 at night and I was just settling in with a cup of tea and a good read. The dark color in the room, which we painted for Nathalie when she lived at home the second time probably doesn't help, either. The rich cocoa color swallows light up like it was a little marshmallow swirling downward into a steaming cup.
Lighting aside, I decided in this new year to try moving things around a little bit with a certain objective in mind. My studio gets really messy...scary messy...when I have several projects going. I usually have more than one ball in the air, so I may have production orders on my desk, pieces in design and production, kits being designed and produced, as well as correspondence, catalogs, source materials, and so on. I actually have two teak writing desks, which I had pulled together in a "V" shape, with one chair toggling between the two stations. My original thought was I could do one function at one desk, switch gears, and move onto something else at another.
Great in theory, but in practice, all it meant was that I spread my terrific mess over the entire breadth of it. As well, the little antique sofa with inviting down cushions was just an arm's length away behind me, where it quickly degenerated into an impromptu storage facility and filing system. No naps for me!
So it was with curbing my ingrained bad habits and natural mess-cat nature that I embarked on moving furniture yesterday, separating my conjoined twins of a work space, and banishing one to the back wall of the studio and moving my reference, catalogs, and books to the cabinets to the left. My slightly cozier Le Corbusier-meets-Arts and Crafts desk chair was sent to that station, and a file tray was stationed on the corner of the desk, where it rapidly filled up with receipts, shipping orders, invoices and a phone bill that were living in amongst the mess. The other desk stayed where it was, shifting back a bit, and the down sofa moved in front of it. Here's how it looks so far:
I
usually pop in a movie or something when I'm working or feed my addiction to crime tv, which I can still do from the desk behind the sofa. Or, I can grab some source materials and do my research prone on the little couch, read a book, or watch a movie (trying to work in more 'me time' this year, too). The built-in at the left stretches nearly the length of the room, so it ends right about where the work area stops. The sofa is clear of clutter for the first time in months, and I actually got a leg up on putting some things away off my work tables. What do you think...can I actually be reformed?
"-) ~N