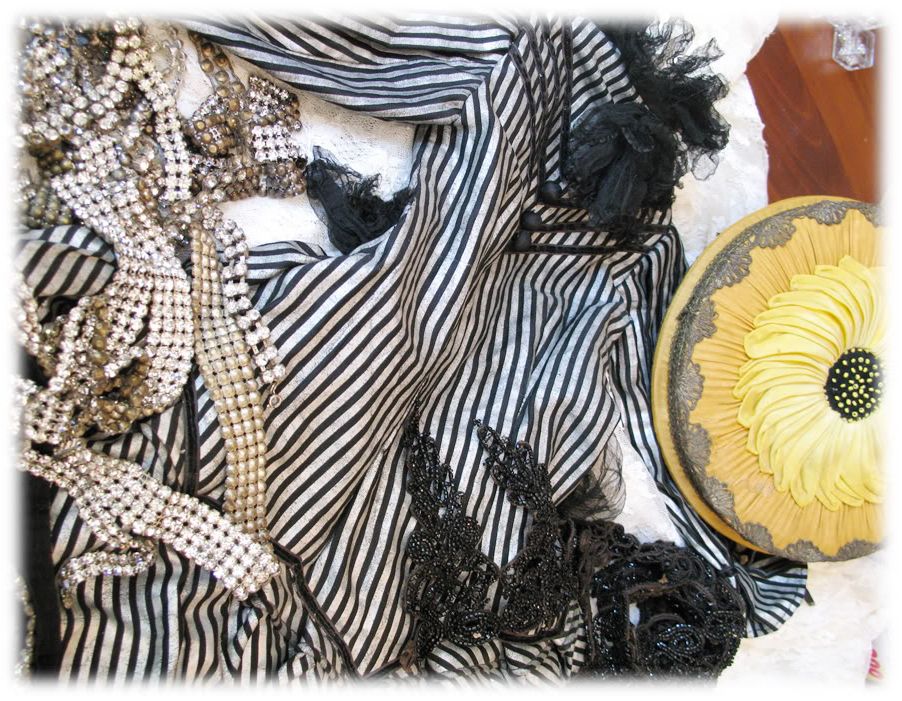 Well, Sunday found me out poking around again, and the air was cool, the weather clear, and my dear friend Maya was with me, out for a little business, a little pleasure and a little junking in California, by way of London and then Bombay. Next she flies off to present some of her handbag designs in Bologna, Italy. The first thing I landed on was this sweet little Victorian sewing box with a big ribbonworked sunflower with beaded center and metal thread trims. Irrisistable! Into the cart! The next find was this adorable antique doll dress in a heavy silver and black striped cloth, trimmed in tiny velvet ribbon and barely there black silk organza. It is so sweet, and later today will be steamed and stuffed with tissue for its debut.
After a cup of tea, we forged onward, Maya looking intently for inspirational handbags, and the digging into some trays of jewelry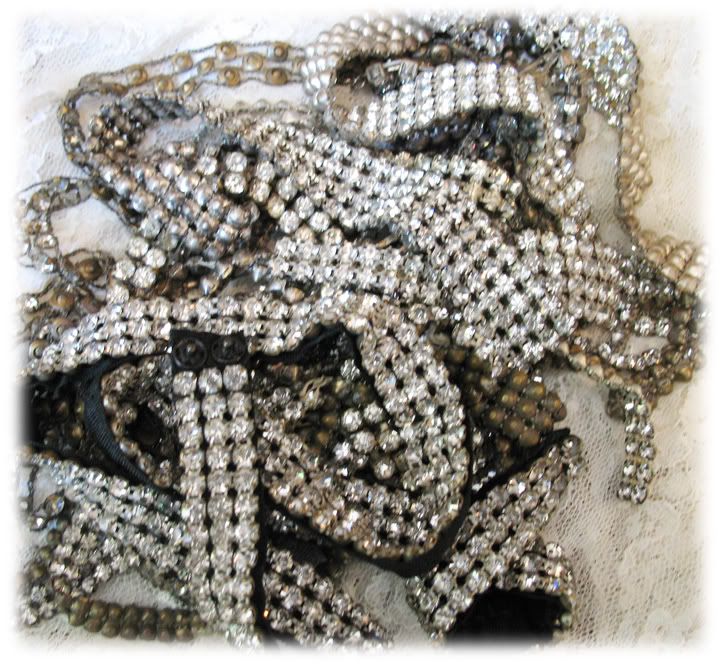 while I poked through bags and boxes of stuff with a favorite vendor. While Maya found some sensational wearable jewelry, I was busy accumulating components, and brought back an unbelievable sack of antique rhinestone trims and cased stones. The old rhinestone trims are the real deal, with fabulous patina, and row upon row of brilliant stone contrasting the dull metal that cups the back of each.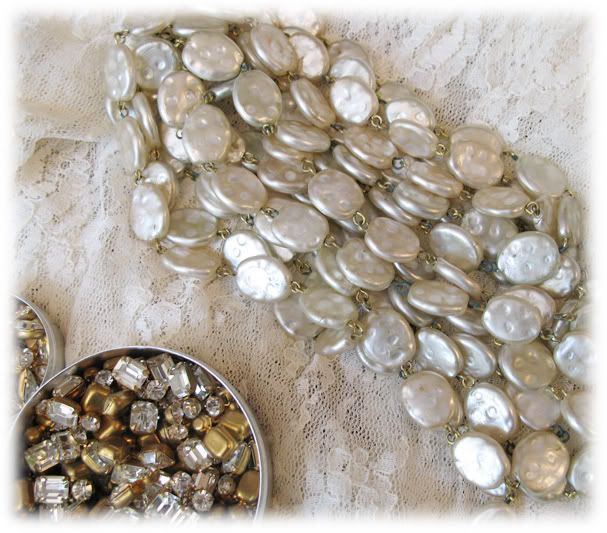 The tins at left hold a variety of old Czech unfoiled stones, some unplated bracelet stock, and the wonderful old stock Weiss cased stones in several shapes and sizes. All ready for collage duty!
Arriving from a vendor back east were these fabulous old glass baroque pearls, similar to the flat baroques I love so much, but much more generous in size, and slightly oval in shape. They are over a half inch in length, most of them 5/8 inch long. I can't help it, I am a pure fool for an old baroque pearl. Is there a 12-step program out there for me? "Hello, my name is Nancy, and I am a baroqueaholic..."
Along the way in my travels, this sweet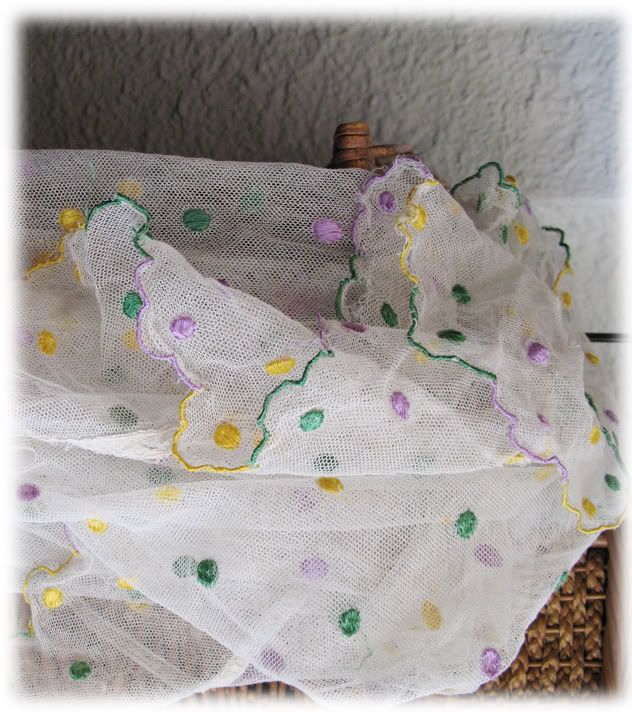 little piece of reembroidered net decided to join us, and after a little dip this weekend, is fluffy and soft again, its little ruffles stirring in the breeze from the front door today.
The only wrinkle in my day turned out to be my car persistently overheating, so much so that Maya and I decided to call AAA and have the trusty little Durango towed back to Fullerton. Her husband Rajeev and my Alain hopped into Rajeev's rental car and drove to fetch us back, their eyes widening only slightly at the sight of us perched on the corner of Lakewood Blvd. and Hedda with a large tub of flea market finds between us, including a genuine Persian lamb jacket for Maya trimmed in mink!
Then it was back home for each of us for a little napping and a reunion later on for dinner. Any day I can bracket my activities with sleuthing for treasures in the morning and sushi for dinner that night is a good one in my book...