Last night was the official reopening of our Thursday night Studio Nights, and it was really a great recharge for me. The past couple of weeks had really sucked it out of me, and I was feeling a little out of sorts in the store, but this has put me back on compass, as spending time with my creative friends always does. Last night we were joined by both
Donnas
, seen here in a cozy corner of the studio working on some jewelry projects. Donna
Anderson's
wire wrapped necklace was completed and was stunning.
Check it out...surprise guest from London! Our Maya was here to take her citizenship oath and joined us for open studio. Two of her favorite people, Jean and Kathy, were on hand...Jean of course with needles in hand, and Kathy with a fabulous array of new things she had been trying. My favorite thing she brought, though, was a fabulous beaded cuff bracelet in pearls and crystals...absolutely
swoonish
. That girl is a talent! Here's Kathy and Linda looking over a beautiful book that Dede is creating, a lovely archive of antique and vintage color themed trims and ribbons that is bound up in two beautiful covers from a turn of the century garden journal. If you haven't already heard,
Dede
is orchestrating an incredible weekend with Cindy Forrester in October, where you can learn how to create this artist's singular jewelry designs, as well as other items over the two day class.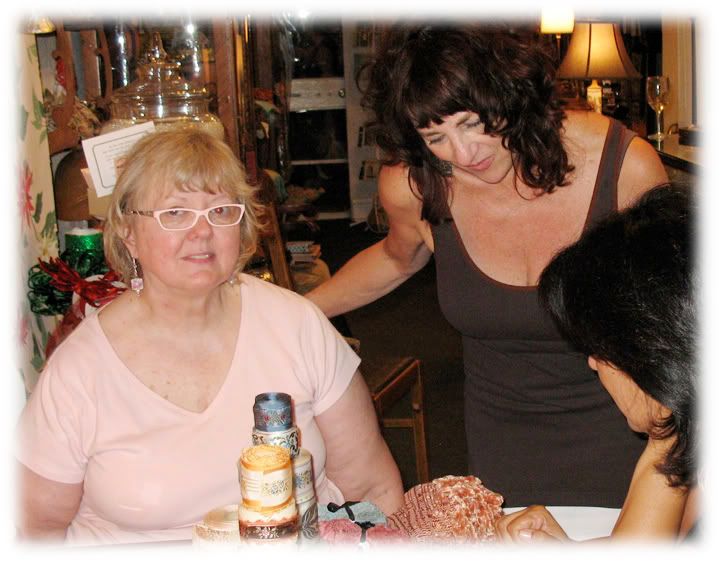 Celia stopped by to visit as well, and you can see Patrice noodling a design for some period costuming down by the mirror. I loved this shot, too, because it made me see how amazing this space is again....I often forget when I am spending time in there how beautiful it is architecturally. Look at those ceilings and columns! There's our Dede again, and Jean sitting next to her, head down and
workin
'!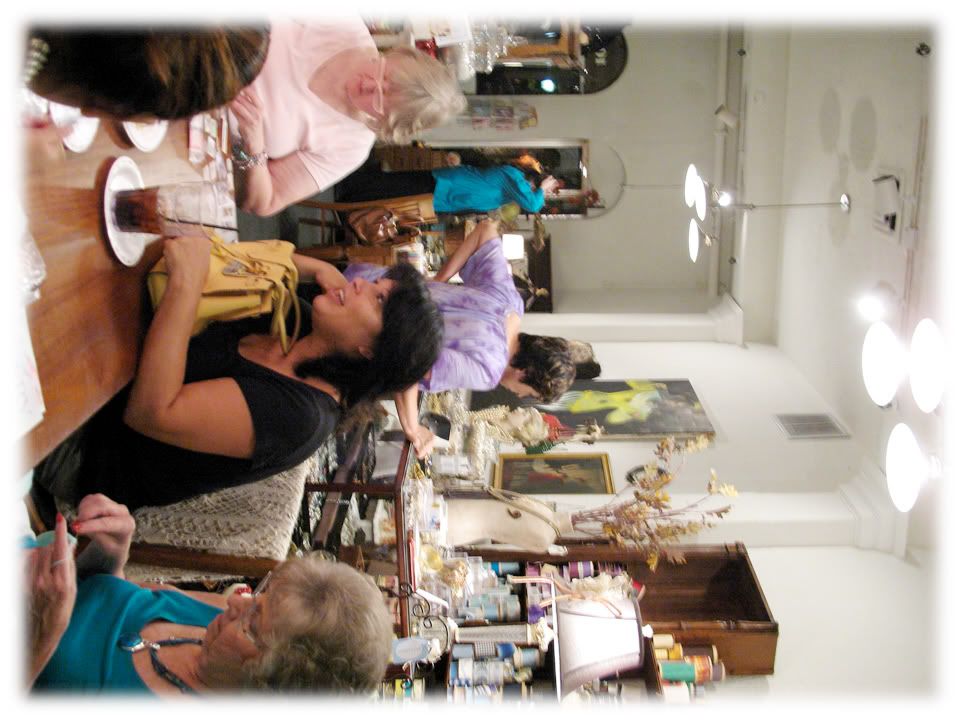 One of the things I did to dive back into running the shop after my hiatus was to tear things apart and then start putting them back a little differently. Might have been wishful thinking on my part, but fall seemed like such a pleasant thought...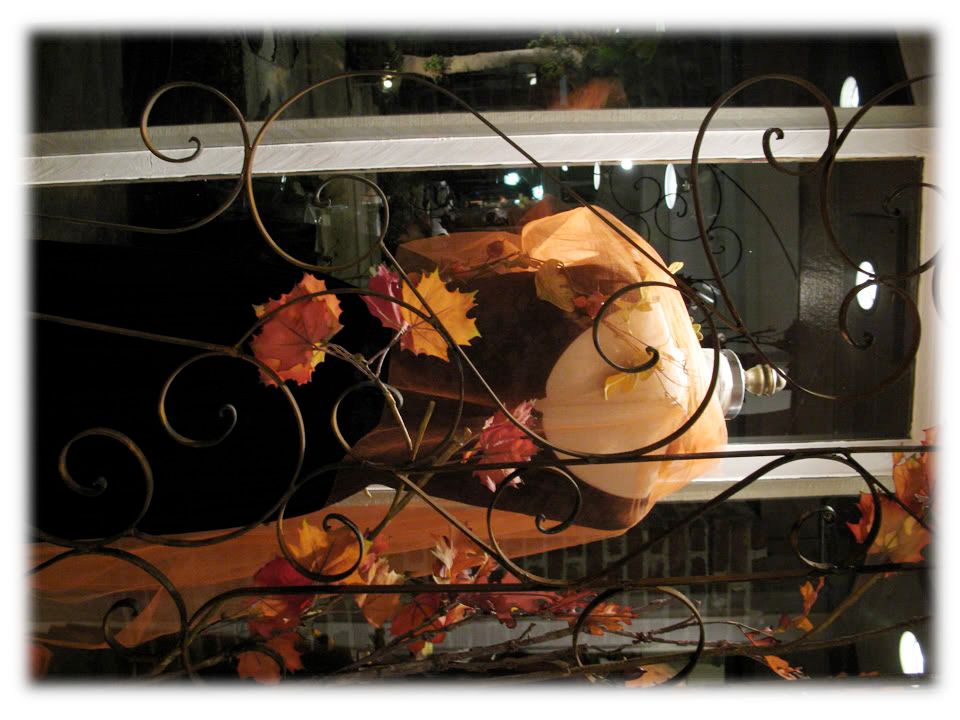 And who doesn't love
Halloween
? A lovely black cocktail dress with a lace bodice came out of storage for this window, along with a bolt of vintage netting and some millinery trims.
A g
arland
of oak leaves and a couple of straw pumpkins complete the picture. As long as I was at the storage, I pulled out these two fabulous cabinets. They're gloomy, with little leaded glass doors that can hide dark secrets and old glossy black millinery berries, orange veiling with
chenilles
, bolts of ribbons and more. Patrice reached into the recesses last night and brought out a sweet little Victorian
manteau
, beaded with jet and trimmed in monkey fur! It may have to go live with her....
Okay, I have lost my mind, now. Yes, it's Christmas. It
snuck
in while I was at the storage and jumped onto that little tiered white table and started taking over. Somehow, it seemed so cheery, and I know if I am to get any of my proposed holiday projects done, I had better get them started now. I had got in some wonderful vintage trims in green, white and red, as well as new
dresden
trims, and the rest of it came
tumbling
out: vintage snow-encrusted silver foil leaves from Japan, old glossy red millinery berries, buttons in red white and green...
...bolts of ribbons in velvet and taffeta, icicles drenched in
German
glass glitter, and bundles of real Dennison crepe paper in red and green. Hiding in amongst the rest of it are old bump
chenilles
, seam bindings,
mache
pine cones and more...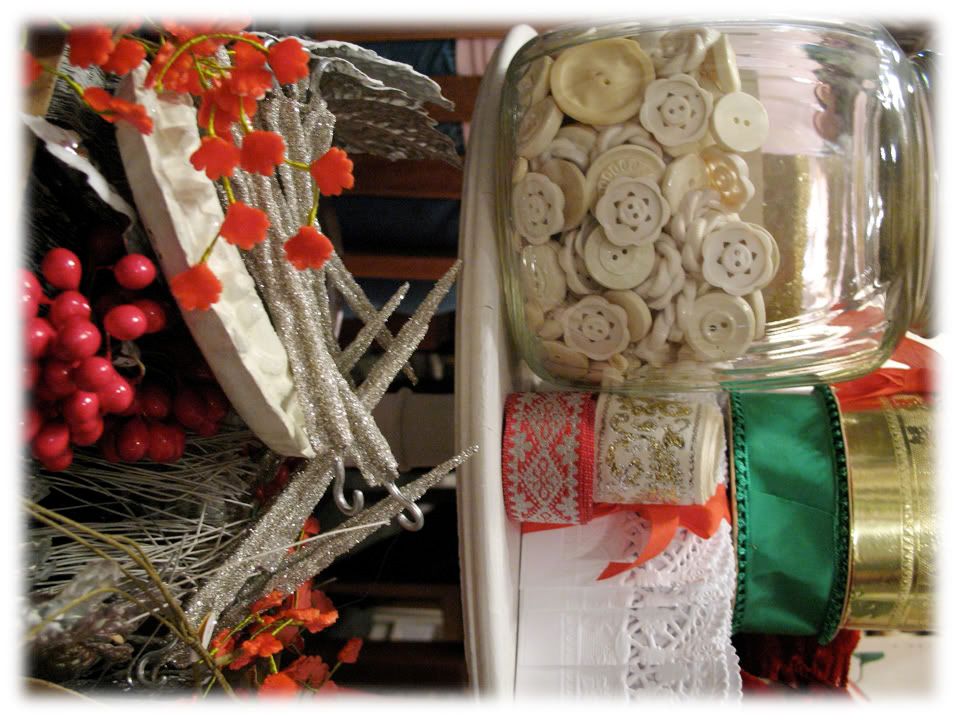 I couldn't snap a good pic last night, but I didn't forget Halloween! There are black
dresdens
of pumpkins and cats,
mache
cones for decorating for candy, orange and black crepe, ribbons, and tons of scrap pictures for creating. Orange and black glass glitters as well. We were hoping to see Debbie
Thyr
last night and get a peek at the new project for the upcoming "murders," but she was not able to make it....stay tuned!