There is nothing quite like the promise of fall, and we have lately been promised much. A summer that has been delightfully mild even delivered a Labor Day weekend that topped out in the mid-eighties here in town, fully 20 degrees cooler than last year, when we barely crawled out a seven in the evening for the block party (when it was still in the nineties!). Although the thermometer crept a little high today, I am still hopeful that it will stay a bit cooler this September.
I brought in plenty of foliage last week for decorating, and these were the leftovers....I ended up ramming them all into this little burlap covered English mannequin, and rather liked the result. It was like some mythical creature had landed on top of the findings case.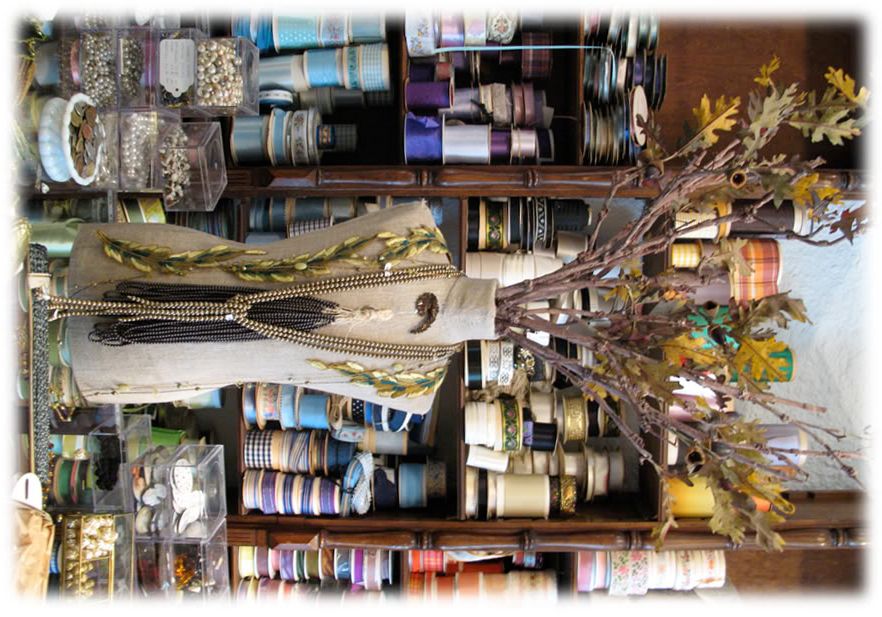 Speaking of findings, these are a real treasure: vintage solid brass bangles that are anchored on one side of the wrist with a solid brass ball, and on the other side it latches with another ball and ring. In the middle is a very substantial oval plaque, perfect for collaging on antique buttons, old earrings, foreign coins...you name it. They came wrapped in their original paper with little tags from Japan. Get them while you can!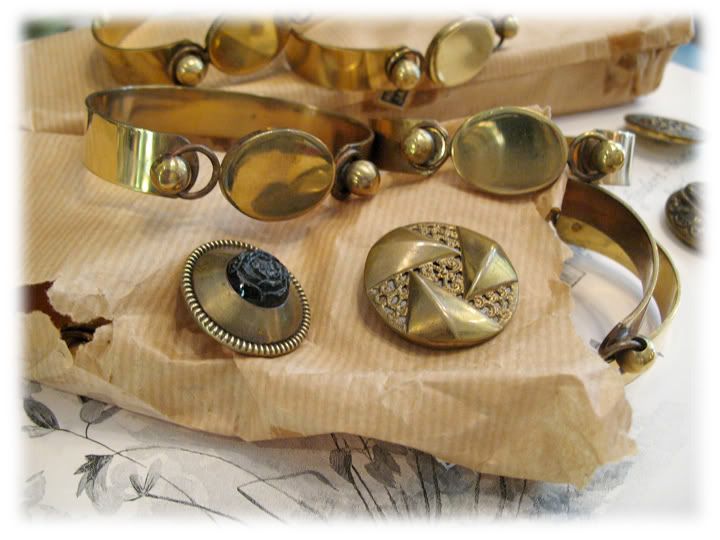 These are lovely, too. Shown below is a huge hank of these very fine cable necklaces. They are a full 45 inches in length, and studded with solid brass beads all along their length...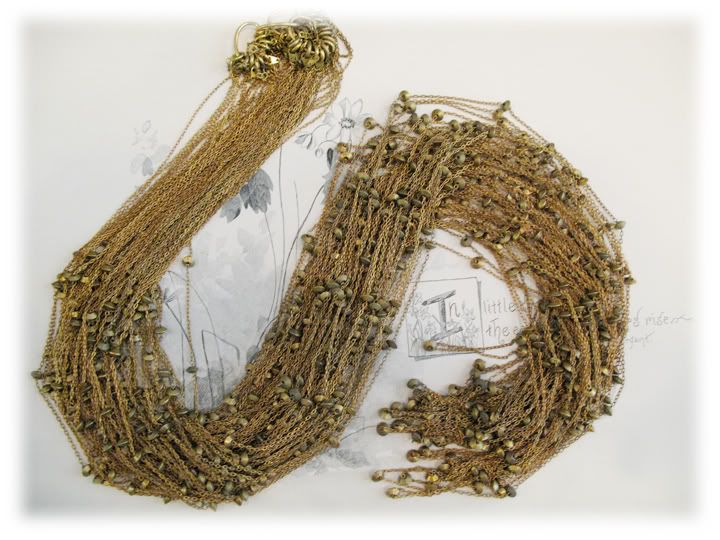 Here is one shown by itself; all vintage fine cable chain in brass, as delicate as can be.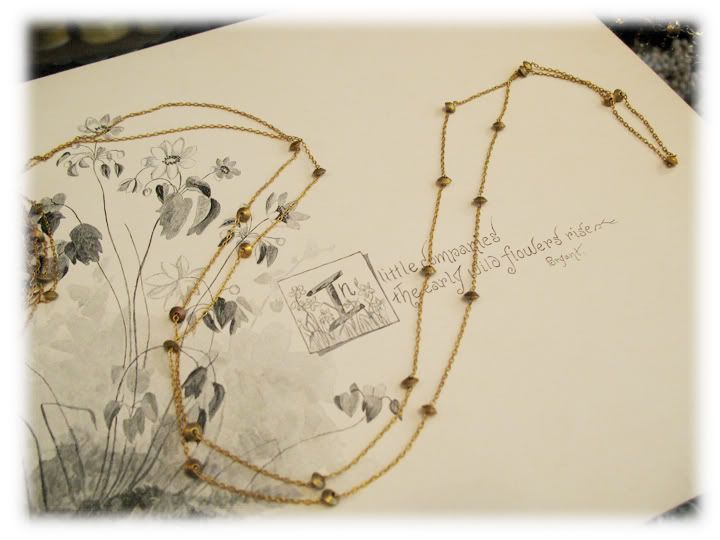 Here's another treasure uncovered on Sunday when I was searching out some feathers for two new customers. These wonderful old vintage leaves were tucked in one of the innumerable wicker suitcases that litter the store, and in the basket there are lovely old serrated rose leaves, downy velvet ones in autumn tones, and all manner of variation of shapes, sizes and colors of green. A wonderful complement to mixed media, altered art and other projects.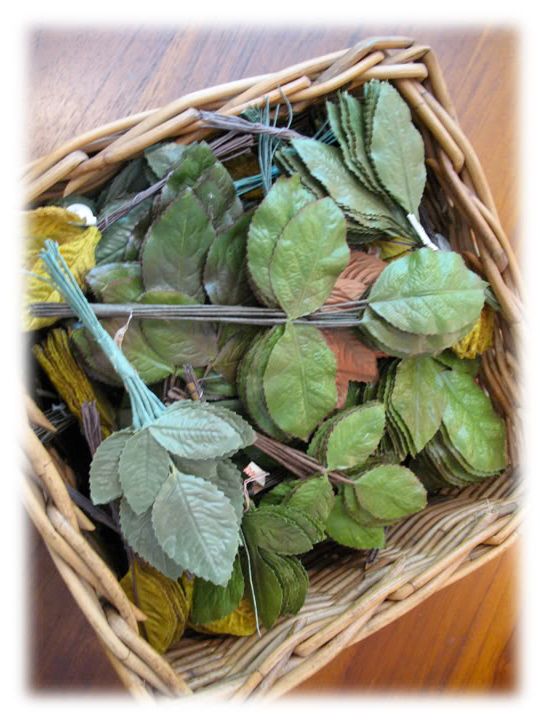 Here was the real find in that suitcase! Lovely old lacquered holly leaves, gold foil leaves, and hand-tinted silk holly leaves in pale ivory tipped in a willowy green...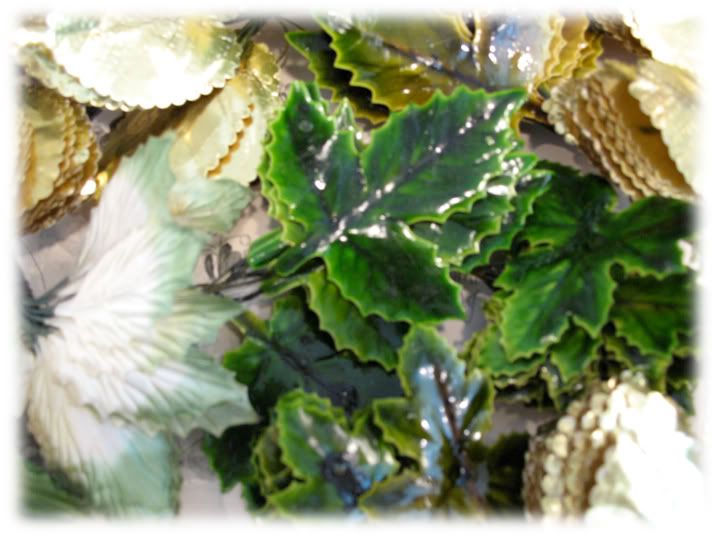 These will join the rest of the vintage Christmas things that are crowding the little white tiered table and edging their way onto the top of the French booksellers shelf. Move over, books!
FYI, the latest
Belle Armoire Jewelry
and
Somerset Studio
issues are in store. Ciao for now!