I won't say it. I won't. I've spent way too many years, decrying the rush of department stores and craft giants like Michaels who put out their Christmas before its time, but in the case of the elements of creativity, I feel a little justified. We need a little time to create, right? And once started, I can be a little hard to rein in...kind of like a string pony at a cheap stable who just keeps heading for home at the earliest opportunity.
I couldn't resist this bolt of vintage French acetate in oh-so-holiday red with the window pane pattern. A request by my husband for some snow for a photo shoot turned up the last of these wonderful 1930s Merry Christmas cigar bands in red and gilt inks. The lametta is from Germany and the icicles are a favorite thing of mine, remnants of the fifties, encrusted in German glass glitter. The foil leaves with snowy glitter edges are old stock from Japan...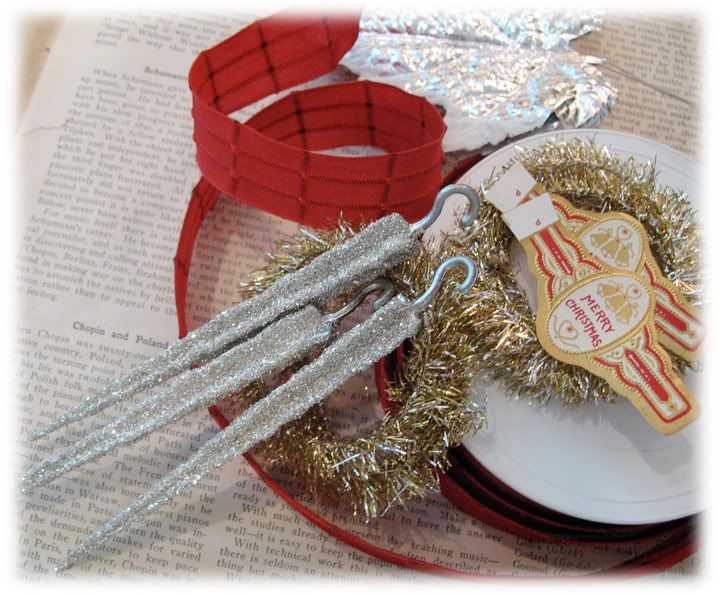 I couldn't resist drenching this German mache pine cone in glass glitter today and pairing it with this remnant of vintage red and silver jacquard. The pine cones arrived yesterday from my dear Edith, who admonished me in her clipped German accent to order enough of the vintage berry stamens as well...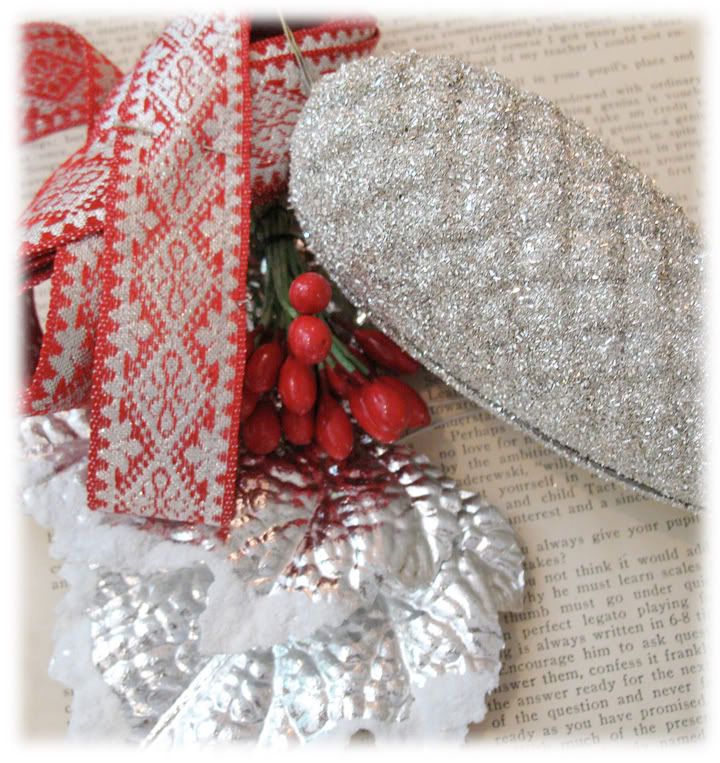 These little bundles of gilt wonderfulness have been sitting in a box for around three years, and I finally let them loose yesterday. All sorts of braids and golden trims for ornaments, cards, tags and the like....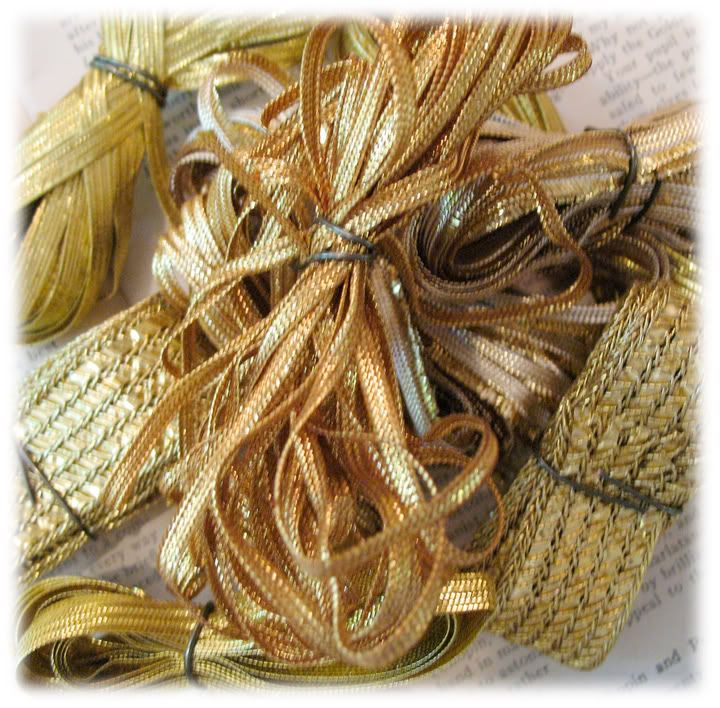 Edith is responsible for these as well...incredible matte black swallows, just in time to haunt your Halloween dreams....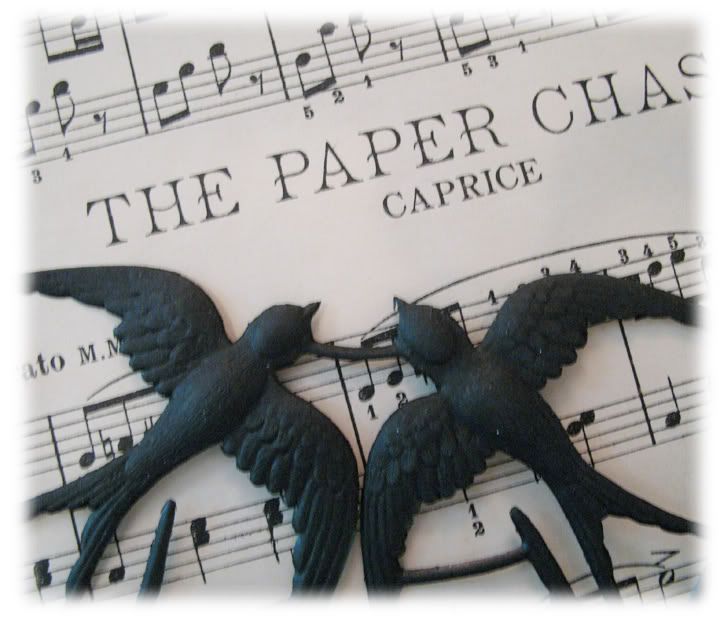 And I've been on the hunt for these for a while. Letters in that delicious oh-so-tres-Francais style, in gold foil....
...and silver, of course! There are also some incredible double foiled silver birds with exquisite detail and dimensionality.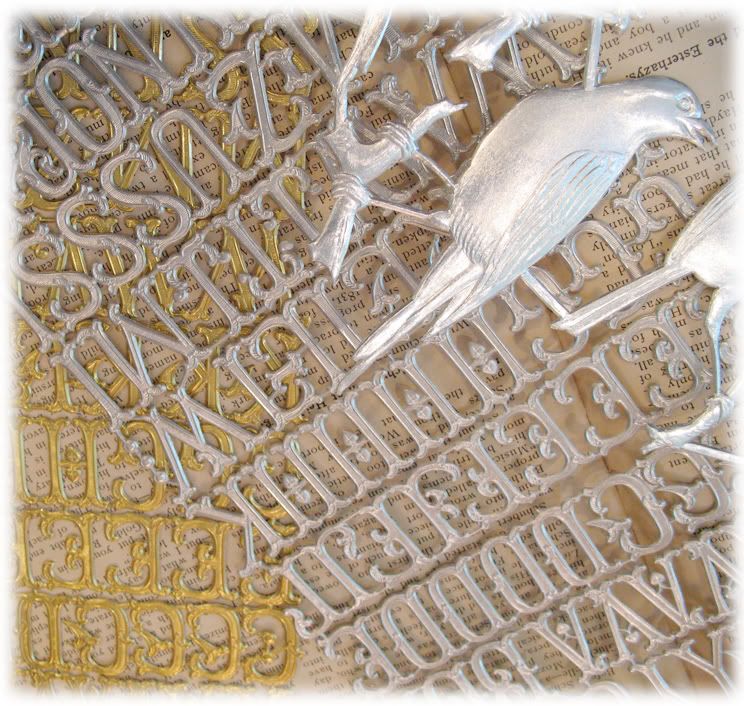 Last picture, I promise! When I retrieved the box of mica for the "snowy" photo shoot, I found these lovely miniature bottle brush trims with tiny mercury glass ornaments attached, as well as the lacy looking gold threaded "angel wings" at right in the picture. In the middle, hogging the spotlight, are some wonderful vintage gold foiled leaves.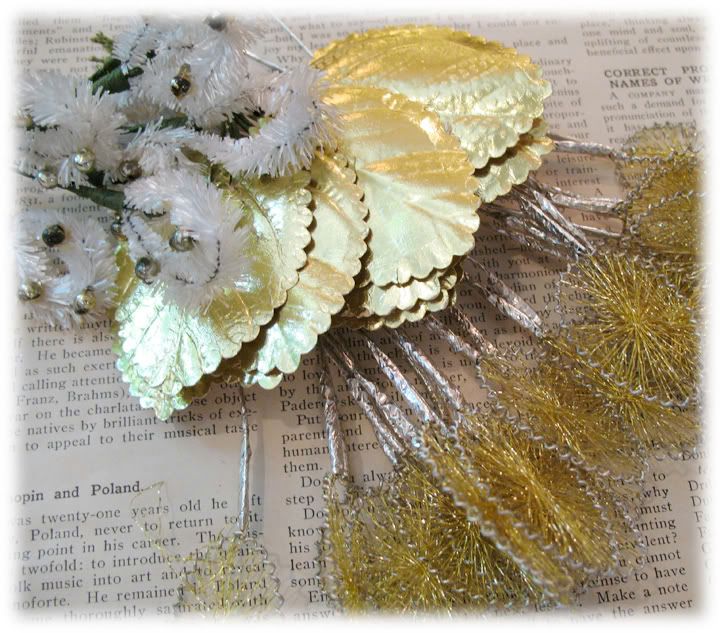 I had so much fun revisiting some of these things today, pulling them out of boxes and tissue. Add to that the excitement of seeing Edith's lovely dresdens and lametta trims, and unpacking the last of the findings that Amy shipped back from Art in Ashland, and you have one pretty pooped gal here!
In spite of the 90 degree weather we had this weekend, I persist in welcoming fall (or our southern California version of it). Hugs to you all, N